Small Stage, Big Play: Central City Opera Takes On The Sprawling And Surreal 'Billy Budd'
Central City's historic opera house — with its small stage and orchestra pit — is an intimate affair. Even more so when you jam the stage with a chorus of 40 men.
Add about another 16 men and boys to that and you have the full cast for Central City Opera's production of "Billy Budd," which opens Saturday, July 13, and runs through Aug. 2.
"'Billy Budd' will be probably the most number of people that we've had on that stage singing at you at one time," Central City Opera general and artistic director Pelham "Pat" Pearce said.  "It's going to be quite something."
The story is based on a Herman Melville novella published posthumously decades after his death. It centers on Billy Budd, a young, naive sailor with the British Navy in the late 1700s. He has the best of intentions. But things take a dark turn after one of his superiors accuses him of mutiny on a crowded warship.
For the Central City production, Pearce asked Ken Cazan to direct. He's a Central City Opera mainstay, going into his 18th season with the summer festival. He said he took his sweet time configuring the cast for the small Central City Opera House stage. Cazan spent "nine full hours" staging the battle scene, which has everyone onstage plus two large canons and drummers.
He took a "surrealistic approach" to this production "because it's a memory piece." Much of the opera unfolds as flashbacks. The prologue features the character Captain Vere as an old man reflecting on what happened to Billy Budd aboard the HMS Indomitable.
Cazan said this opened the door for subjectivity and flexibility with things like sets.
"It would have been ridiculous for us to try to put a main deck and a quarter deck of a 1797 man-of-war battleship onstage." 
Instead, the production's scenic design team created flooring that resembles planks on a ship and "there's rope onstage to give us a flavor," Cazan said. They also use projections to bring the sets to life and, at times, set the mood for the show.  
"The first thing we see are these ropes coming in and they're kind of snakey," Cazan said. "And then they go kind of green and we have bubbles. All of a sudden we're underwater and at sea." 
Daniel Norman, who plays Captain Vere, said the small Central City stage is perfect for this opera.
"You read in contemporary accounts of these battleships that they were extremely cramped, and you would have 100s of people in a very small tight space," Norman said.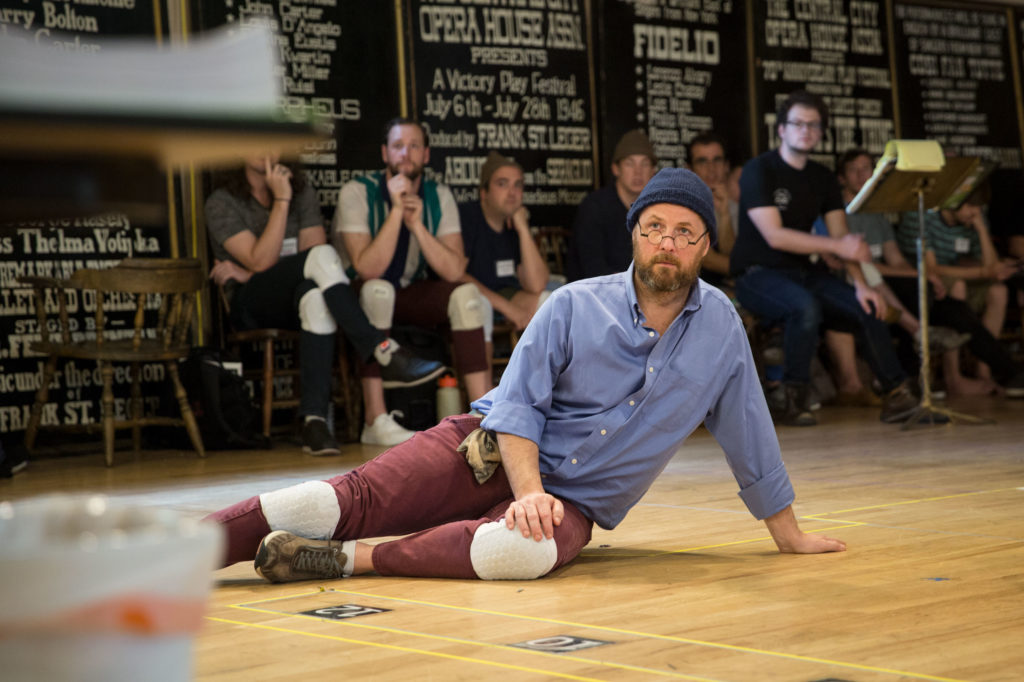 He's performed in "Billy Budd" in much bigger houses and said the "thing you lose is that sense of claustrophobia." This space helps him get into character and brings an authenticity to the work.
Though there's this one scene in "Billy Budd," where the claustrophobia can be "physically painful." It's toward the end of the opera, the chorus surrounds Captain Vere, singing a loud passage.
Norman requested ear plugs for that scene, and he got those ear plugs for rehearsals, because the director would never tell the chorus to take it down a notch. What might be uncomfortable for Norman can be very powerful for the audience, said Kevin Burdette, who stars in the show as the villian John Claggart. 
"You just feel [the music] resonate in your cry space and sometimes you feel it resonate right where your heart is," Burdette said. "When the audience feels that, that's when opera is at its best."
The initial roadblock for this opera in Central City was the orchestra pit. Benjamin Britten composed this work for an orchestra with a particularly sizable woodwinds section. Pearce said there was no way the pit would fit all of the necessary instruments and their musicians. So he went to the Britten-Pears Foundation in the United Kingdom and "asked permission… to have a reduction of this orchestration done for Central City Opera."
The foundation eventually said yes. Maestro Steuart Bedford, who is considered a leading expert on Britten's work, arranged a version with a pared-down orchestration. 
"Billy Budd" is not frequently performed in the U.S. Data from Opera America shows that, in the past decade, there's only been three U.S. productions of the opera among its member companies: The Metropolitan Opera in 2012, Los Angeles Opera in 2014 and Des Moines Metro Opera in 2017. The San Francisco Opera will also perform "Billy Budd" in September.
A fun fact: the Britten-Pears Foundation lists "Billy Budd" as "the only all-male opera in the standard opera house repertoire."
Pearce has wanted to bring this show to Colorado for decades. It was the first Britten opera he really got to know, "and I've always been fascinated by the music and the story." 
And now he has his eye on other Britten operas.
"I've said publicly that I'm committed to trying to get through much of Benjamin Britten's work before I go on to greater glory," he said. "I'm drawn to Britten because it's written in English, which is great for an immediacy with an audience, especially in a house this size. But also because Britten seemed to have a gift for writing music that became atmospheric and helped you tell a story."
You care.
You want to know what is really going on these days, especially in Colorado. We can help you keep up.  The Lookout is a free, daily email newsletter with news and happenings from all over Colorado. Sign up here and we will see you in the morning!