Colorado Springs Police Release Body Camera Footage Of Fatal Shooting Of De'Von Bailey
Updated 4:01 p.m.
Colorado Springs police released body camera footage from four officers Thursday afternoon of the fatal shooting of De'Von Bailey earlier this month.
The graphic video shows police as they approach Bailey, 19, and Lawrence Stoker, Bailey's 19-year-old cousin, on Aug. 3.
As the first officer approaches the two, Bailey is seen touching his pocket. The officer tells him to keep his hands out of his pockets and explains that police are investigating an armed robbery and looking for two suspects that match their description. Bailey says "Oh, I didn't touch him."
The officer then asks Bailey if he goes by "Spazz." Bailey shakes his head and says, "No, sir."
In a stern but calm tone, the officer tells the two to put their hands up and tells them not to reach for their waist. He says police are going to check to see if they have a weapon. A second officer comes up behind the two and approaches Bailey.
As the second officer approaches, Bailey turns his head to the left behind him, then runs.
The first officer chases after him and is heard yelling, "Hands up," three times before firing. Eight gunshots go off. Sgt. Alan Van't Land and Officer Blake Evenson fired their guns, according to the Colorado Springs Police Department. The gunshots appear to hit Bailey in the back.
Bailey falls to the ground and then puts his hands up. Officers tell him to get down on the ground and Bailey rolls over on his stomach.
A gun is seen in between Bailey's legs and officers cut Bailey's shorts off to retrieve it.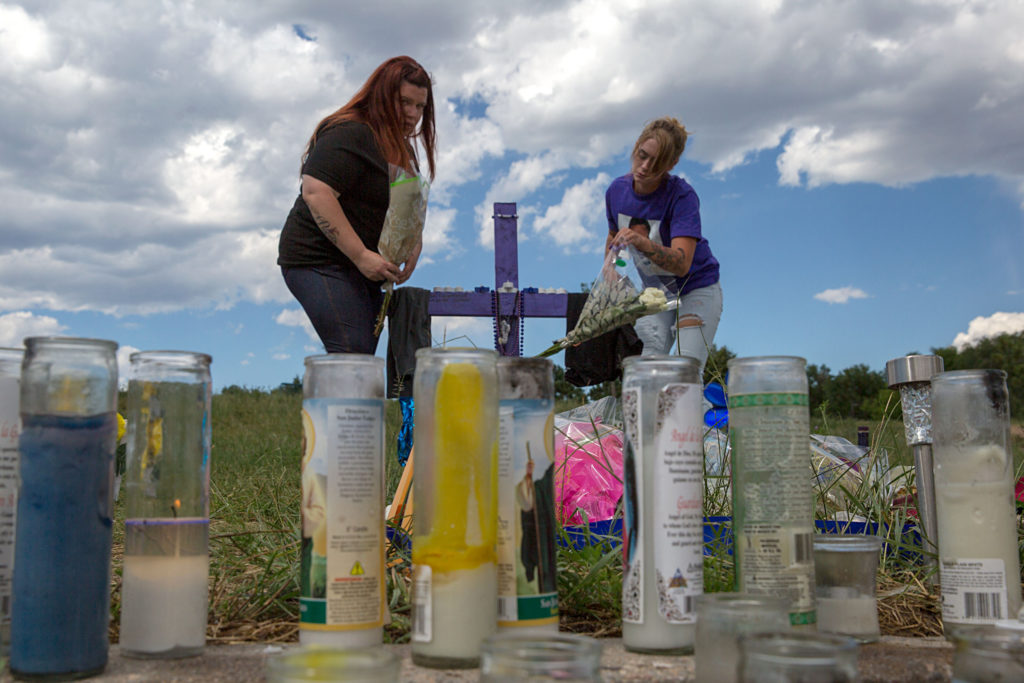 In a statement after the release of the video, Bailey's family said they are "devastated at having seen this evidence of the wholly unjustified killing of their beloved family member." The family will hold a wake for De'Von Bailey tonight and his funeral tomorrow. They are requesting privacy from both the public and the media.
Darold Killmer, a lawyer with for the Bailey family said the release of the body camera footage has made it a "crushingly difficult day" for the family.
"The video shows that there was no evidence to support that anybody was imminently at risk of being killed or harmed," Killmer said. "The video shows that he was doing everything within his power in the six or eight or ten steps that he could take to get away to, in fact, get away.... He did not have a weapon in his hand and had not shown any weapon when he was shot in the back."
Van't Land has been with the Colorado Springs Police Department for 11 years. Evenson has been with the department since 2012.
The El Paso County Sheriff's Office is investigating and will turn over their report to the district attorney on Friday. The sheriff's department and the Colorado Springs police department has said no further statements or information will be released.
Former Denver District Attorney Mitch Morrissey noted there is an allowance for a law enforcement officer to shoot a fleeing suspect if they have been engaged in, or suspected of a felony.
"This is someone armed with a weapon would be fleeing into the community," Morrissey said. "Colorado law allows a police officer to shoot that individual because they are potentially such a danger to other people in the neighborhood or in the community."
Local faith leaders and Bailey's family called for a new and independent investigation on Tuesday. They want to turn the investigation over to the State Attorney General's office and a grand jury of citizens.
"We do not trust the process of investigation in this case," said Rev. Promise Lee. "Regardless of how you try to sweep this under the rug, you will not be successful."
Bailey, 19, was shot multiple times by police and killed on Aug 3. He and Stoker were stopped by police in connection to a robbery. Shortly after the shooting, police said they shot Bailey because he reached for a weapon.
Witnesses said Bailey was shot five to seven times in the back as he tried to run away from police. Stoker said even though Bailey did have a firearm, he never reached for the weapon and officers did not see it before they shot at him.
In video surveillance video obtained by the Colorado Springs Gazette, officers appear to shoot Bailey as he runs away from them. He falls to the ground and officers handcuff him.
This is a developing story and will be updated.
CPR's Dan Boyce contributed to this report.
Editor's Note: An earlier version of this story misspelled Officer Blake Evenson's surname.
You care.
You want to know what is really going on these days, especially in Colorado. We can help you keep up.  The Lookout is a free, daily email newsletter with news and happenings from all over Colorado. Sign up here and we will see you in the morning!