Emotions High As Community Confronts Colorado Springs City Council And Mayor Over Bailey Investigation
At least two dozen people addressed the Colorado Springs City Council Tuesday to ask for an independent investigation into the killing of De'Von Bailey. 
Bailey, a black 19-year-old, was shot and killed by Colorado Springs police as he fled officers in August. He had a gun on him but did not point or fire it at officers.
Concerned community members packed the chamber at City Hall for the at times emotional meeting. Many held protest signs, some had tears running down their face while others were visibly angry. They are upset the El Paso Sheriff's Department investigated Bailey's shooting and the county's District Attorney will decide whether the officers involved followed Colorado law.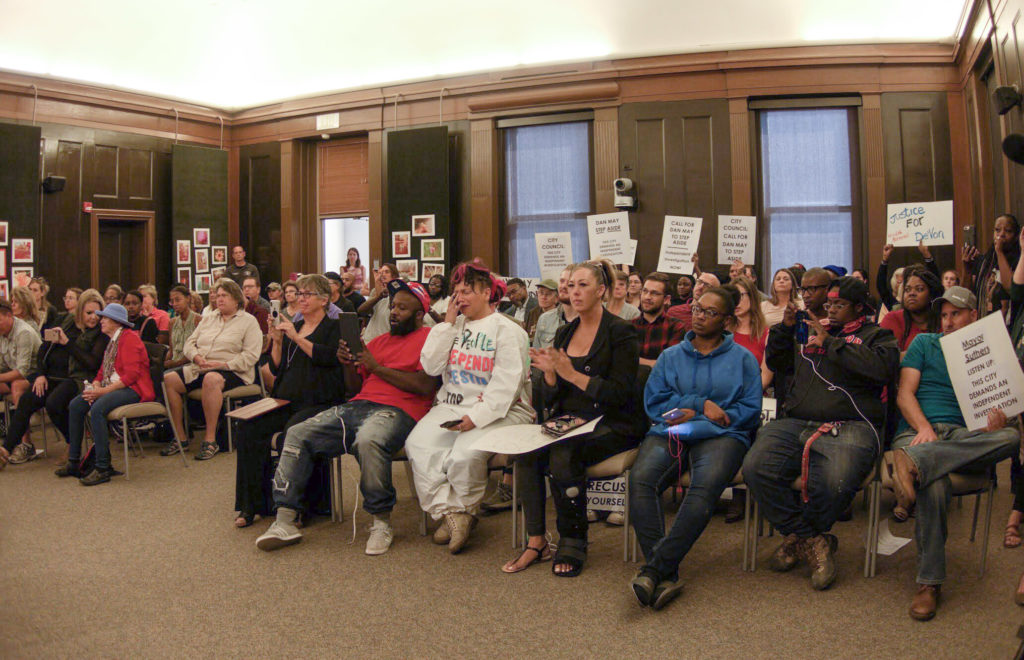 Shaun Walls, a concerned resident, questioned how ethical it is for one local police agency to investigate another. 
"Why does our city's council ignore us until we fill the room up and demand that you stop ignoring us," he said as audience members clapped and shouted in agreement. "I know that we need police and I appreciate the work that police do, but when they kill us and shoot us in the back, that is what enrages me."
Jeresnekya Rose, who lives down the street from where Bailey was killed, told the council her community does not feel safe or trust the police. 
"Growing up, there was a lot of tension between, not myself personally, but my community and the police," Rose said. "I just really feel like it's already been out of hand but its just out of control at this point. So if we need to come sit-in on these meetings and voice our opinions and do things the political way, then that's what we're going to have to do."
One of the officers involved in Bailey's killing was also involved in another fatal shooting of a fleeing suspect in 2012. Both officers involved in Bailey's shooting were put back on full duty two weeks later. 
Colorado Springs Mayor John Suthers attended Tuesday's meeting but did not address questions from speakers, even when some shouted directly at him.
Suthers, a former Colorado Attorney General, has defended El Paso County District Attorney Dan May's ability to investigate the case fairly. 
At the end of the meeting, councilmember Bill Murray said he will ask that the investigation into Bailey's death be moved out of the local DA's office. 
Rose said she knows Murray's request isn't binding, but it is something. 
"The councilmembers don't have the exact power to enforce certain things," Rose said. "However they have pull and leverage and they're representative of the community."
Walls said he was upset with his District 4 Councilmember Yolanda Avila for not being more vocal on the issue. She represents the neighborhood where Bailey was killed.
"She decided not to speak for us and not say anything for us and I'm very disappointed in her," he said.
On Monday, State Attorney General Phil Weiser announced he will launch a series of statewide conversations, starting in Colorado Springs this week, to hear from community members and stakeholders on whether police need more training to handle racial bias. 
Bailey's family's attorneys have asked the Attorney General to conduct an independent investigation into the shooting, but Weiser's office has said they don't have the authority to do so. 
Gov. Jared Polis has urged May to pass the investigation off to an outside agency, but has not given any orders or direction on who he thinks should handle it.
You care.
You want to know what is really going on these days, especially in Colorado. We can help you keep up.  The Lookout is a free, daily email newsletter with news and happenings from all over Colorado. Sign up here and we will see you in the morning!