Like Christmas? Add This 10,000-Square Foot Immersive Holiday Art Spectacular To Your Yuletide Bucket List
Artist and designer Lonnie Hanzon has fond childhood memories of family outings to see the department store holiday window displays in downtown Denver. 
Raised outside of Pine as "this effervescent kid that's stuck in the mountains," Hazon said, those trips made it feel like Christmas had transformed the city.
"I would imagine that all the stoplights were actually part of the decorations because they were red, green and yellow," he said. "I was just fascinated by all that light and magic, and I was one of those kids with their faces pressed against the glass of the department store windows." 
His latest project takes the inspiration of those department store window displays and blows the idea out into a massive interactive experience: "Camp Christmas." 
The 10,000-square-foot immersive Christmas spectacular will open next month at The Hangar at Stanley Marketplace in Aurora. It's co-presented by the Denver Center for the Performing Arts' Off-Center division, which often mounts experiential and immersive works.
Hanzon said the narrative of this Christmas smorgasbord grew out of an initial desire to create a "wild selfie palace." 
"Immersive installations and selfie-taking and all of that sort of thing seems to be the rage, and we wanted an experience-based story," he said. "We're trying to build something that both can be just fun and lots of decorations and ooey gooey stuff to look at on one end and the other end actual good storytelling."
There is quite a lot of "ooey gooey," as Hanzon puts it. He estimates somewhere between 3,000 to 4,000 ornaments are being used in the installation, as well as more than 40 bedecked Christmas trees, around 1,000 feet of garland and at least 1,200 Santa tchotchkes.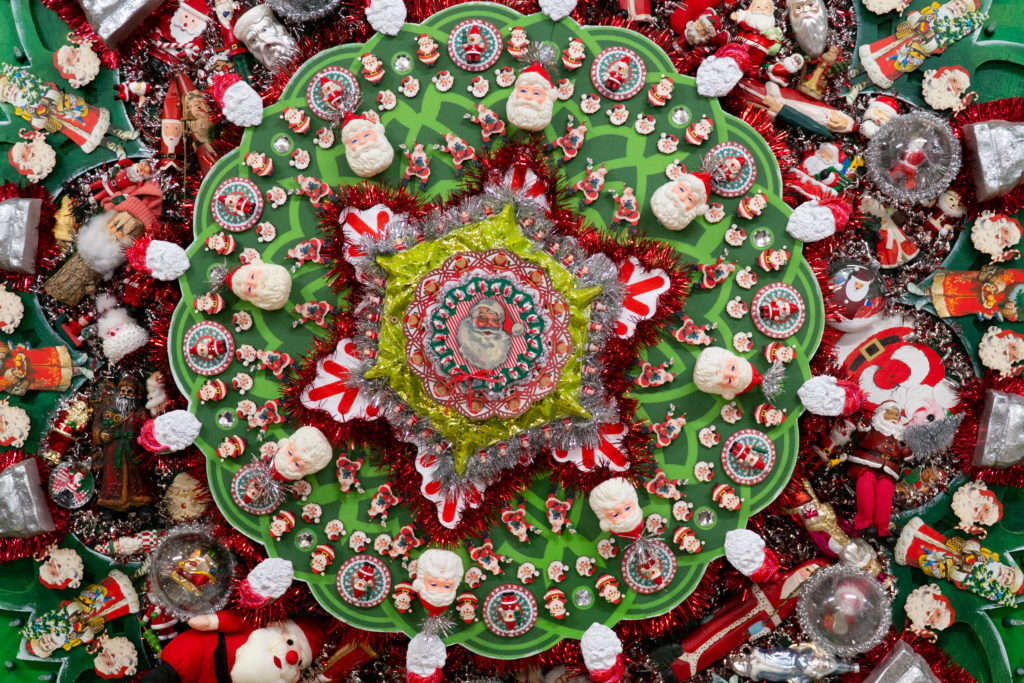 Hanzon and his team already had quite the merry collection to pull from. They've "been doing Christmas for a very long time," creating installations including Houston Zoo Lights, many holiday window displays and floats for Denver's Parade of Lights. Hanzon also has a long history of creating immersive artistic work. 
"We've already filled one 45-foot semi and it's in storage," Hanzon said. "We're in the process of filling another one." 
How much energy does it take to power all those lights? Unsurprisingly, a lot.
"On the edge of 300 amps," he said.  
If that all sounds a little overwhelming, that's good, Hanzon said. He wants it to be grand and campy.
But there is something more complex going on behind the holiday glitz and lights. 
"Camp Christmas" will transport visitors back through time and immerse them in holiday traditions from different eras, from ancient Rome to Baroque, Art Deco, Mid-Century and "Sugar Disco," to name a few, eventually ending up in Christmas present. 
Off-Center curator Charlie Miller said the installation "allows audiences to experience and uncover the story as they like" — a sort of choose-your-own-adventure deal as they follow a specific holiday tradition, such as gift giving or Santa Claus, as it evolves over time. 
At "Camp Christmas," you're treated as a camper and given a field guide to help you explore the different eras "and see how humans have celebrated this time of year through the generations." 
"What you discover is that, since the beginning, humans have wanted to find light in the darkness, to find warmth and community in the coldest time of year," Miller said. "And that's really what these celebrations are about.
The team worked with a dramaturg to develop the storylines and help research all of the different traditions. 
Miller has long-admired Hanzon's work and said they had been talking for a few years when they "realized that we could combine our forces at Christmas to create a one-of-a-kind holiday experience."  
Hanzon said that Christmas "probably saved me" during hard times.
"As a kid and a young adult, making magical things or going to the imaginary world was the way that I was able to escape," he said. "I think the magical moments in our lives are actually some of the most honest and real moments."
"Camp Christmas" runs at The Hangar at Stanley Marketplace in Aurora Nov. 21, 2019 - Jan. 5, 2020.
You care.
You want to know what is really going on these days, especially in Colorado. We can help you keep up.  The Lookout is a free, daily email newsletter with news and happenings from all over Colorado. Sign up here and we will see you in the morning!