Coloradans Still At Risk Of Losing Their Housing Even With Aid And Biden Postponing Evictions
Theresa DeVries has lived in her Lakewood apartment for six years and has no plans to move anytime soon. At least, she hopes she won't. 
DeVries has an autoimmune disease that already made it difficult to work before the pandemic. Over the past year, she's only left home a handful of times, to avoid getting COVID-19. 
Making rent has become a constant worry for DeVries. She lost her disability benefits in late 2019 after receiving them for several years and had to wait a full year to reapply. So she hasn't had any income through the pandemic. But so far, she said her landlord has been pretty understanding. 
"If I'm going to be late with my rent and stuff, I always check with them to make sure that they're not starting the late fees," she said. "I'm letting them know ahead of time: (my payment) might be right on the cusp of the last day ... before late fees."
Things have been getting harder for her, though. This month she had to resort to panhandling to cover her living expenses.
DeVries is like hundreds of thousands of people in Colorado who are trying to figure out how to pay rent with little to no income as the pandemic keeps its strangling grip on the economy.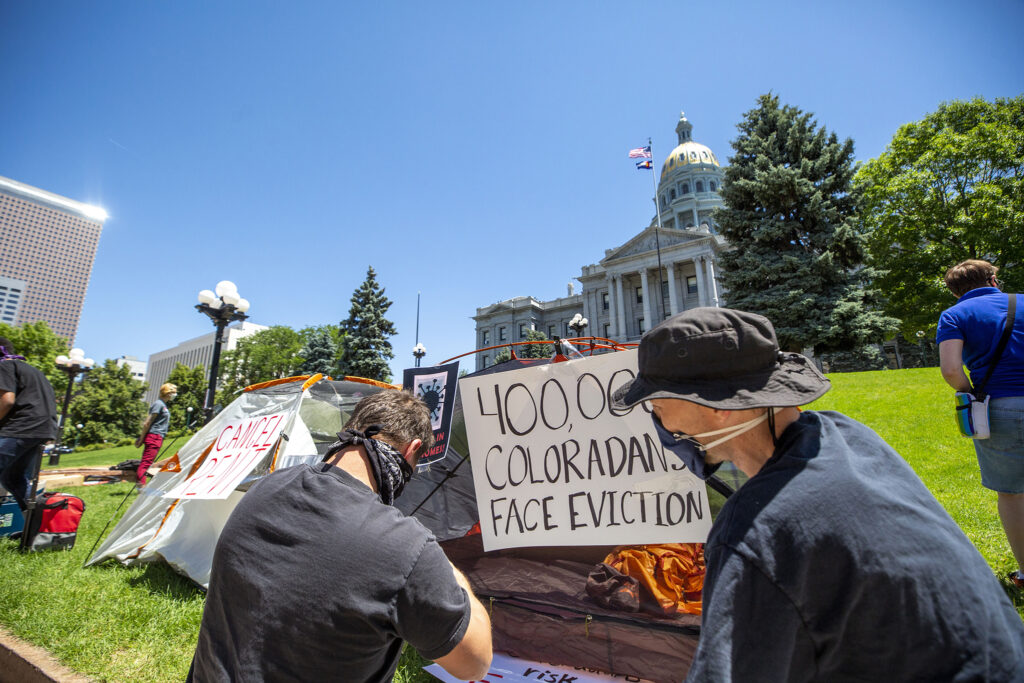 Biden plans to extend an eviction moratorium, and aid is out there. But not everyone will get the help they need.
One of President Joe Biden's first executive orders extended a federal moratorium on evictions through the end of March. And federal and state assistance is available. But the moratorium and the funding won't prevent some people from still being evicted.
"We have so many individual stories that come through of people that are challenged in keeping their housing," said Alison George, who directs the Division of Housing for the state's Department of Local Affairs. "People that have been working, and they're at-risk people, and maybe they were living paycheck-to-paycheck before and it's not safe for them to be working right now."
George's office runs the Emergency Housing Assistance and the Property Owner Preservation programs. They supply emergency assistance to renters, homeowners and landlords to cover rents and mortgages. The demand, she said, has been overwhelming month after month.
In October, the state fielded $1.5 million worth of requests for the POP program, which sends money to landlords whose tenants can't make rent. That number has steadily increased to $7.2 million in the first week of 2021, George said.
By the end of 2020, the state approved $35 million in housing assistance for 16,000 households. George said most property owners using the program have been on the small side, with fewer than five tenants. 
The state's goal is to help everyone who needs it. But George is realistic.
"In every situation there likely will be some people that do slip through the cracks," she said.
Renters continue to fall through the cracks and face unhelpful landlords.
One woman at risk of that is Louise Jeavons of Castle Rock. Before COVID-19 hit, Jeavons was a manager of a restaurant, a job she loved.
"It wasn't like a lot of money, but it was enough, (I) could pay the bills," she said.
Jeavons was laid off early on in the pandemic and hasn't been able to find work since. She said she's donated plasma and sold some of her furniture for money. Making rent on time has been a challenge but she's tried to keep paying what she can, whenever she can.
She said she's three months behind on rent and has racked up thousands of dollars worth of late fees. Gov. Jared Polis has banned late fees for tenants, but there are loopholes.
"It's getting to a point where I honestly don't know how we're going to overcome this," Jeavons said.
When she found out she could apply for rent relief, she was excited and contacted her leasing office.
"I was like, 'Oh, thank goodness, we're saved,'" Jeavons said. "I forwarded the links and the information to the office and immediately they went, 'Oh, no no, we're not doing that.'"
That's one catch in the system: tenants need a willing landlord to get this help. Without the leasing company willing to fill out an application, Jeavons isn't sure what she's going to do once evictions are allowed again.
Without outside help, some may end up in a hole they can't dig out of.
While some landlords are willing to defer rent, the bill will come due eventually.
"Payment plans require you to complete full payment by the end of the lease," said Zach Neumann, an attorney and advocate with the Colorado-based COVID-19 Eviction Defense Project. "It means that you either have a balloon payment at the end or that monthly leases go up fairly dramatically."
Neumann wants people to use programs like the state's rental aid before they get too far into a hole. Colorado doesn't just provide money for missed payments — it can give people their rent several months in advance so they have time to catch up.
Long-term, it will take more than just direct payments to help renters, Neumann said. He hopes the Biden administration intervenes with broader policies that will solve this housing crisis. But in the meantime, state aid will remain a lifeline for those who can get it.
"Be patient, there are a lot of people applying right now," is his message to those worried about staying in their homes. "The sooner you can apply the better."
You care.
You want to know what is really going on these days, especially in Colorado. We can help you keep up.  The Lookout is a free, daily email newsletter with news and happenings from all over Colorado. Sign up here and we will see you in the morning!