'Paris to Hollywood' Puts Iconic Couple's Fashion Sense On Display At Denver Art Museum
Gregory Peck may be a classic movie idol, but it's his wife Véronique who gets the spotlight in the Denver Art Museum's exhibition "Paris to Hollywood." 
Véronique, a journalist, philanthropist and influencer, worked with some of the fashion world's top designers to create her outfits, introducing their works to American audiences. 
Curator Florence Müller found Véronique Peck a fascinating historical figure to research. 
"She was a young journalist. In the 50s, it was very rare for a young woman," Müller said. "She was in her twenties, and she was working for one of the most famous newspapers in France. When the newspaper learned that Gregory was going through Paris on his way to Rome to film 'Roman Holiday,' they asked for an interview, and they sent Véronique. She did the interview, and Gregory really fell in love with her. They married three years after." 
Her subjects also included Dwight D. Eisenhower when he was an Army general, French writer Sidonie-Gabrielle Colette and French philosopher Dr. Albert Schweitzer, Müller said. 
"She was writing about the new books, novels, theater plays, and new hot places in Paris. Of course, fashion was one of the great things she already knew before she met Gregory."
Müller worked with the Pecks' daughter, Cecilia Peck Voll, and found a treasure trove of archival goods. 
"I discovered this huge collection that she has kept not only of several hundred dresses, but also documents and photography. All sorts of souvenirs about her mother and her father as well," she said. 
Müller used archives at couture houses in Paris for research. About half the dresses on display are original samples from fashion shows.
"Véronique was very good friends with many couturiers like Hubert de Givenchy, André Courrèges, Yves Saint Laurent, and she was able to be dressed with these original designs," which was not a common practice at the time, she added.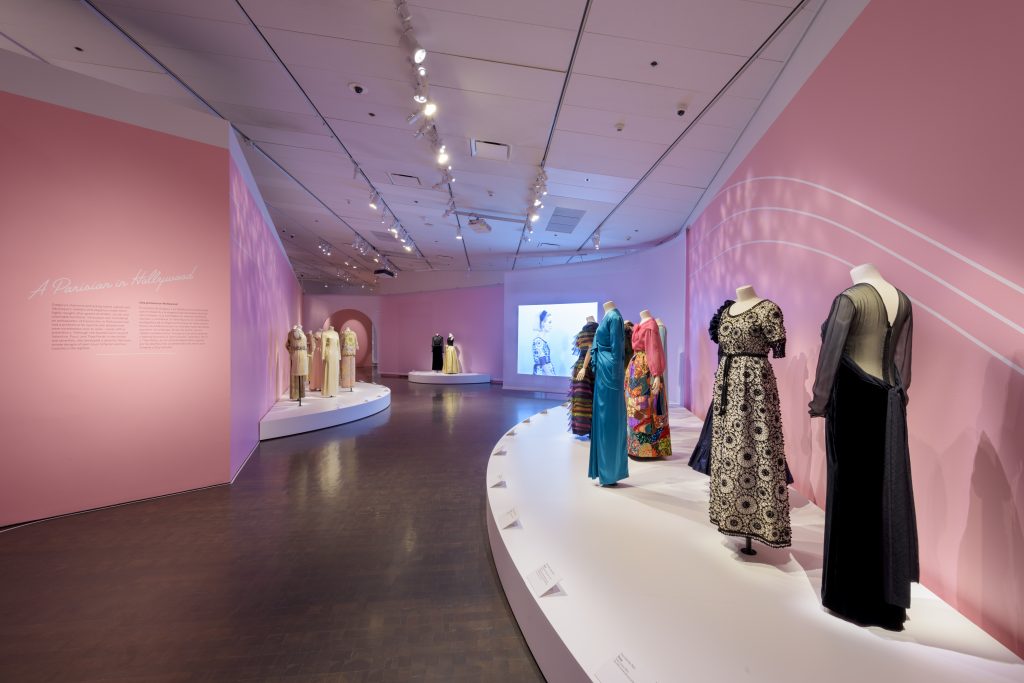 Because Véronique spent so much time traveling with Gregory, she couldn't attend every fashion show that showed off the latest clothes in Paris. And Müller said the sketches on display at the museum show the creative process of how Véronique shaped her style and worked with designers thousands of miles away. 
"Her mother, Alexandra, who was living in Paris, was able to attend the fashion shows," she said. "She was writing to her daughter long letters describing all the great collections and the great pieces that she should acquire. On top of this, the fashion houses would send Véronique sketches with a little piece of fabric in order to do her final choice."
In all, the "Paris to Hollywood" exhibit showcases 100 outfits from 17 different designers, all from the 1950s through the 1990s. As times changed, so did the styles. And some of that history is on display too.
"I think this connection is really wonderful because it shows a link between Paris, the back-then capital of fashion, and Hollywood, the capital of movie and famous, glamorous star style," Müller said. "I think visitors will learn the evolution of the silhouette and how the looks are related with the evolution of women in society. How women have really been empowered through the decades."
You care.
You want to know what is really going on these days, especially in Colorado. We can help you keep up.  The Lookout is a free, daily email newsletter with news and happenings from all over Colorado. Sign up here and we will see you in the morning!