Their job is to represent you at the state capitol — but they're also running for higher office this year
When the General Assembly is in session, state lawmakers have to juggle passionate floor debates, long committee hearings, and behind-the-scenes stakeholder negotiations.
For seven legislators this year, that workload also includes endless rounds of fundraising calls and all the campaign events they can squeeze in, as they hope to convince voters to give them a boost from Denver to Washington, D.C.
More Colorado lawmakers are running for Congress right now than at any time in recent history. 
A sign of an incredibly fluid political year
The stakes for these races are high: this fall voters across the country will decide the balance of power in Congress, making Colorado's two politically competitive districts a priority for both national parties. 
Former Democratic lawmaker Sal Pace unsuccessfully ran for Congress when he was at the Capitol. Having so many candidates will inevitably make the session even more political than normal, he said, "because unfortunately, some people play political games when they're in office."
And the congressional candidates will have to adjust from being just one of a hundred lawmakers, to becoming the focus of intense scrutiny, as the opposing side tries to catch them making an inflammatory statement or in an embarrassing situation. 
"I was followed around by a guy at the Capitol everywhere I went, with a video camera recording me," Pace recalled of the tracker assigned to him. "It was actually really sort of unnerving to have that type of nonstop attention…if I had to blow my nose, I'd have to go and hide to do it — I didn't want that on camera."
Legislative colleagues facing off for Congress
Colorado's newest district, CO-8, is one of the most competitive in the country. The district spans from the suburbs north of Denver up to Greeley, and both the Republican and Democratic primaries have attracted a wide field of competitors.
"Each side is going to hope that they can make it blue, or red, for the next decade or so," said two-term Rep. Yadira Caraveo, who is running in the Democratic primary for the seat. She's the only physician in the legislature and hopes to be the state's first Latina elected to Congress. 
If she makes it through the primary, Caraveo could end up facing off against her colleague at the Capitol: Republican state senator Barbara Kirkmeyer. Kirkmeyer is a former Weld county commissioner, dairy farmer and flower shop owner, serving her first term in the legislature.  
Despite running in the same race and working in the same building, being in separate parties and chambers means the women rarely cross paths.
"I think I've maybe only seen or met Representative Caraveo a couple of times," said Kirkmeyer. They do have a history though; as a county commissioner, Kirkmeyer was a leading opponent of a major oil and gas reform bill Caraveo sponsored. 
Caraveo isn't jumping into quite so many big policy debates this year; when it comes to their legislative loads, both women have dialed back a bit to make time for their campaign efforts. 
"It's a balancing act," said Caraveo. "But it's something that I'm used to, having juggled my pediatrics practice and session in the past."
As a member of the minority party, Kirkmeyer has had to be realistic about what policies she can pass — but she did get the majority of her five bills over the finish line last session. Running in a competitive Congressional race though, "means that the Democrats aren't necessarily going to want to be on my bills."
However, Kirkmeyer has managed to find bipartisan sponsors for most of her proposals so far this session. Working on those bills does require finding free time around the huge number of fundraising calls that eat up candidates' time. 
"I'm not gonna say fundraising is my most favorite thing to do, but for the most part, you know, you're talking to people one-on-one and I enjoy that," said Kirkmeyer. Better though, is when the campaign goes into door-to-door mode, "having that opportunity to meet people in their home, in their setting and talk to them."
A retirement opens up opportunity, while others mount challenges
This fall's other open Congressional seat is CO-7, which includes Jefferson County and some of the mountain communities. The race opened up last month, Democratic Congressman Ed Perlmutter revealed he would not seek another term. While Perlmutter won his last election by more than 20 points, the redrawn district suggests the margins will be much closer this time around.
"Whoever follows me is going to have to prove themselves, and the voters will make a choice," Perlmutter told CPR's Colorado Matters while reflecting on his retirement. 
In the month since Perlmutter's announcement, the field for CO-7 has stayed fairly small. Three Republicans — Erik Aadland, Laurel Imer, and Tim Reichert — have jumped in so far. On the Democratic side, state Sen. Brittany Pettersen was the first to announce and rapidly locked up a wide slate of influential endorsements, most notably Perlmutter himself.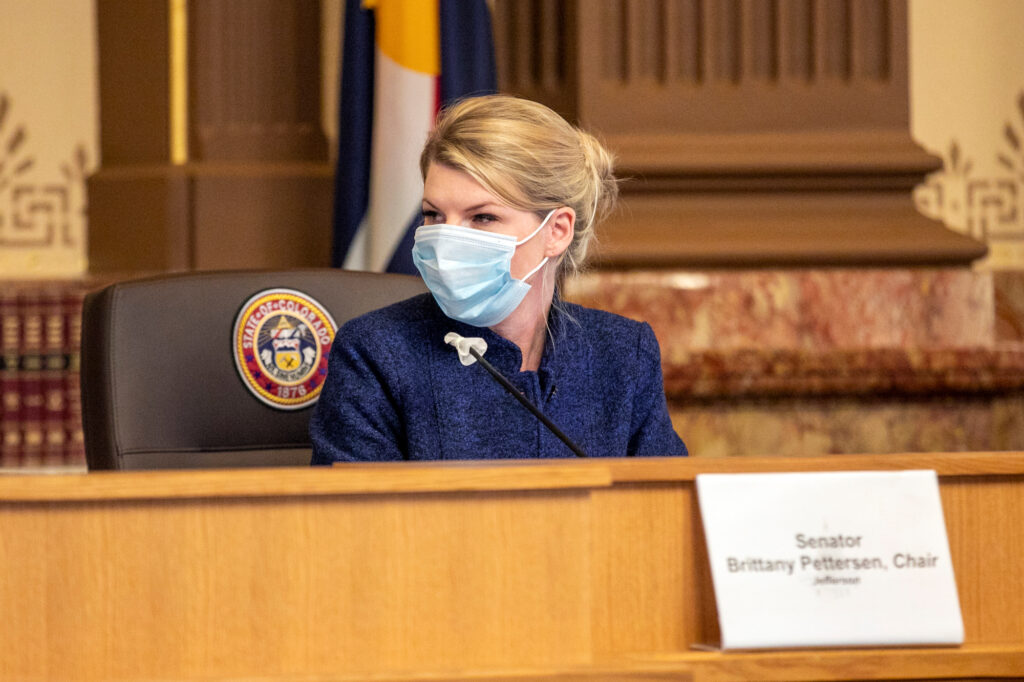 Two other state lawmakers with Congressional ambitions will have to upset sitting members of their own party to get there. In Colorado Springs, Rep. Dave Williams is attacking Doug Lamborn from the right, seeking to pull off the kind of upset Rep. Lauren Boebert managed two years ago against Scott Tipton. 
And Boebert herself faces a challenge from state Sen. Don Coram, who's more of a moderate.
"Why can't we just go (to Congress) and do the people's business, rather than promote sound bites and hate and division?" said Coram of why he wanted to run. (He isn't the only Republican hoping to unseat Boebert; Marina Zimmerman is also in the primary).
On the other side of the CO-3 race — a vast district that includes Pueblo and the Western Slope. — Democratic Rep. Donald Valdez from the San Luis Valley is also running in his party's primary.
Only one member of the legislature currently has U.S. Senate aspirations — Republican Rep. Ron Hanks is running in the crowded GOP primary field to try and take on Democratic Sen. Michael Bennet.
Ambitions delayed
For all the state lawmakers trying for Congress this year, others have decided the risk involved is just too high. 
House members in particular run without a safety net: because their terms run for only two years, entering a congressional race automatically means giving the chance to run for reelection to the legislature. State senators avoid that risk if they run in the middle of their four-year term, as Kirkmeyer is doing. 
"There's a big win that's possible, but also I could lose everything," said Democratic Rep. Brianna Titone, who seriously considered entering the race for CO-7.
She is Colorado's first openly transgender lawmaker, and aspires to be the first trans member of Congress.
"It's also a passion of mine to be someone who is an inspirational figure for the trans and LGBT community," said Titone. "Having the position that I have affords me a certain amount of visibility."
And when her Senate colleague, Sen. Pettersen, rapidly locked  down important endorsements and funders shortly after getting into the race, Titone said that, as "a student of probability and statistics," she concluded it just isn't her year. 
"(Pettersen's) been working on this for a long time and she executed it well and made it really difficult for all of us to get in. It's a good strategy to do and she pulled it off really well," said Titone, who has since endorsed Pettersen.
And while many candidates run as political outsiders, Democratic Sen. Kerry Donovan — whose own congressional hopes were dashed when redistricting drew her family ranch out of CO-3 — said having "lawmaker" listed on your resume shouldn't be seen as a bad thing.
"I know at times it can feel that people that are trying to make a profession out of being in elected office, (they) don't have that real world experience or stray away from our idea of a 'citizen-led' government," she said, but "the experience that someone gains by being in the state House or the state Senate will make them a better congressperson, if they earn the support of the the electoral body." 
And that is just the pitch many of her colleagues hope will resonate with voters this year. 
You care.
You want to know what is really going on these days, especially in Colorado. We can help you keep up.  The Lookout is a free, daily email newsletter with news and happenings from all over Colorado. Sign up here and we will see you in the morning!