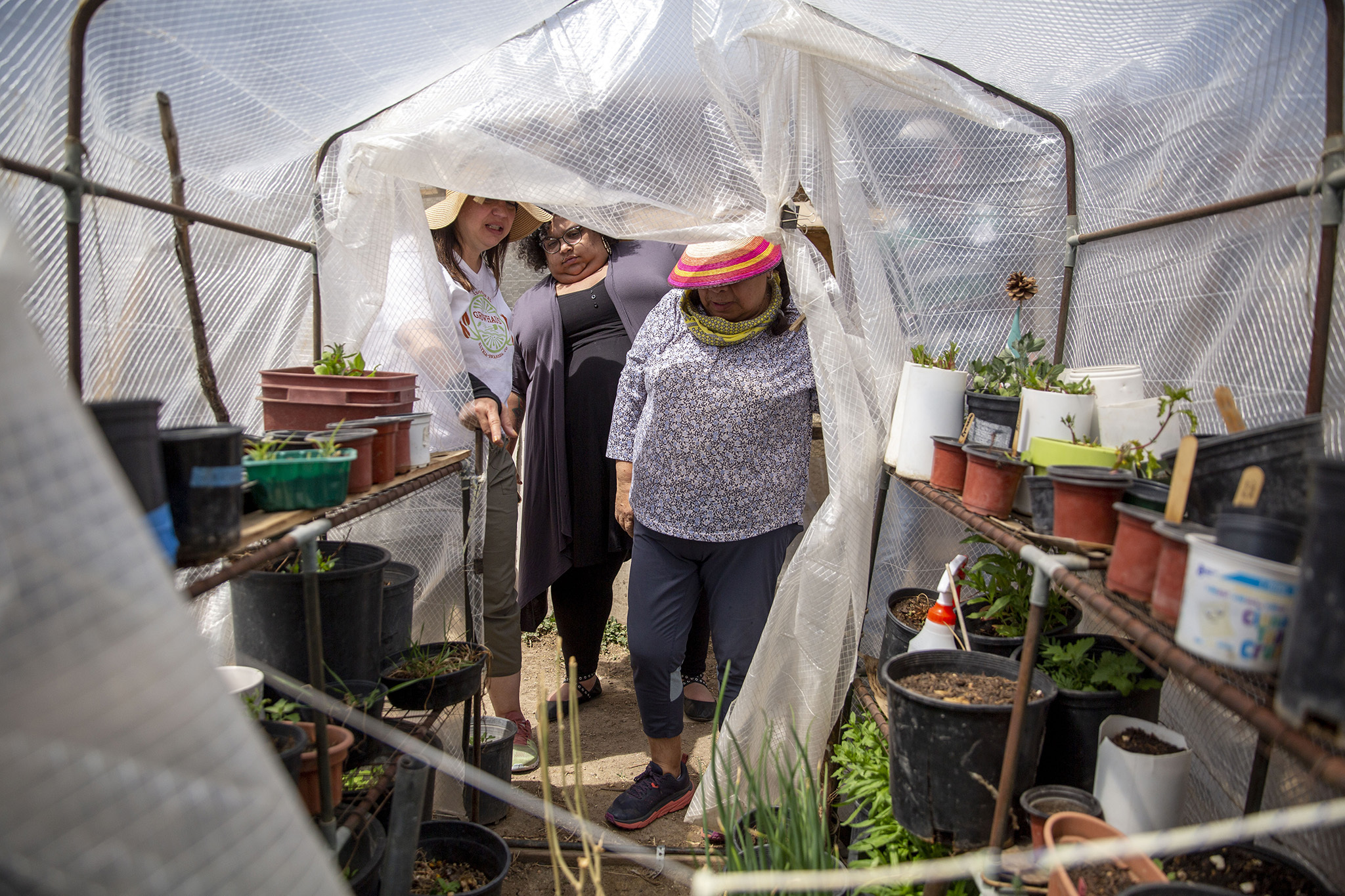 Kevin J. Beaty/Denverite
FY22: The Year in Review
A snapshot of Colorado Public Radio's Annual Report
This feature was created by our marketing and promotions department at Colorado Public Radio, which is solely responsible for the content. CPR News editors and reporters were not involved in its creation and no editorial judgment should be inferred.
While our world sees a rise in misinformation and a decline in local news, Colorado Public Radio stands out as a beacon of truth and hope. CPR is striving to become Colorado's home for news, while also providing the best music, enlightening cultural experiences and more. We couldn't do any of it without strong support from our donors and sponsors. Thank you.
We hope you enjoy this snapshot of our Fiscal Year 2022 Annual Report. If you'd like to explore the full report, you can access it here.
Photo information: Dolores Alfaro works in her backyard garden, which has been supercharged with nonprofit GrowHaus' help. Denverite's Desiree Mathurin looks on. May 11, 2022.
Hart Van Denburg/CPR News
Investigating Wildfire Causes
In November 2021, CPR News published an investigation into why Colorado rarely seems to solve human-caused wildfires. The report detailed the disjointed, under-staffed and under-funded fire investigations that happen in our state. After the investigation came out, the governor and legislators immediately said they would push for more funds and a better coordinated effort.
A couple months later, when the Marshall Fire broke out, the wildfire causes investigation gained renewed attention. In the wake of that devastating fire, CPR's reporters provided crucial reporting and photography that reached audiences well beyond Colorado. (All photos below are by Hart Van Denburg/CPR.)
Carl Glenn Payne
Journey to Freedom: Building Community Through Song
CPR Classical completed its yearlong Journey to Freedom: the Spirituals Radio Project, in partnership with M. Roger Holland II of the Spirituals Project Choir at DU. Each month, Roger chose spirituals illuminating the experience and resilience of African Americans, and provided insight and reflections.
CPR Classical partnered with DU's Lamont School of Music and the Spirituals Project to host a sold-out spirituals show, "Journey to Freedom: Building Community Through Song" at the Newman Center on May 14 to close out the project. The event featured music and storytelling around the history of spirituals with the goal of building community.
"CPR Classical [has] been an important part of our day. We have been especially pleased about your bringing on Roger Holland and his series on spirituals. The result has been a really special addition to your programming."

- Sid and Billie from Denver
Carl Glenn Payne
Dr. Kim R. Harris at the Journey to Freedom concert at the Newman Center for Performing Arts. (Photo courtesy of Carl Payne)
Carl Glenn Payne
M. Roger Holland II at the Journey to Freedom concert at the Newman Center for Performing Arts. (Photo courtesy of Carl Payne)
Carl Glenn Payne
The Spirituals Project Founder Arthur C. Jones at the Journey to Freedom concert at the Newman Center for Performing Arts. (Photo courtesy of Carl Payne)
Carl Glenn Payne
Theo Wilson at the Journey to Freedom concert at the Newman Center for Performing Arts. (Photo courtesy of Carl Payne)
Photo courtesy of Carl Glenn Payne
The Spirituals Project Choir sings at Journey to Freedom: Building Community Through Song at the Newman Center for Performing Arts. (Photo courtesy of Carl Payne)
Carl Glenn Payne
A photo from Journey to Freedom: Building Community Through Song at the Newman Center for Performing Arts. (Photo courtesy of Carl Payne)
Hart Van Denburg/CPR News
KRCC Amplifies Stories of Southern Colorado
KRCC reporters brought important stories from Southern Colorado to listeners in our state and beyond. Reporter Shanna Lewis's story about the 80th anniversary of Camp Amache reached a national audience on NPR.
Sign up to receive the weekly KRCC News Digest here.
Hart Van Denburg/CPR News
Studying Water in the West
In 2021, CPR News was part of an Institute for Nonprofit News collaboration with eight other newsrooms to investigate water justice issues in the rural Western U.S. called Tapped Out. Reporter Michael Elizabeth Sakas contributed a story on native tribes who have been historically excluded from Colorado River policy. She wrote about their desire to have a say in how the resource is used.
Sign up to receive the climate team's weekly newsletter here.
If you find something of value like I do with local programming that we have such as Colorado Matters, the unbiased news and the entertainment programs, then you need to stand behind it so it's there for others in the future. Whatever I'm able to leave behind as a legacy will enable others to enjoy what I have enjoyed.

Doug Jones, Legacy Circle Member
Hart Van Denburg/CPR News
On Pain
Colorado Matters' series "On Pain" featured conversations with people whose daily lives have been shaped by pain, and with those physicians and researchers who are committed to helping them.
Sometimes I think, what if there was no NPR or CPR News in my life. I'd be devastated if it were ever taken away. I love so many programs including Colorado Matters... What a colorless world this would indeed be without it.

-Katie, Denver
Music Blocks
Music Blocks, a music appreciation podcast designed for middle- and high-schoolers, launched in August 2021. The show responded to a moment when arts education was declining in Colorado's public schools, classroom time was turned on its head by distance learning, and many young people grappled with their emotions during the pandemic.
Teachers who found the show loved using it in their classrooms and asked for more! Data indicates it's been used all around the country. 
"I need you to know I LOVE the Music blocks Podcast!!! It is perfect and exactly what teachers need and can use."

A music curriculum leader at Denver Public Schools
"I LOVE it!! For myself but also for my kids. Such a diverse selection of musical genres and a simplified just enough explanation."

a parent in Grand Junction
"I truly love this for my class. I teach a music appreciation class, and an introduction to world music class. These episodes go at the heart of music and what we are trying to teach."

Jeremy, a music teacher in Hershey, PA
In March, Music Blocks was named Best Podcast for Kids at the Podcast Academy's Ambies, the Oscars of podcasting.
Hart Van Denburg/CPR News
A Trip to Estonia
Washington, D.C. reporter Caitlyn Kim and photographer Hart Van Denburg followed a Colorado National Guard unit to an exercise in Estonia in May. The troops were there conducting military training exercises with allies, just weeks after Russia invaded Ukraine.
She found there is a lot at stake for Estonians in the Ukrainian war; a lot at stake for U.S. security and the NATO alliance; and a lot at stake for Coloradans who don't expect to find themselves on the doorstep of a land war when they go on longstanding training missions.
Kevin J. Beaty/Denverite
Denverite Explores Affordability for Families
In the spring of 2022, Denverite reporter Kyle Harris reported a number of stories about affordability in Denver focused on families. Years-long waitlists, tuition as expensive as a mortgage and pandemic closures: Denver is in a childcare crisis. Kyle's series explores the problem from multiple perspectives.
JULIANNA PHOTOGRAPHY
Indie 102.3 Pride Party at Meow Wolf
Indie 102.3 hosted the official Denver Pridefest kick-off party with a LGBTQ+ Showcase at Meow Wolf. The packed event featured music and performances from all LGBTQ+ artists, and it was a great opportunity to debut Indie's newest specialty show, Serve It. Serve It, hosted by Demi Harvey, features LGBTQ+ music on Sunday nights.
"Indie 102.3 is my soundtrack when I'm in Colorado, and I also stream it when I'm not. I love discovering new indie music and always do when I listen. My wife and I strongly believe in supporting the arts, and we especially appreciate the station's support for local artists and the community."

Jim Kirkland, Donor Advised Fund donor
In February 2022, CPR News and the Audio Innovations Studio debuted Ghost Train, a four-part look at the problems with the Denver metro area's rail transit system. 
Hosted by Nathaniel Minor, the series looked at the visionaries who created the light rail system, the challenges that have kept the plan from reaching its potential, and the possible next steps that could make rapid transit more successful along the Front Range. Because of the show, Nathaniel received national and international inquiries.
Hart Van Denburg/CPR News
A Growing Newsroom
CPR expanded its coverage in 2022 with the hiring of a reporter specifically dedicated to race, diversity and equity, Elaine Tassy. One of her early stories for CPR News was a conversation with women who run a prison radio station.
Reopening the CPR Performance Studio
At CPR headquarters, we have a beautiful performance studio where musicians of every genre can stop by to play a short set. Those recordings get played on CPR Classical and Indie 102.3, and it's a great opportunity for hosts to interview musicians as they come through Colorado.
The Performance Studio doors reopened after the pandemic, and it's been wonderful to fill the room with music again. Here are videos of two recent visits:
From all of us at CPR, thank you for your support. Your investment and belief in the importance of public media is what motivates our work every day.
We hope you enjoyed this snapshot of our FY22 Annual Report. The full report contains more highlights from our year, including awards we won, new initiatives we started and more details on partnerships and events. You can download a copy by clicking on the button below.