How a debate over support for the ERA turned into anti-trans rhetoric at the Colorado state Capitol
A day after a couple of House Republicans used a resolution commemorating the Equal Rights Amendment to attack the existence of transgender people, the state's only transgender state lawmaker implored her colleagues to discuss their differences more respectfully. 
Democratic Rep. Brianna Titone of Arvada said she was shocked and disappointed when what was meant to be a reflection on a positive turning point in the country's history — women's fight to win legal equality — took a decidedly different turn, one she found demeaning, dismissive and derogatory.
"I'm your colleague," she said on the House floor Friday with members of the Democratic caucus standing behind her. 
"Whether you believe me, or people like me, should exist — I do exist. And I am your equal in this chamber. I accomplished the same thing you did to be here, and I proudly represent all of my constituents in the course of my work in this chamber."
The conflict started Thursday morning, when a resolution urging Congress to finally ratify the Equal Rights Amendment was met with pushback from some Republicans who said the ERA would be used to legalize abortion nationally and "redefine" what it means to be female.
Republican Rep. Scott Bottoms, a minister from Colorado Springs, offered an amendment to say the ERA should not be interpreted to include a right to abortion or to expand the definition of sex to include anything "other than the originally understood distinction between biological males and females."
Trans people and their allies consider efforts to reduce gender to genetics inaccurate and often offensive, especially when used to exclude trans people from their gender. Colorado's anti-discrimination laws protect gender identity.
In its preamble, the Colorado resolution states, "That women and those identifying as women are still subject to pay, pregnancy, and other forms of discrimination" as among the reasons the ERA should be ratified.
"There is such a thing as XX and XY," said Bottoms, referring to chromosomes. "And no matter how much you lie to yourself and change it, and frame it in any way whatsoever, there is XX and XY." 
At that point, the Speaker of the House interjected and asked him to be respectful. 
Bottoms concluded, "we want to defend the ability for women to be women regardless of how society plays the game."
Following Bottoms, Republican Rep. Ken DeGraaf said, "in the church of woke, facts don't matter," pointing out that the language of the Equal Rights Amendment does not mention 'those who identify as women.'
Republican Rep. Rick Taggart from Grand Junction was the only member of the GOP who did not vote for Bottoms' amendment, which failed in the face of unanimous Democratic opposition. In the end, seven of the chambers' 19 Republicans voted to pass the original Democratic resolution without any changes. 
Titone's message Friday urging respect resonated with Republican Rep. Ron Weinberg, a freshman lawmaker from Loveland who supported the Democratic resolution. He was one of three Republicans who stood up during her remarks, and he wiped away tears as she spoke. 
"I want to make sure we are treating each other as friends. It's very important to me," Weinberg said afterward.
He worked with Titone on his first bill at the statehouse, a measure to allow farmers and ranchers to repair agriculture equipment. He said Titone reached out to him in the fall after she learned he was at a memorial for the victims of the Club Q Shooting. 
"She called me and she's like, 'Thank you. Republicans don't normally do that.'"
Weinberg said it's a given that lawmakers have different opinions and they have a right to disagree, but he said it's the people's house, and he thought some of his Republican colleagues could have handled their opposition to the resolution "a little better."
"When we walk through those doors, everyone's earned the respect of being in that room. If we don't treat each other like that, then this whole thing collapses. It's civility and we have to maintain civility."
House Minority Leader Mike Lynch said he'd prefer that the legislature focus on solving tangible problems rather than debates like this.
"We're talking about very sensitive issues here that I don't see move the needle for the citizens of Colorado," said Lynch. "What did we fix? I still drove on a crappy road here today.  I still struggle with my business paying exorbitant taxes."
He said it's unfortunate when these types of situations get in the way of other work getting done. 
"She took issue with what we said. That's her First Amendment right, to express those opinions and she got to do it. So I'm glad she got that time."
Republican Rep. Rod Bockenfeld, who said he considers Titone a friend, said he saw the GOP amendments as an attempt by members to represent their constituents, not personal attacks directed to Titone, but that lawmakers need to be able to work together. 
"I don't know if that specifically should have been personalized to the point that it was personalized," he said. 
But Titone said that comments denying trans people exist are personal.
"My existence is not up for debate," she told her colleagues in her remarks Friday. "It's not something you can disagree away, and I will not let anyone in this chamber or outside this chamber bully or intimidate me out of my existence, not today, and not ever."
Titone told CPR News the whole discussion caught her and her fellow Democrats off guard because it's rare for amendments to be offered on a resolution. She said she thought her caucus avoided challenging Republicans in that moment, because they didn't want to prolong the discussion but at the same time she was disappointed no Democrat spoke up in response.
"And I was just kind of stunned and thought that, you know, when someone's saying things like this, you have to stand up and at least face them and look them in the eye when they say it." 
She said her colleagues were looking to her for guidance.
"It was distracting that everybody came up to me to try to say, 'What should we do? What should we do? And I'm like, 'I'm busy trying to stare these people down right now, you know, just let me do that.'" 
Democratic Rep. Leslie Herod, who was the first gay Black woman elected to the legislature, praised Titone for standing in the fray and called her actions on Friday heroic. 
"This is not the first instance of transphobia and racism that has been said on the floor. We have got to set a level of decorum that says no one should be targeted for who we are. I'm proud of Representative Titone for stepping up and speaking out."
In previous years lawmakers have had tense debates about sex education in schools and including gender identity into the state's anti-discrimination laws. And more are likely this session. Titone and others are working on a bill to protect families who bring their children to Colorado for gender-affirming care. 
The debate over Colorado's ERA resolution came on the same day that the governor of Tennessee signed a bill banning gender affirming care for minors and limiting drag shows to age-restricted private venues. In Colorado, a Republican bill that would have required student athletes to only compete on teams for the gender they were assigned at birth was voted down in its first committee.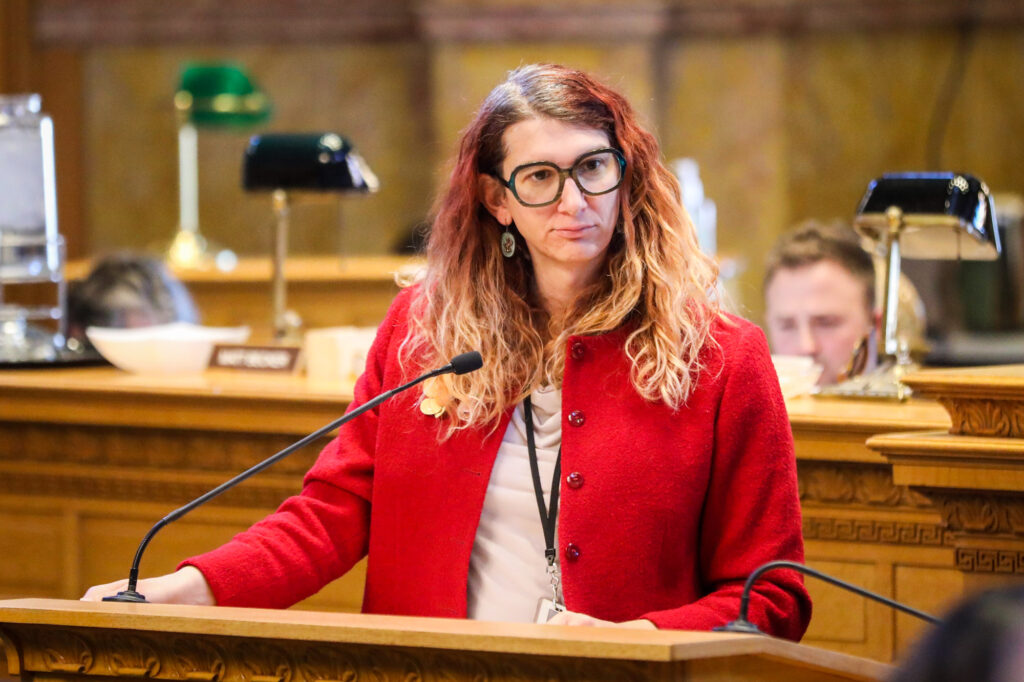 Titone is in her third term in the House, after narrowly flipping a Republican held-seat in Arvada in the 2018 Blue Wave, winning by 439 votes. Her victory took both Democrats and Republicans by surprise.
She said during her first term she deliberately chose not to be the lead sponsor on the biggest LGBTQ rights bills to ensure she didn't get defined by that issue.
In 2020 she faced anti-LGBTQ campaign flyers and a former colleague, Republican Rep. Steve Humphrey, voiced robocalls at the time with false claims accusing her of "sexualizing children." 
She handily won reelection in 2020 and 2022. She's currently a co-chair of the House Democratic caucus. 
"This is not gonna be the last time this is gonna happen," she said of the conflict around the resolution. 
"So how do we wanna do this? How do we wanna respond to this? How can we do better as a group to respond to these things and not let the wounds start to fester."
You care.
You want to know what is really going on these days, especially in Colorado. We can help you keep up.  The Lookout is a free, daily email newsletter with news and happenings from all over Colorado. Sign up here and we will see you in the morning!