'Here 4 The Kids' protesters know Polis can't ban guns — and that's the point
Early on Monday afternoon, more than a thousand people had gathered at the Colorado State Capitol for the beginning of a four-day protest calling for Gov. Jared Polis to ban practically all guns in Colorado.
The sit-in will almost certainly not succeed in that goal, at least not in the foreseeable future. The newly formed group, Here 4 The Kids, has demanded that Polis issue an executive order that unilaterally bans guns, including for law enforcement, and requires Coloradans to sell their firearms to the government. 
The governor's office has said that would violate both the state and U.S. constitutions, and noted the state legislature would need to approve the large amounts of money needed for a mandatory buyback.
The protest organizers, and protesters interviewed by CPR News, said that they know their demands are beyond political and legal norms — and that that's just the point. They aim to show the public demand for extraordinary action to stop the ceaseless violence that plays out in schools, theaters, homes, offices and public streets.
"I'm here because these are people that have a vision," said Deva Yoder of Arvada. "Whether I believe it can happen or not, it's almost irrelevant, because I want to be part of something that's getting the ball rolling and starting the conversation."
Protesters say Democratic action isn't enough
The protest comes just after a legislative session when Democrats took more action on guns than at any other time in recent history. They expanded the state's "red flag" law, raised the minimum age for gun purchases to 21, made it easier to sue the firearm industry over gun violence and tried to crack down on ghost guns. 
However, in the same session, Democrats shut down a proposal to ban the purchase of so-called assault weapons, which drew more intense opposition and support than the other measures. That bill failed in a committee vote after some 15 hours of testimony and debate.
Democratic leaders defended the decision to stop the assault weapons bill, saying that a single-state ban would have little effect. But the failure of the bill helped drive people to the protest on Monday.
"I want to believe that Polis wants to do the right thing. But also, growing up in this country, I know how powerful the people behind weapons are and how powerful the NRA is," said Lindsey Long of Denver.
She sat with photos of her two children — Lyle, 9, and James, 2.
"People have been assuming that they died, which has been really sad. But I'm here because they're still alive and I want to keep them that way," she said.
Democrats dismiss gun ban as 'extreme' and 'unconstitutional'
Top Democrats said they supported the protesters' efforts to stop gun violence, but they dismissed the idea of banning guns outright through an executive order.
"(Polis) will not issue an unconstitutional order that will be struck down in court simply to make a public relations statement — he will continue to focus on real solutions to help make Colorado one of the ten safest states," a spokesperson for the governor wrote in an email.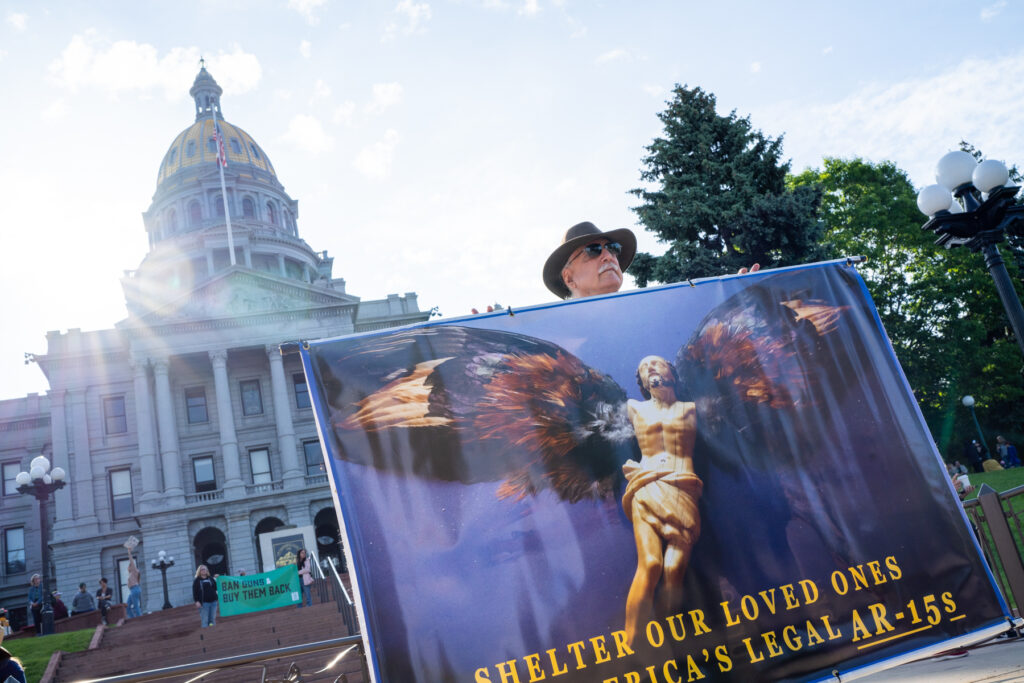 In an opinion piece, two Democrats behind several of the state's recent gun control laws dismissed the proposed executive order as an "extreme" and "unconstitutional" idea, and warned it would "diminish decades of work by policymakers and activists who have labored tirelessly to stop gun deaths and could undermine and demoralize those efforts going forward."
The piece was by Sen. Rhonda Fields, whose son and soon-to-be daughter-in-law were murdered in a shooting, and Sen. Tom Sullivan, whose son was murdered in the Aurora theater shooting.
They continued: "While the work of making Colorado safe from the scourge of gun violence is far from over, this misguided approach will do more harm than good, and create unrealistic expectations for a public hungry for meaningful reforms."
Organizer Saira Rao told CPR News that Here 4 The Kids is well aware that the executive order would violate the Constitution, framing it as a call for action.
"This obviously flies in the face of the Constitution – of the Second Amendment," she said. "We would like to see the 28th Amendment repealing the Second Amendment. So yes, we are not morons. We are very well aware that this is unconstitutional, and this is how change happens."
---
---
The group Rocky Mountain Gun Owners derided the event and said it would file an immediate legal challenge against any law or order banning guns in the state. 
"It is clear that even the most far left of Colorado voters do not support any type of gun ban, especially one to this magnitude," said Taylor Rhodes, Executive Director of Rocky Mountain Gun Owners. 
Colorado has endured a steady increase in gun deaths in recent years. 2022 also saw a record number of "mass shootings" — incidents in which four or more people, besides the shooter, were injured or killed.
Organizers wanted a crowd of white women
The event was organized in large part through social media, especially Instagram. While the protest on Monday was small compared to the Black Lives Matter protests of 2020, it drew people from across the nation. It also attracted national attention from celebrities like Julia Louis-Dreyfus, and the organization's Instagram account has gained more than 60,000 followers. 
Online, people with large followings posted videos about traveling to Denver for the protest. The protesters projected as many as 25,000 women might participate, although the number at the Capitol early on Monday was less than a tenth of that. While the primary organizers behind the sit-in are women of color, they emphasized that they hoped white women would make up the bulk of in-person protesters.
"As we prioritize the safety of historically marginalized and vulnerable populations such as BIPOC, LGBTQIA+, non-citizens, and disabled folks whose bodies are often on the front lines fighting for human and civil rights, we invite white women to take part in this act of civil disobedience," their website read. 
People of color were encouraged to participate virtually. Anna Russell, a Black woman who traveled from Ohio, did not know that until after she bought her plane ticket.
"I have mixed feelings about that," said Russell, a teacher who was moved to act by the constant sight of her five-year-old students hiding during active shooter drills. "I understand it, but in some aspects, I don't feel like any movement that separates women is going to be as successful as if we're all working together."
She said that she came to a protest in Denver because she believes action here could inspire change back home in Ohio and in other red states. Like several others, she said that the motivation ultimately came from the fear of public violence that haunts many parents and others.
"I don't want to be numb to gun violence, because I see so much of it," she said.
Long, of Denver, said that her group chats with other mothers are filled with plans to move abroad to escape gun violence — and demands for action.
"Moms could not only change this state or the country, but they could change the world. But we have to have the support to do it — because I'm trying to work and take care of my kids and rally to ban guns," she said.
The protest is scheduled to continue through Thursday.
Editor's Note: An earlier version of this story contained an incorrect length for the assault weapons ban hearing. It has been updated.
You care.
You want to know what is really going on these days, especially in Colorado. We can help you keep up.  The Lookout is a free, daily email newsletter with news and happenings from all over Colorado. Sign up here and we will see you in the morning!