Guns, housing, abortion and more: What the legislature did (and didn't) do this year
Today, after 120 days of work, Colorado lawmakers are about to hit the final deadline.
State law requires that they adjourn their annual session no later than midnight tonight. As is usually the case at the end of session, the pace of lawmaking has reached a fever pitch, especially in the last few days. Lawmakers worked through the weekend to move forward bills on everything from TABOR refunds to casino gambling.
All told, the legislature considered 617 bills in the last four months, on all sorts of issues. Below are seven areas where lawmakers tried to make big moves, and how those efforts fared.
It was arguably the most consequential session for gun policy in state history.
Democrats enacted a significant package of stricter gun laws this year, passing more policies on the issue than in any other single year in state history. Those bills garnered some of the longest debates at the statehouse, as Republican lawmakers did all they could to try to slow them down. And gun rights supporters have already filed lawsuits to try to block some of the policies from taking effect, declaring them unconstitutional.
The bills that passed include: 
Gov. Polis has already signed four of the bills into law. Democrats say they are approaching gun violence the same way they do other issues of ongoing public concern, like health care and affordable housing, that also inspire multiple bills each session.
"It's breathtaking to see that many gun violence prevention bills move the way they did," said Democratic House Speaker Julie McCluskie. She called the work this year "monumental."
However, what was arguably the session's highest profile gun control bill did not pass. A proposed statewide assault weapons ban lingered on the calendar for weeks and then failed in its first committee. Three Democrats joined Republicans to oppose moving it forward. This was the first time such a ban had been introduced at the legislature, and it was one of the most polarizing proposals facing lawmakers this year. 
Rep. Elisabeth Epps, a Democratic sponsor, said it was still a stepping stone toward the eventual goal.
"We'll do the work to ban these weapons that have no place, they have no place in our society," said Epps.
Republicans ran numerous gun bills of their own this session, none of which advanced. The bills included the Second Amendment Preservation Act, which would have banned the enforcement of federal laws that infringe on the right to bear arms, a ballot measure to allow concealed carry without a permit statewide and a bill to give business owners and employees the right to use deadly force against an unlawful intruder. 
Gov. Jared Polis pushed a rewrite to the rules for housing development, but its fate is still in doubt.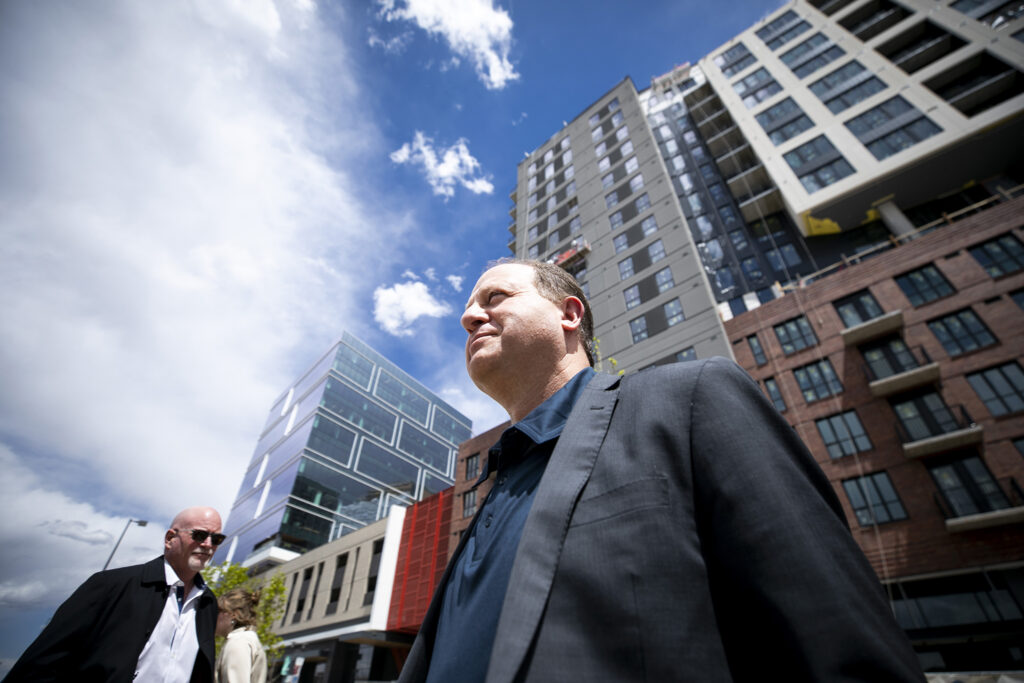 Gov. Jared Polis opened the session calling for major housing reforms, but whether he will actually get much of what he wants was perhaps the biggest remaining question going into the last day.
In March, he proposed sweeping "land-use" changes that would have forced local governments to allow condos and townhomes in residential neighborhoods across the Front Range and in some mountain towns. 
After lots of twists and turns, HB23-213 was narrowed to a requirement that cities allow greater density near transit corridors. But the Senate and House remained at odds over the scope of the bill, and its fate remains uncertain.
Still, another measure that would limit cities' say over their development does look set to pass. HB23-1255 would ban growth caps. Cities like Golden, Lakewood and Boulder have implemented caps that generally limit the number of residential units that can be built in a year, at least in certain areas, though they sometimes contain exemptions. This bill invalidates those policies and prevents other cities from instituting new ones.
Proponents argued that cities were shirking their responsibility for development by limiting growth, while supporters said cities are best positioned to make planning decisions.
The affordable housing supply could get a boost with a Democratic bill that gives cities the right of first refusal to buy multifamily buildings when they're put up for sale. If the government could match the best private offer, it would get to buy the building for use as affordable housing. HB23-1190 drew objections from real-estate interests who said months-long delays for negotiations could lead to deals falling apart. The measure survived a crucial vote in the Senate on Sunday and is on track to pass.
Progressive lawmakers wanted to make major changes to the balance of power between tenants and landlords, but some of the biggest bills died.
Democrats have grown their numbers in the House, and some progressive lawmakers wanted to seize the moment to grant new rights to renters in Colorado.
"The rent is too high in Colorado, and that's not just for essential service workers," said state Rep. Javier Mabrey, a first-year Democratic lawmaker and eviction defense lawyer, in the early days of session.
Some of the biggest, most attention-grabbing measures run by Mabrey and his allies were rejected by the more moderate Senate, but a number of smaller renter reforms were approved.
These measures passed or are set to pass:
New rules for landlords: SB23-184 says landlords can't set income-to-rent requirements at lower than 200 percent (that is, they must accept tenants whose income is double the rent or more) and limits security deposits to no more than two months rent. HB23-1095 limits what clauses landlords can put in their leases. And HB23-1254 sets requirements for how landlords handle repairs after environmental events.
Portable background checks: This bill saves tenants from having to pay for multiple background checks when they put in applications with different landlords.
Protections for pets in rental housing: HB23-1068 says landlords can only ask for a $300 security deposit for pets and can't charge pet rent greater than 1.5 percent of normal rent.
These did not pass:
Local rent control: An effort to allow local governments to set limits on rent increases failed in a Senate committee.
Just cause eviction: This bill would have made it harder to force tenants out through "eviction by nonrenewal," where a landlord refuses to renew a lease. The bill made it to the Senate floor, thanks to revisions that narrowed back its scope, but the Democratic majority allowed it to run out of time on Sunday night.
Housing Accessibility: This bill would have required apartment buildings to include more units adapted to people with limited mobility. The sponsor didn't have enough votes to move it forward so instead pivoted to set up a task force to come with recommendations on expanding access for people with disabilities for housing, outdoor recreation and government.
In the first session post-Roe, Democrats took steps to expand and defend abortion access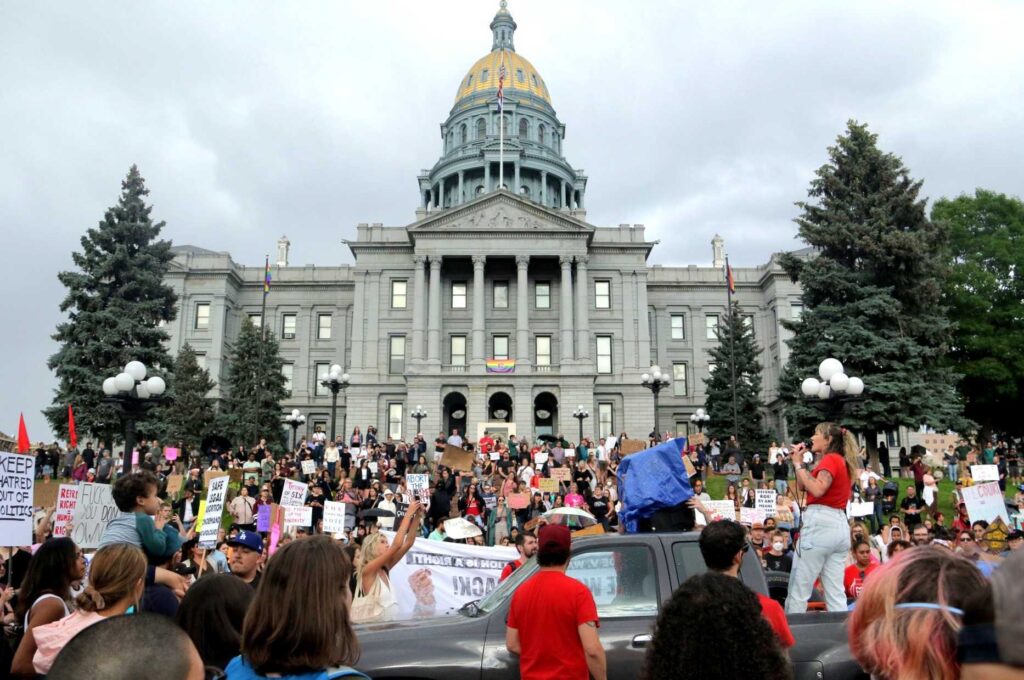 Protecting access to abortion and gender-affirming medical treatments was a priority for Colorado's Democratic majority this session, as Republican leaders in many surrounding states moved to restrict care.
Governor Jared Polis signed three bills into law. 
One of them expands on an executive order he issued last year to shield patients and abortions providers from legal repercussions from other states. The law adds gender affirming care to those protections.
The state also expanded the rules for how insurance companies treat abortion; large employers are now required to cover the total cost of the procedure, although there is a religious exemption. It does not apply to public employees because Colorado's constitution bans any state money going to fund abortions. 
The third law in the package bans "deceptive practices" by 'pregnancy resource centers,' which critics argue market themselves to people seeking abortions but then try to convince them not to terminate their pregnancies. The bill also makes Colorado the first state in the country to prohibit clinics from offering medication abortion reversal, a scientifically-controversial procedure that many abortion opponents have embraced. However, the ban is being challenged in court, and the state has promised not to enforce it until after Colorado's medical and nursing boards weigh in.
As with guns, Republican lawmakers staked out their position on the issue and introduced a number of bills that didn't gain traction in the Democratic majority. They included an effort to abolish abortion and medical aid in dying, by defining a "person" to include every stage of life from fertilization to natural death. Other bills would have required health care providers to administer a painkiller to a fetus prior to an abortion and to provide state-prepared information on how to access abortion pill reversal treatment to anyone seeking a medication abortion.
On criminal justice, lawmakers tackled an array of changes, and changed how some policies may be developed in the future
This year's legislative session once again saw the collision of the criminal justice reform movement, which aim to reduce the destructive social effects of incarceration, with the conflicting drive for harsher penalties in response to crime.
One of the session's most sweeping bills was bipartisan: HB23-1293 shifted the penalty levels for dozens of felony crimes — increasing the severity for some, decreasing it for others. It's part of a long-running effort by both prosecutors and criminal defenders to overhaul Colorado's criminal code.
Separately, the legislature agreed to increase penalties in some circumstances, including:
The consequences for stealing cheaper cars were increased to match those for more expensive vehicles through SB23-097.
False reporting of a mass shooting or active shooter will become a low level felony under SB23-249.
HB23-1135 makes indecent exposure in view of a child a felony, up from a misdemeanor. It drew national attention from conservatives because it was opposed by some Democrats, who argued harsher criminal penalties don't deter crime, as well as concerns that it could be used to target drag shows.
Other bills continued the reform effort to either reduce criminal penalties or to change how people are treated in the criminal justice system.
Lawmakers also decided to abandon one method of crafting justice legislation. Democrats decided not to continue the Colorado Commission on Criminal and Juvenile Justice. The Colorado Sun reports progressive lawmakers were concerned the panel — which brought together lawmakers, law enforcement, defense attorneys and justice reformers to develop policy recommendations — has become a way of slowing the pace of reform.
A change to workplace harassment laws years in the making
Colorado lawmakers moved this session to make it easier for people to file workplace harassment claims by loosening the legal standard. Under SB23-172, harassment would no longer need to be severe or pervasive to merit a claim.
The measure's passage was years in the making. Advocates described it as the culmination of countless discussions with members of the business community who have been concerned it could potentially lead to frivolous lawsuits.  
The new definition tries to be more explicit about the factors that should be considered in determining harassment, and it protects businesses from liability if they have harassment prevention programs and take reasonable actions to respond and address harassment complaints. 
Lawmakers also tackled the issue of harassment in the public sector. SB23-286, a bipartisan bill still in the works, would change Colorado's open records laws to make credible sexual harassment claims and investigations against elected officials open records, accessible to the public. Names of victims and witnesses would be redacted.   
A bill that requires public schools to adopt a formal policy aimed at protecting students from harassment or discrimination is also on track to pass. School staff would be required to take additional training and schools must collect information on the number of incidents. The harassment would not need to be severe or pervasive in many instances. The policy would apply to teachers, aides, bus drivers, other employees, as well as students. 
You care.
You want to know what is really going on these days, especially in Colorado. We can help you keep up.  The Lookout is a free, daily email newsletter with news and happenings from all over Colorado. Sign up here and we will see you in the morning!