Club Q shooter sentenced to 5 consecutive life sentences after pleading guilty
Updated 7:04 p.m. on Monday, June 26, 2023
The Club Q shooter pleaded guilty on Monday morning to five counts of first-degree murder and 46 counts of attempted first-degree murder in a mass shooting at a Colorado Springs LGBTQ club last year.
Weeping victims and survivors packed the courtroom in almost four hours of emotional testimony. Some family members and survivors of gunfire angrily spoke of their lives being ruined, saying they hoped the convicted killer would rot in prison. Others, openly weeping, asked the judge to consider the maximum sentence the state would allow.
Monday's hearing was a final chapter in state charges filed against Anderson Lee Aldrich in one of Colorado's most prominent bias-motivated mass shootings. It served as the lone opportunity for those who were affected by the shootings to tell their stories in the courtroom with the shooter present.
Aldrich asked the judge to use they/them pronouns and to address them as Mx. Aldrich in the courtroom.. Mx., pronounced like "mix," is a gender-neutral alternative to Mr. or Ms.
"I, intentionally and after deliberation, caused the death of each victim listed in those counts and then with the attempted murder first-degree murder counts with intent to commit murder in the first degree … of each of those victims," said Aldrich, 23, wearing a blue plaid shirt and tie while cuffed in lime green handcuffs.
Aldrich pleaded no contest to the bias-motivated crimes charges, indicating that they didn't believe they committed the shootings with any bias. They said they were pleading no contest, "because of the evidence presented I think there is a high probability of being convicted at trial to those counts."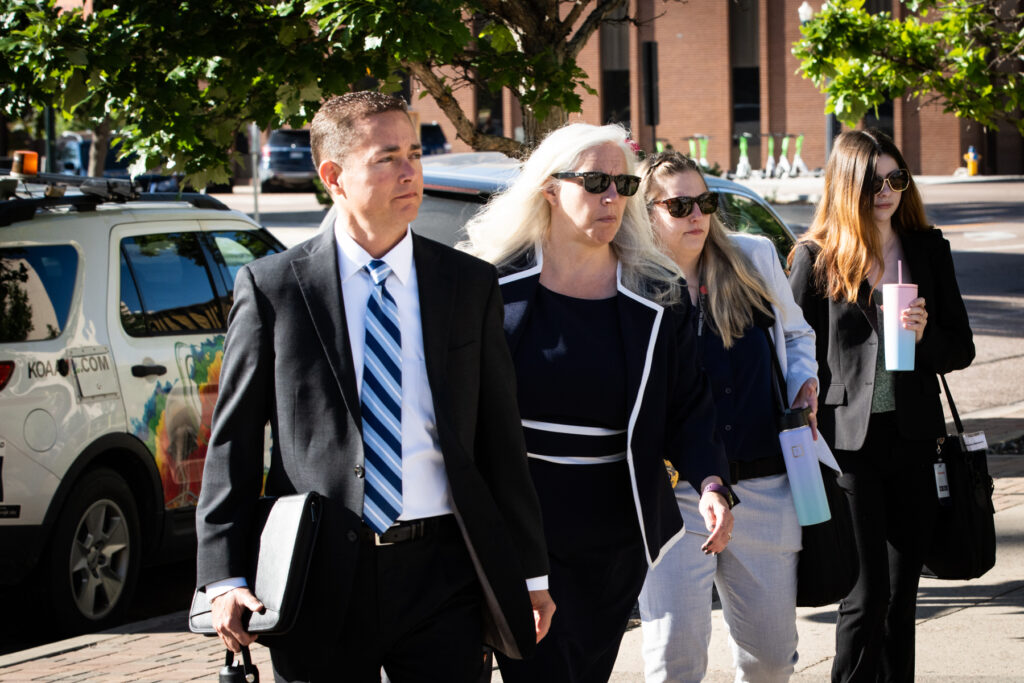 El Paso County District Attorney Michael Allen told the judge that there was overwhelming evidence that Aldrich committed these shootings at the popular LGBTQ club as a hate crime.
"No amount of prison comes close to repair the damage he caused," Allen said. "From the point of view of the victims, those charges reflect the why and, in this case, more than most, the why matters. These victims were targeted for who they are."
Aldrich walked into the nightclub on Nov. 19, 2022 and indiscriminately began firing a semi-automatic weapon, ultimately killing Raymond Green Vance, 22, Daniel Aston, 28, Ashley Paugh, 35, Derrick Rump, 38, and Kelly Loving, 40. An additional 17 patrons at the bar were shot.
One patron at the club, Drea Norman, who helped tackle Aldrich before police arrived, told the judge she saw their face during the shootings as she crouched for cover. 
"I want everyone here today to understand that this was deliberate," Norman said. "It almost looked excitable to the shooter."
At the February preliminary hearing, a Colorado Springs detective testified Aldrich had been to Club Q six times over the course of about a year, buying drinks, doing karaoke and attending a drag show. 
Victims and survivors tearfully address the judge and the shooter
On Monday, victims and survivors stepped up to the lectern one at a time. They tearfully addressed the judge and Aldrich, saying the night in November had forever devastated their families and their lives.
People were openly weeping in the packed rows inside, many wearing rainbow ties or shirts and colorfully painted fingernails.
"I will never forgive you for this," said Sabrina Aston, the mother of Daniel Aston who was a bartender at Club Q and was shot and killed. "This hole in my heart will be here every day until I die. You have to live with this shame in your small cell until you die. Not for one minute do I believe your regret. You robbed him of ever fulfilling his dreams."
Curt Paugh, Ashley Paugh's husband, said there was injustice that Aldrich gets to "eat three meals a day" and his wife is dead.
"He will rot in loneliness and hate," he said, weeping. "My wife's name will live on, Ashley Marie Paugh will live on … Ashley will never be forgotten."
Adriana Vance, mother of Raymond Green Vance, said she is trying to find a way to move on without him.
"This man doesn't deserve to go on. What matters now is that he never sees a sunrise or a sunset," she said.
Aldrich sat and mostly stared at the floor, and their eyes occasionally filled with tears. A lawyer sitting next to them gently put her hand on their shoulder once in a while. They declined to address the victims after the many hours of testimony, but one of Aldrich's public defenders, Joseph Archambault, spoke for them. 
"They are deeply remorseful and they are deeply sorry for all the people they killed," Archambault said. "They know that they can't do anything to make it bette,r but they do want everyone to know they're sorry they are remorseful and Mx. Aldrich does ask the court to accept the plea deal and sentence."
'We grieve this loss of life and we affirm the value of all the members of our community. Justice demands no less'
In closing remarks, prosecutors talked about the big acts of bravery that took place in the minutes during and after the shooting.
That included the heroism of Tom James, an active duty officer for the U.S. Navy, who was on the smoking patio and was the first to tackle Aldrich as they tried to move through a door with their semi-automatic weapon. Aldrich shot James in the abdomen and when James was later loaded onto a gurney to be taken to the hospital, he jumped up and hopped off, saying there were people injured worse than he was.
"If that isn't inspiring, I don't know what is," Allen said. "The targets inside Club Q were not political slogans, they were not ideological pawns in some game. They were people. Each person inside that club had the right to live."
In sentencing Aldrich to multiple life sentences plus more than 2,000 years for attempted murder of everyone who was at the club at the time, Judge Michael McHenry said: "This country was founded on the idea that all persons were created equal, the idea that God makes no mistakes. Hate crimes are worse than other crimes … Your actions reflect the deepest malice of the human heart."
"For taking these five lives, and attempting to take 46 more you will now spend the rest of your life in prison," McHenry said. "We grieve this loss of life and we affirm the value of all the members of our community. Justice demands no less."
Leading up to Monday's hearing, the prospect of a resolution was both an emotional relief and a point of exhaustion and frustration. On Club Q's Facebook page, the club issued a statement saying they look forward to having justice in this case.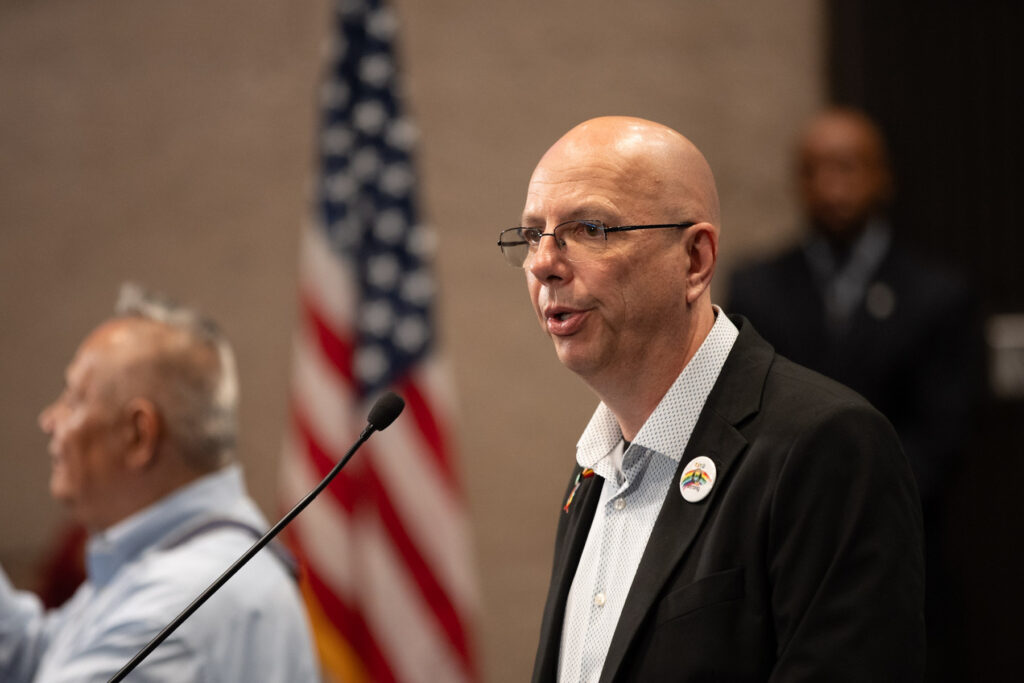 "It is our hope that the deliverance of justice will allow victims and survivors to foster healing, find closure and begin to find peace," the statement said. "It is quite evident that the defendant deserves to live life in prison without the possibility of parole."  
Following the hearing, Club Q owner Matthew Hayne said he plans to re-open the club in the same location but with metal detectors. He is hoping to have it ready to go by the one-year anniversary of the shooting.
A few questions remain unanswered
Aldrich has been incarcerated since their arrest last year. 
It is still unclear whether federal prosecutors will file federal hate crimes for the attack. The U.S. Attorney's Office declined to comment on the case. At a press conference after the sentencing, Colorado Springs Police Chief Adrian Vasquez said he wouldn't release any investigative documents in the case out of respect for the ongoing federal investigation.
Colorado's FBI Special Agent in Charge Mark Michalek confirmed at a press briefing after the hearing that they have opened up a federal investigation into Aldrich, specifically looking at hate crime charges. That could carry a death penalty in a federal case — something that state prosecutors say they welcomed.
"There is only one death penalty option and that's at the federal level, and I'll leave it at that," Allen said.
It is also unclear whether the state's Department of Corrections will send Aldrich to a men's prison or a women's prison. The Department of Corrections did not immediately answer questions for comment.
Allen said he didn't believe that Aldrich was nonbinary because there was no evidence before the shooting that Aldrich identified that way. Allen said he believes Aldrich was using that as a way of getting out of the bias-motivated charges.
"I hope he serves out his sentence in the smallest, most uncomfortable cell in Colorado," Allen said.
Jeff and Sabrina Aston, parents of Daniel Aston, who was gunned down while working at the Club Q bar, said after the hearing that they wished Aldrich would have had the courage to address the victims.
"We are thankful that the federal government is still investigating this case and I do hope they press charges and I hope they get the death penalty and even that is more than this monster deserves," Jeff Aston said.
You care.
You want to know what is really going on these days, especially in Colorado. We can help you keep up.  The Lookout is a free, daily email newsletter with news and happenings from all over Colorado. Sign up here and we will see you in the morning!