Here are some of the potential GOP challengers for Colorado's newest congressional seat — and one of the most contested House races in the country
With control of the U.S. House likely to come down to just a handful of races next year, Colorado's politically-balanced Eighth Congressional District is squarely in the sights of both national parties.
But as first-term Democrat Yadira Caraveo and her allies gear up to defend the seat, Republicans still have a big question: who will their voters choose to challenge her.
This week saw the first Republican declare his candidacy in the race. Weld County Commissioner Scott James announced his bid just hours after State Sen. Barbara Kirkmeyer, who narrowly lost in 2022 to Caraveo, said she would not run in the district again. 
Kirkmeyer's decision to instead seek re-election to the state senate clears the way for other GOP hopefuls to hop into the race. Along with James, a number of current and former elected officials are reportedly considering a run.
First-year Republican state House Rep. Gabe Evans said he's seriously weighing it. The former Arvada police officer and U.S Army veteran said he's passionate about building coalitions around "common sense" solutions to local and national problems, such as trying to address crime, affordability, improved education, and taking care of the environment. 
"If I can advocate for those things on a bigger stage to try to make a better balance for more people and make their lives better, when I don't necessarily think that the current administration is doing that, that's something that I'm definitely going to seriously consider," he told CPR News.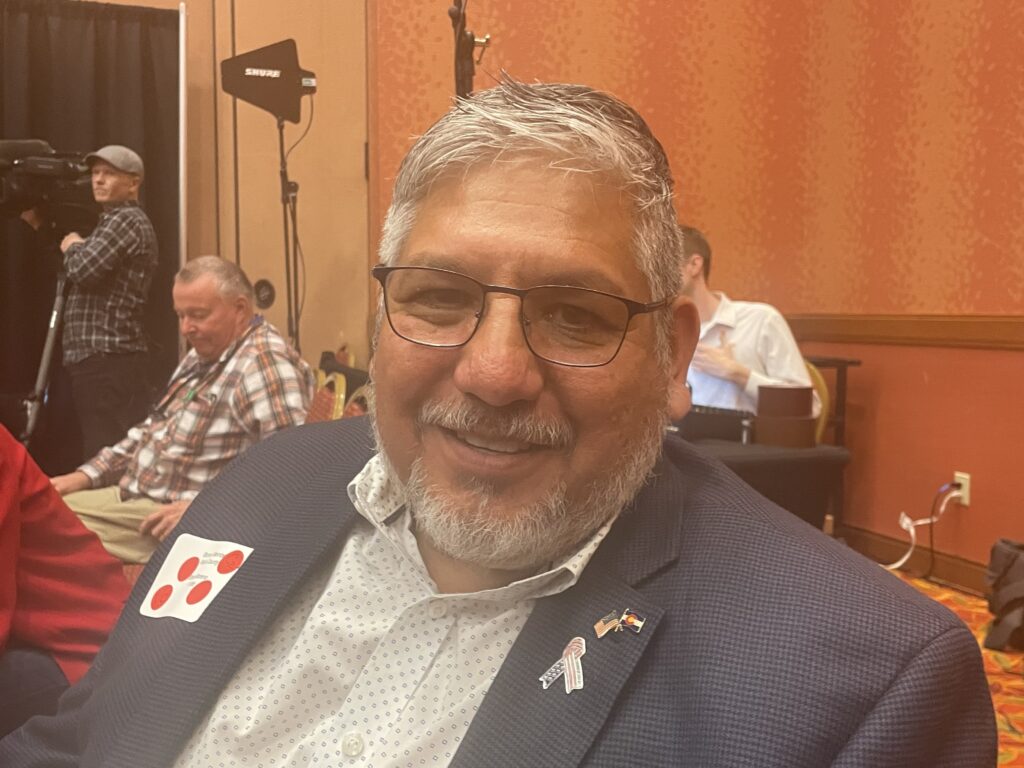 Other names that have been floated include former state house Rep. Dan Woog and former Weld county clerk and recorder and former county commissioner Steve Moreno. Former Republican U.S Senate nominee Joe O'Dea has also been mentioned but people close to him say if he did choose to enter it would likely not be until later in the cycle. 
The race is likely to be one of the state' biggest and most closely watched political races next year. Colorado's independent redistricting commission created the seat after the latest round of redistricting and it's the state's most competitive and a pickup opportunity for the GOP.
"With a razor-thin majority in Congress, Republicans are looking to take opportunities all over the country," said GOP political consultant Ryan Lynch. "And I know that the majority of national strategists have CD8 in Colorado circled. It should get quite a bit of attention nationally."
Some Republican consultants however expressed concern that the potential GOP pool doesn't currently include people with strong name identification or significant fundraising experience, although O'Dea did recently run a statewide race and would have the ability to self-fund. 
Whoever the nominee is, they can most likely expect support from the House Republican campaign arm, which has included the seat in its target list for the 2024 campaign cycle.
But that support will likely have to wait until next summer; the National Republican Campaign Committee does not get involved in party primaries, and has focused most of its energy on Caraveo and criticizing her votes in the House.
Democrats ready their own campaign efforts
While Republicans are still jumping into the race, the Colorado Democratic Party doesn't plan to sit on the sidelines.
On Friday, party leaders announced the launch of a ground game operation focused on the congressional race, as well a couple of local races in the district. The Horizon Project, as its being called, which will start canvassing voters this weekend. 
According to state Democratic Party chair Shad Murib, they're getting started this early because they know "this is going to be a long fight."
The party will "focus exclusively" on what Murib described as deep canvassing and reenergizing relationships with voters across the district, including Latino and young voters. 
"We know that deep canvassing can make a real impact on how voters think about their hopes and dreams for their future. And our hope is not necessarily just to send them a reminder next October to get their ballot in, but to spend the next year talking to these voters regularly," he explained.
This project is similar to one the party launched earlier this year targeting GOP Rep. Lauren Boebert in the 3rd Congressional District. In both cases, the party has refused to put a dollar amount on its efforts.
Rhonda Solis, State Board of Education member for CO-08, said she expects some people will want to talk politics even this far out from the election, but she understands that others might not. Still, she said it's about opening up lines of communication.
"Getting people's ideas, getting their thoughts. Actually going to them and asking them, 'What do you think?', 'how do you feel?'' she explained. "Just honest, authentic conversation."
Among the other Democrats contributing to the door-knocking, as well as mentoring those that will be doing the canvassing, is Attorney General Phil Weiser. He said the party needs to think about engagement both in terms of quantity, and quality. 
"If you wait to talk to voters weeks before an election, their attitude can properly be summed up as 'I only hear from you around election time. Why should I think you actually care what I think, or about me?' The central motivation of this effort is to demonstrate that commitment, that caring, that I know Rhonda and I know [Yadira Caraveo] brings every day," he said.
Buf if that last election is any indication, those voters will be hearing from a lot of groups. For example, the Libre Initiative, a conservative grassroots group focused on Hispanic voters, was active in going door-to-door to support  Kirkmeyer in 2022.
---
Related coverage
You care.
You want to know what is really going on these days, especially in Colorado. We can help you keep up.  The Lookout is a free, daily email newsletter with news and happenings from all over Colorado. Sign up here and we will see you in the morning!