Colorado skier beat cancer, now takes on brother in Sochi Olympics
(Photo: Courtesy of Bryan Fletcher)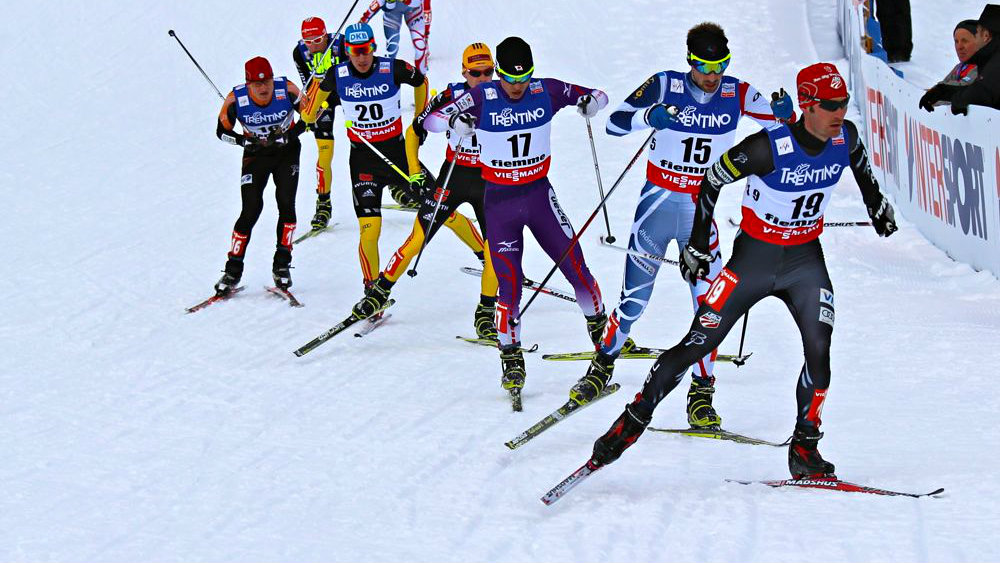 (Photo: Courtesy of Bryan Fletcher)
<p>Bryan Fletcher, #19, competes at the 2013 Nordic combined World Championships in Italy.</p>
(Photo: Courtesy of Bryan Fletcher)
<p>Bryan Fletcher skiing for Team USA.</p>
(Photo: Courtesy of Bryan Fletcher)
<p>As a leukemia survivor himself, Bryan Fletcher likes to do charity work with kids dealing with cancer. This year, through the Leukemia and Lymphoma Society in Utah, Fletcher asked kids to draw what it looks like to beat cancer, and then made the images into a helmet, which Fletcher has worn during World Cup races. Rhett drew Spider-Man kicking a depiction of cancer.</p>
(Photo: Courtesy of Bryan Fletcher)
<p>As a leukemia survivor himself, Bryan Fletcher likes to do charity work with kids dealing with cancer. This year, through the Leukemia and Lymphoma Society in Utah, Fletcher asked kids to draw what it looks like to beat cancer, and then made the images into a helmet, which Fletcher has worn during World Cup races. Charlotte drew a fearless lion.</p>
(Photo: Courtesy of Bryan Fletcher)
<p>As a leukemia survivor himself, Bryan Fletcher likes to do charity work with kids dealing with cancer. This year, through the Leukemia and Lymphoma Society in Utah, Fletcher asked kids to draw what it looks like to beat cancer, and then made the images into a helmet, which Fletcher has worn during World Cup races. Charlotte drew a champion complete with shiny medals.</p>
Fletcher is headed to Sochi in February as part of the U.S. Nordic combined ski team. But long before he vied for a spot in the Olympics, he had to overcome leukemia. 
As a child, Fletcher says he shuttled back and forth between his home in Steamboat Springs, Colo., and the hospital in Denver to get treatments.
"I was splitting my time between treatments and ski jumping," Fletcher says. "I'm sure my parents were trying to keep me off the slope to recover. But I was a go-getter. They did their best but I overcame their will."
Fletcher started kindergarten while undergoing chemotherapy, and he was nervous about having a bald head.
"I decided the best way to go to school the first day was to paint my head green and go as a Ninja Turtle," Fletcher says. "It allowed me to explain it to kids on my own terms."
Now cancer-free, Fletcher and younger brother Taylor will be part of Team USA at the Winter Games in Sochi.
"Happy to be going to my second Olympics, and happy to have my brother along with me," Taylor Fletcher says.
He competed at the 2010 Vancouver games but Bryan didn't make that team, saying the experience made him stronger.
"I wanted to go [to Vancouver], but looking back, I don't think I'd be where I am today if that hadn't happened," Bryan Fletcher says.
He says he refocused on ski jumping, one-half of the Nordic combined event, and dropped a lot of weight. Now jumping has become a strength for him.
Taylor Fletcher, however, shines at cross-country skiing, the other half of the Nordic combined event.
The brothers say they make perfect training partners because they have different strengths and can help each other improve.
They and their teammates are expected to capture some medals in Sochi this year despite a long tradition of European dominance in Nordic combined events at the Olympics and other international competitions.
But the sport has seen a shift over the last decade with the U.S. capturing more victories. 
Taylor Fletcher says the big breakthrough came in 2003 when U.S. skier Johnny Spillane captured a gold medal at the World Championships in Italy. With that win, Spillane showed the rest of the U.S. Nordic combined athletes it was possible to win.
The Fletcher brothers are expected to carry the strong U.S. Nordic combined team forward and it's no coincidence since they grew up in Colorado.
Howelsen Hill, near downtown Steamboat Springs, is home to some of the world's biggest ski jumps. Bryan Fletcher says that as a kid, all he wanted to do was to "go off of them."
Now, even though he's achieved international rankings, Bryan Fletcher says he still works odd jobs when he's in Salt Lake City, where Team USA trains. 
"It's not cheap to be an athlete by any means," Fletcher says.  "It's an ongoing challenge and working at restaurants is probably the most common way athletes can fund their Olympic dreams."
Some athletes train all day and then work the dinner shift at a restaurant.
"That's really the only way to do both," Fletcher says.
Fletcher also does charity work, particularly with children suffering from cancer.
Recently he worked with the Leukemia and Lymphoma Society of Utah to ask kids to draw what it looks like to beat cancer. Fletcher turned the images into a helmet, which he has worn during World Cup competitions this year.
Fletcher won't be able to sport the helmet during Olympic competition due to International Olympic Committee rules that prohibit athletes from wearing equipment or clothing that displays a message.