Puerto Rico Was Home. After Hurricane Maria, This Coloradan Is Ready To Head Back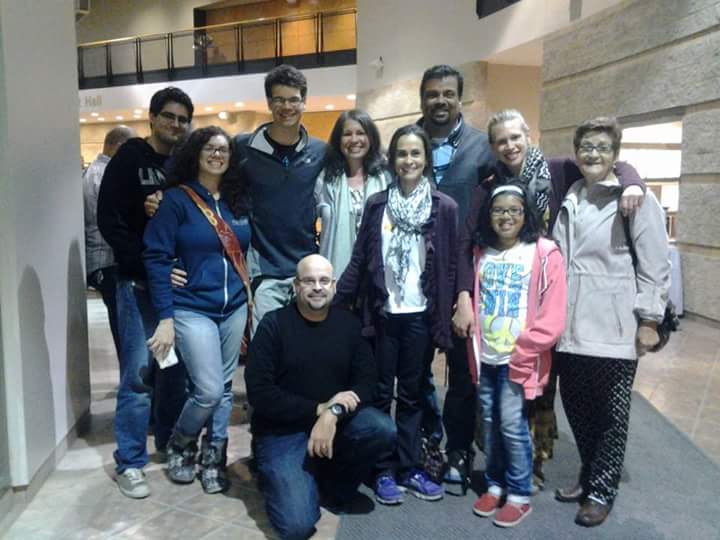 She tracked the storm's progress for a week before Hurricane Maria reached the shores of Puerto Rico. The day before its arrival, Vasti Rosado reached out from Colorado and called her grandmother.
"She was being very strong," Rosado says. "But she was like, 'I'm a little bit scared. We can already see the tides rising. We can already see the winds coming in.' "
The destruction from Maria is unprecedented: the island is almost entirely without power, people are left without access to clean water and hospitals are struggling to stay in operation. Tens of thousands of victims are fleeing for the mainland. 
Rosado couldn't reach her grandmother for days.
"We'd only heard through word of mouth from people that she [was] OK," Rosado says, but her family was eventually able to fly her grandmother to Miami.
Rosado was born in Puerto Rico, and moved to the mainland to go to college. She's a caseworker at the Colorado Coalition for the Homeless, and has worked with refugees in Ethiopia. Rosado says she knows many Puerto Ricans will leave the country, but that her native island needs people to eventually return and rebuild. Her plans to go to graduate school are now on hold. 
"I've worked as a humanitarian, I have a degree in conflict resolution, I have the skill set needed to help my people," Rosado tells Colorado Matters. "So people like me, who have the experience, who have the knowledge, who have the resources, when things get a little bit calm, pack your bags and let's go back and rebuild our country. Because we are the educated ones. We are the ones that have the knowledge and the resources that we need to rebuild our country."
Interview Highlights
On what she heard her grandmother had witnessed:
"It was rough. When she first called on Friday morning, we both broke down in tears. I asked her, 'Hey how was the island? What did you see? What did you witness?' And so she shared her story of suffering with me. The first words that were out of her mouth were like, 'It's bad, it's really bad. It's worse than what we see on the news.' She says animals are starting to rot on the ground, people who died inside of homes that were covered by mudslides are starting to stink. Hospital morgues are being filled with people who died in the ICU and there's not enough materials to take care of the death." 
On what she hopes to accomplish:
"I know that I have the experience and I have an international network of people who are willing to go to Puerto Rico in the long term. We are working as an international community that I have connections with, we are starting to talk about how do we make sure that we provide long term solutions to Puerto Rico? Because humanitarian aid and emergency aid focuses on emergencies, six months pass, and we're just going to fall off the radar. And we have to think about, how are we going to make sure in the long term, if another hurricane hits again, how are we going to be more resilient? Because Puerto Rico is in the pathway of hurricanes, so this could happen again in the next three months because the hurricane season isn't even over. This could happen again next year, or the year after. So how are we going to rebuild our economy, our infrastructure and our social structure in order to be more resilient and prepare for these disasters?"
On finding out her uncle, a ham radio operator, was alive through a CNN story:
"He's been communicating throughout the island with people with a radio. If you want news, he's been communicating news he's been communicating where the needs are, which roads are open, which roads are not open. Just getting that information out into the airs so that anybody who has access to radio including FEMA or the military or the national guard has more information of where the need actually is."
On surveys that show almost half of Americans don't realize Puerto Ricans are U.S. citizens:
"I've had people ask me, are you a citizen? Did you come here with a visa? How did you get into the country? These are questions I've personally received when people realize I'm from Puerto Rico."  
Editor's note: In an earlier version of this story's audio, the guest mentioned rumors of cases of cholera in Puerto Rico. The CDC says they do not anticipate cases of cholera due to Hurricane Maria, but went on to mention the risk of an outbreak is higher with "limited access to safe drinking water and sanitation systems."