Rising Artist Jordan Casteel's Solo Show At The Denver Art Museum Is A Homecoming
The people in artist Jordan Casteel's towering paintings look at you passively, kindly. They gaze forward as they lean over bar counters and relax in folding chairs set on stretches of New York City sidewalk.
Casteel's subjects are her family and friends, but also her neighbors, and even strangers. And their attention-grabbing gazes have earned her some buzz.
The Denver-born painter is a rising star in the contemporary art world. This weekend marks a major homecoming for her as the Denver Art Museum prepares to open her first solo museum show, "Jordan Casteel: Returning the Gaze." The museum has already bought two of the 30 paintings in the exhibition for its permanent collection.
Casteel uses vivid colors to capture her subjects in their own environments: a family-run Ethiopian restaurant, a Denver barbershop, a Harlem street corner.
"I think Jordan's ability for capturing the temperament of her subjects is a nuance that is rare," said Veronica Levitt of the Casey Kaplan Gallery, which represents Casteel.
Denver Art Museum curator of modern and contemporary art Rebecca Hart is drawn to Casteel's subjects' eyes.
"Each sitter looks out at the viewer and does that in a way that, it's almost as if they're asking a question or demanding your attention. And I don't see that in very many other portrait painters that are working right now," Hart said.
"Jordan Casteel: Returning the Gaze" opens Saturday, Feb. 2 and runs through Aug. 18, 2019. Casteel talked to Colorado Matters about her family, how she came to be an artist and her relationships with her subjects.
Interview Highlights
On what it's like to show her work at her hometown museum:

"I am literally coming home to an institution that I used to occupy as a child and never foresaw … that somebody would think that my name would be worthwhile to put up with the works I was making. It's so abstract as a young person, and even as an older person, to think about how it is that you get your work on the walls of a museum. A museum itself seems to be a place of culture keeping, an accolade teller, and the value-giver of what it is that you're looking at … it's just something I never thought I could do nor did I know how to do it."
On why she's so drawn to portraiture: 
"Portraiture and painting is just my way of slowing down and getting to know people at my own pace… What's most important to me is to capture the essence of the people that I'm painting. So my experience of them, the gesture of their pinky sticking out or the clothes that they're wearing, or the environment that they're in."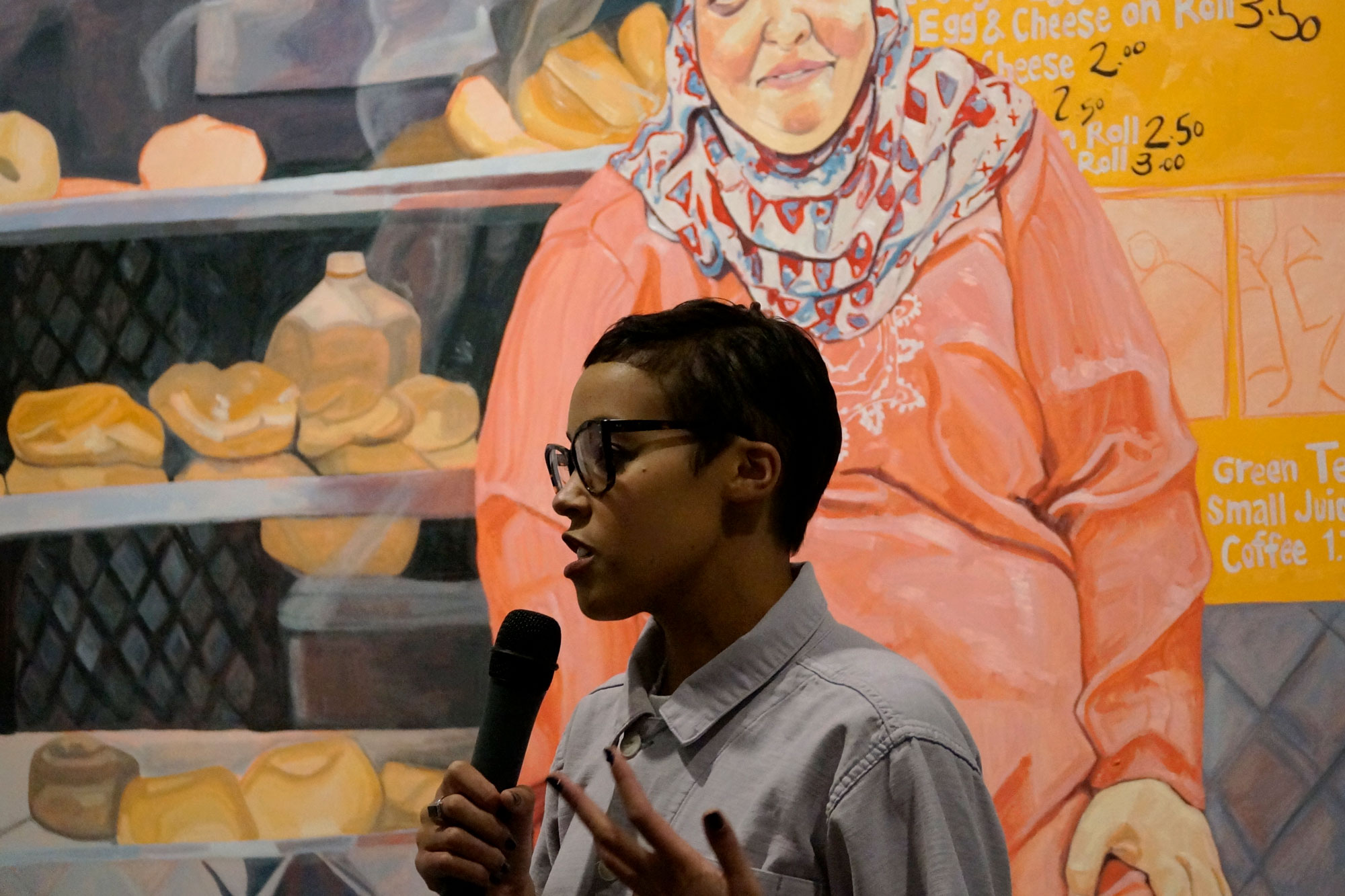 On the images she's capturing now:
"The question that I'm asking right now is still about community and it's still about the spaces that I occupy. So there have been some small crop images happening in my studio, which are indicative of my commute in New York on the subways. So I've been capturing people's hands, their gestures, their clothing. It's a way for me to dig into a more abstract relationship with painting. I get to just play with color. They don't hold the same weight or pressure intellectually for me as the larger portraits."
---
More on Jordan Casteel
---