[Logo courtesy of The Academy of American Poets]
This program originally aired April 24, 2011
The Academy of American Poets designated  the first National Poetry Month in April 1996. They were looking to mirror the success of campaigns such as Black History Month and Women's History Month to find a way to increase awareness and appreciation of poetry in the United States.

In this program, we visit with a few Colorado poets who have found success practicing their craft throughout the state and the country.It's just a small sample of the talent in our state, but we hope that what youhear in this program will encourage you to seek out more of their writing as well as theworks of other poets who reside in Colorado:
Chris Ransick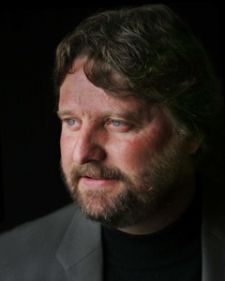 Chris Ransick served as Denver Poet Laureate from 2006 to 2010 and is the author of four books, includingNever Summer, which won a Colorado Book Award for poetry, and A Return To Emptiness, a Colorado Book Award fiction finalist. His most recent collection of poems,Asleep Beneath the Hill of Dreams, was published in 2010. He teaches a poetry master class for Denver's Lighthouse Writers Workshop and has finished a new manuscript titledLanguage for the Living and the Dead that will be published in June.  [Photo courtesy of Chris Ransick]
He reads the following poems in our program:
Dream on a Hilltop: August in Iowa
Dream of the Headache
The Defensemen's Lament
Outtake: Ransick compares poetry to photography and reads his poem, "Sick Wife"
Pattiann Rogers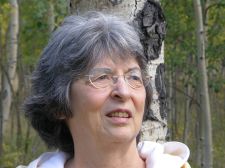 PattiannRogers has published twelve books, most recently Wayfare (Penguin Poets, 2008)and Firekeeper, Expanded and Revised Edition (Milkweed, 2008). Her poems appearin many anthologies and textbooks and she has received numerous awards andgrants for her works. A new book, Holy Heathen Rhapsody, is expected this fall.
She has taught at the University of Texas,the University of Montana, Washington University of St. Louis, and MercerUniversity as the Ferrol Sams Distinguished Writer-in-Residence. She wasassociate professor and taught in the MFA Creative Writing Program during thespring semesters, 1993 to 1997, at the University of Arkansas. She is themother of two sons and the grandmother of three grandsons and lives with herhusband, a retired geophysicist, in Colorado. [Photo by John R. Rogers]
She reads the following poems in our program:
Servant / Birthright
The Family is All There Is
The Significance of Location
Outtake: Rogers talks about when she started to take poetry seriously, the workinvolved in writing poetry, and reads her poem, "Address: the Archaeans, OneCell Creatures."
Panama Soweto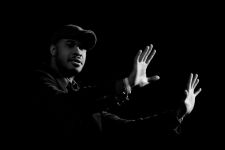 Panama Soweto (John-Claude Futrell) has been involved in slam poetry since2004. He was a member of the 2006 Denver Slam team that won the National PoetrySlam in Austin, Texas. He tours with Ken Arkind as Poetry's Dynamic Duo, one ofthe county's top spoken word acts at colleges and universities. His poem, "I'm Taking My Ball and Going Home (Scott)" is currently being taught at a number of middle schools across the country.
Community development is extremely important to him and he has been a mentor, volunteer,  teacher,and activist with several non-profit organizations.His partnership with the Flobots non-profit organization has allowed him tofacilitate writing workshops at their community center in Denver and sharestages with the platinum recording artists. He is a self-published author (PhotoMagneticExplosions and Stuff), graphic designer, and inventor--currently owning aclothing patent. [Photo courtesy of Panama Soweto]
He performs the following poems in our program:
Caterpillars and Tadpoles (Dedicated to MP Specialist Casandra-FaithBroadus, deployed to Iraq, Tuesday, October 13th, 2009)
Move
I Fell in Love with Tom Waits
Outtake: Soweto describes slam poetry and reads his poem, "G.N.U.C.K"
John Brehm and Susan Cable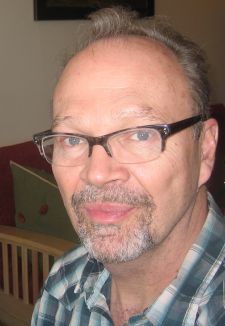 John Brehm is the author of Sea of Faith, which won the 2004 Brittingham Prizefrom the University of Wisconsin Press, and the associate editor of TheOxford Book of American Poetry. His poems have appeared in Poetry, TheGettysburg Review, The Southern Review, Boulevard, Gulf Coast, The New OhioReview, The Best American Poetry 1999, and many other journals andanthologies. His latest book is called Help Is On the Way.[Photo courtesy of John Brehm]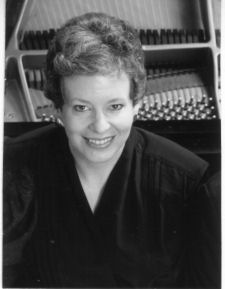 Pianist and composer, Susan Cable, is Emeritus Professor of Music atMetropolitan State College of Denver. She holdsdegrees in Piano Performance from the Oberlin Conservatory of Music, theUniversity of Illinois, and the University of Northern Colorado. She alsostudied at the Mozarteum in Salzburg, Austria, the Aspen and Tanglewood MusicFestivals, and the French Piano Institute in Paris.
She has performed extensively as piano soloist and collaboratively with manyinstrumentalists and singers in the United States and Europe. She founded theAriel Trio in 1991, performing concerts and lecture-recitals throughout Coloradofor over a decade. She continues to perform and compose, and teaches piano inher studio in Denver, Colorado. [Photo courtesy of Susan Cable]
They perform the following poems in our program:
Things are Looking Up
Tough Town
Undoing
November
The entire series of poems is available on CD.
Liza Boggs' 2011 4th Grade Class at Sand Creek Elementary School in Highlands Ranch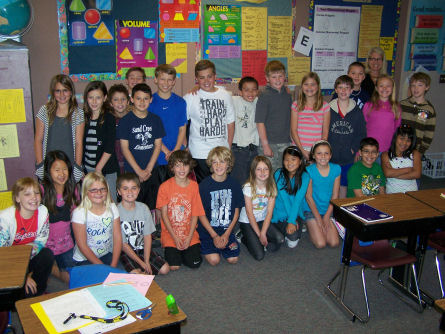 [Photo by David Fender]
The students who shared their poems with us:
Tyler Ekback, Bronwen Cartwright, Campbell Lancaster, Kate Albi, Andrew Barich,Owen Soderholm, Michael Arnold, Ryan Klotz, Sarah Strickling, Tanner Sheptock, Brady Kopec, Zoey Kirsch, Evan Goodell, Katy Stopkoski.
Showcase Poetry
You care.
You want to know what is really going on these days, especially in Colorado. We can help you keep up.  The Lookout is a free, daily email newsletter with news and happenings from all over Colorado. Sign up here and we will see you in the morning!