Flooding in Manitou Springs
Jane Turnis
Piece of a house, hung up on Canon Ave.
Jane Turnis
On Canon Ave., uphill from Cliff House.
Jane Turnis
Park Avenue. The parked cars in the distance are next to Soda Springs Park. The Spa Building is on the left.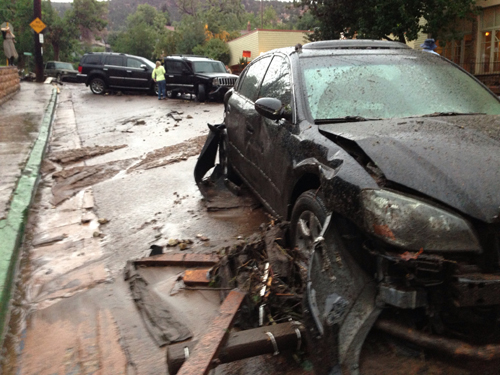 Jane Turnis
Vehicles washed down Canon Ave. This is in front of the post office, across the street from Cliff House.
Jane Turnis
Vehicles crashed into the spa building's parking garage at Canon and Park avenues. Cliff House in background.
Jane Turnis
Water line on Adam's Mountain Cafe, and mud in front of D'Vine Wines.
Update: 11:20PM:  The El Paso County Sheriff's Office is reporting the body of an adult man has been found along Highway 24 near mile marker 297.  They report the body was buried under a significant amount of debris along the westbound lanes of the highway.  No identification is available at this time.   10:25 PM:  Highway 24 is now reopened, with one lane in each direction.  Original post: After the National Weather Service in Pueblo issued a flash flood warning for portions of El Paso County over the Waldo Canyon Burn Scar, Highway 24 was closed as far east as 31st street, and up to Pikes Peak Highway.  There are three confirmed injuries, and rescues have taken place.  There's also damage to homes and businesses along Canon Avenue.  Streets remain closed in western Manitou Springs, and Highway 24 through Ute Pass is also closed.  A Red Cross Shelter has opened at the Congregational Church on Pawnee in Manitou Springs.  
You care!
Southern Colorado is changing a lot these days. We can help you keep up. Sign up for the KRCC Weekly Digest here and get the stories that matter to Southern Colorado, delivered straight to your inbox.