Young Coloradans fueling drop in driving, study finds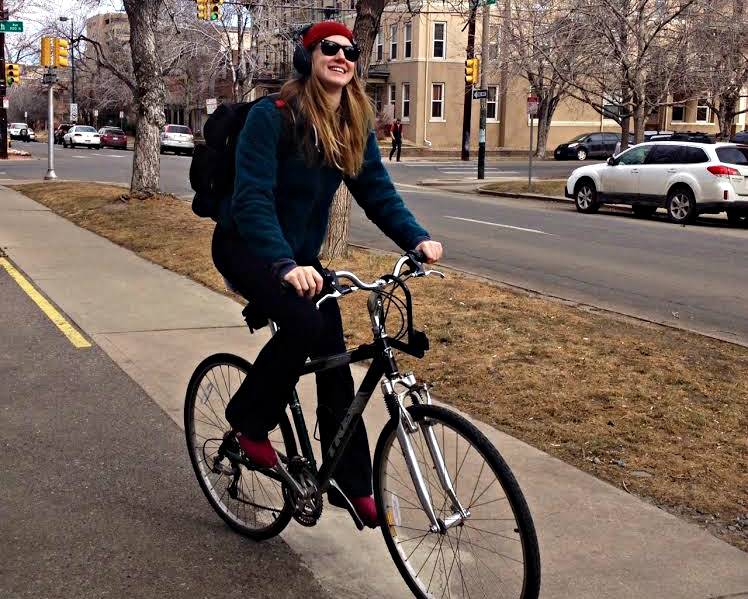 (Photo: Courtesy of Karen Rasmussen)
<p>Karen Rasmussen bikes in her Capitol Hill neighborhood. She recently gave up her car and bikes, walks or takes transit to work.</p>
(Photo: Courtesy of Danny Katz)
<p>Danny Katz of the Colorado Public Research Interest Group bikes to work on a mild winter day. He had his wife are getting by with only one car.</p>
(Photo: CPR/Pat Mack)
"It is wonderful," she says. "I spent a lot of time in traffic."
She used to drive from her Capitol Hill apartment to her job in Centennial. But then she switched to a job closer to home. Now she usually bikes or walks to work.
Rasmussen admits she only went car free only after hitting a road block of sorts.
"My car was stolen back in September," she says. "And I always wished to walk and bike more and this sort of gave me a great opportunity – I guess if you can say the thief gave me the opportunity to live the way I wanted to."
Driving boom over?
An analysis by the
Colorado Public Research Interest Group
of federal highway data shows Rasmussen isn't the only Coloradan driving less. Driving per person dropped 11.4 percent from 2005 to 2011. That's about 1,100 miles per year per person. 
COPIRG's Danny Katz says the great post-World War II driving boom is over, fueled by 20-somethings like Rasmussen who are embracing cities as a place to live, not just work. That change means they're not driving from the suburbs to jobs in the city and back. It also means more families have only one car. That's the case for Katz and his wife.
"Part of it is economics; we save a bunch of money," says Katz. "Part of it is health. I bike to work when weather is good enough, and that's a good way for me to get some exercise. And if can't bike to work, I take transit."
Critics of COPIRG's driving study question whether people are driving less by choice or whether the Great Recession just means fewer people have jobs to drive to.
Lots of transit options
For those in the metro area who are driving less, they have more and more options: light rail, buses and two newer modes – bike and car sharing. A record number of people used the B-Cycle rental program in Denver last year. And six car sharing companies now offer vehicles for rent by the hour or day.
The city planning department says more than 12,500 people used car sharing at least once between June and December, taking 114,000 trips. 
Mike Pletsch is the manager for Car2Go, the company with the distinctive blue Smart cars. Car2Go launched in Denver last June and has already signed up thousands of members.
"It's exceeded our expectations," Pletsch says. "We continue to have our best week ever with each passing week. So it's very likely that the this coming week is going to be our new best week ever. So it's been very promising for us."
Long-distance commuters also will soon have more options to leave the car at home. By this time next year, the state transportation department plans to offer regional bus service weekdays from Denver to Colorado Springs, Fort Collins and Glenwood Springs.
Katz is happy that regional bus service is being offered. He says the Denver area is doing a pretty good job giving people alternatives to driving. But he believes that investment needs to continue for the area to remain appealing to young people.
Bike year-round?
At the state capitol, Dan Grunig, the executive director of the advocacy group
Bicycle Colorado
, has been lobbying lawmakers about funding for safer bike routes to schools. He hopes hooking a new generation on biking to school will lead to more car-less commuters down the road.
He swears commuting by bike is possible year round in Colorado. He once made the 14-mile trip from Golden to Denver by bike in 5 degree weather with only one stop at a coffee shop to thaw out. 
"The looks I got when I rolled into the office that morning," Gruning says. "People couldn't believe I made it. But it's really a matter of having the right clothing. If we can ski at zero degrees why can't we bike at zero degrees?"
Back on 17th Avenue, Karen Rasmussen says she tried biking to work in the winter but a few slip and slide incidents later she's learned that it's not always safe.
"I got a little overzealous in the beginning," she says. 
But she adds she still has no regrets about giving up her car. In bad weather, she'll hop on the bus. She rents a car for errands.
"You have to be a little more crafty about it in the beginning," Rasmussen says of going car free. "You don't have  as much flexibility but once I got used to that it's been a total breeze."
You care.
You want to know what is really going on these days, especially in Colorado. We can help you keep up.  The Lookout is a free, daily email newsletter with news and happenings from all over Colorado. Sign up here and we will see you in the morning!