Gabriel Kahane and yMusic blend classical, pop at Newman Center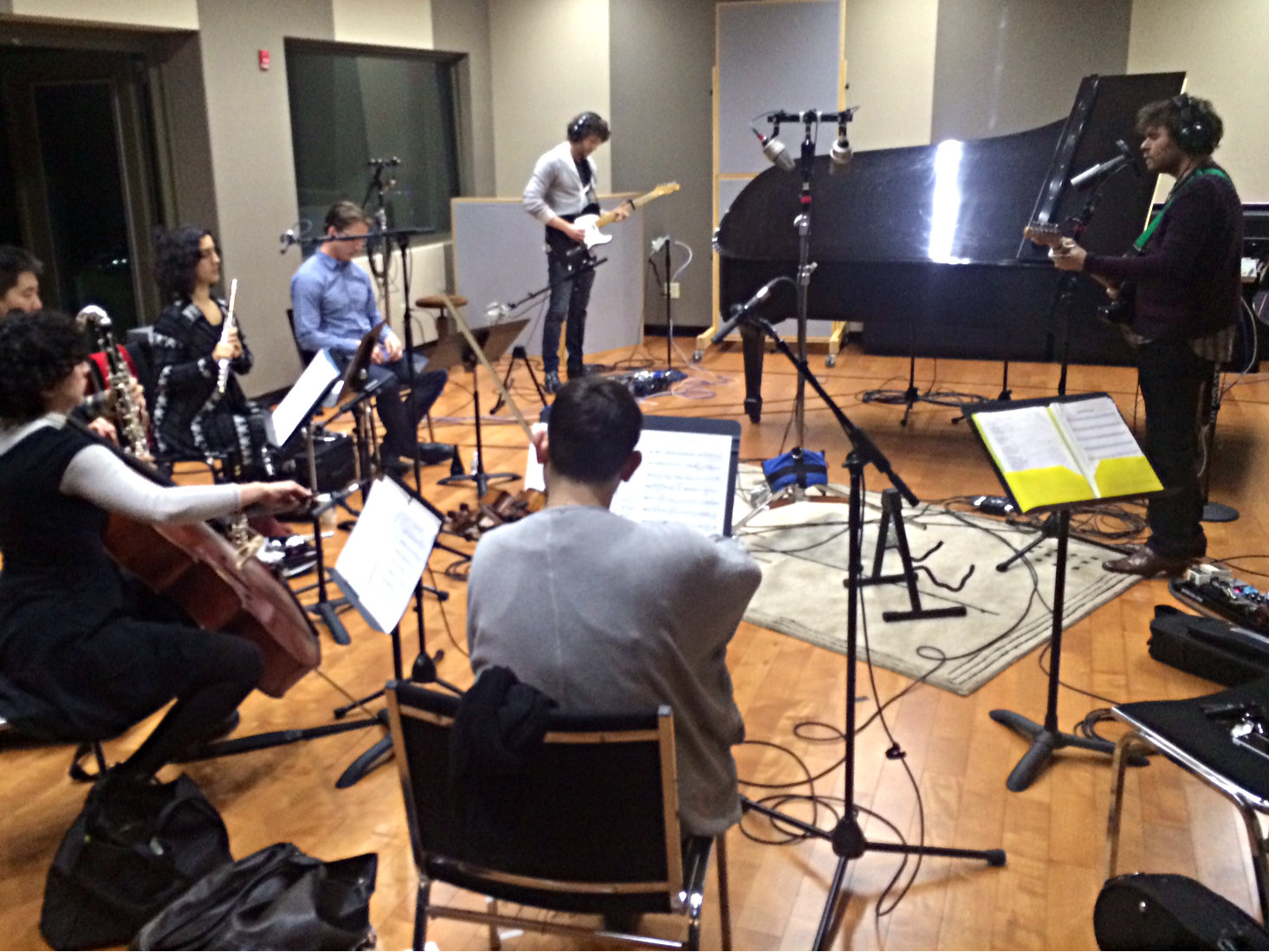 They'll perform together tonight at the Newman Center in a program that features yMusic accompanying Kahane and also playing its own repertoire. The concert starts at 7:30 p.m.
Kahane's musical output includes pop records, a technically demanding piano sonata and "Craigslistlieder," an art song collection based on Craigslist postings. His new album is due in June.
yMusic has collaborated with artists like David Byrne and Dirty Projectors. The group's 2011 LP "Beautiful Mechanical" features pieces by Kahane and other composers. Guitarist/violinist Rob Moose has performed with Sufjan Stevens, Antony and the Johnsons and Bon Iver, and violist Nadia Sirota helped launch Q2, the New York-based modern classical station. Several members also perform in the American Contemporary Music Ensemble.
Kahane and yMusic recorded a session in the CPR Performance Studio on Wednesday. Listen for the music today on CPR Classical and OpenAir.
Kahane, Moose and Sirota also discussed their careers and musical projects in an interview. Click the audio link above to listen.
Interview highlights:
Gabriel Kahane on the unusual format for Thursday's concert, in which he and yMusic take turns performing pieces rather than playing separate sets:
"This idea of programs that comprise a series of miniatures really reflects the way that I think we all listen to music now. We're all of the iPod generation and it's not that we don't all love listening to albums straight through, but I think that something did kind of shift over the last 15 years in the way we consume music. And it really presents this wonderful spectrum of other ways that we can consume and present music. I think another thing that this allows us to do is to draw connections between musics we might think of as being disparate and unrelated. So to have yMusic play a piece of instrumental chamber music and then follow it up with a song, or to hear a Charles Ives song … that's followed up by a contemporary folk song, to me that is sort of an invitation to the audience and to the performers to think of the relationship between these kinds of music in different ways."
Nadia Sirota on what classical conservatories could add to their curriculum to better prepare contemporary musicians for a career:
"A good percentage of my professional life takes place with headphones on, playing the viola. And that's something that at Juilliard I just never, ever did. And in fact, I've seen a lot of classically trained musicians get into the studio and freak out about the headphones thing, which you'd think wouldn't be a big deal at all. And other studio stuff -- playing to a click, even just thinking about microphones and knowing how stuff like that works. I think conservatories are getting better at this, but the business elements of music and the organizational elements of sort of being your own administrator were not really addressed when I was in school. … I'm so excited that conservatories are branching out and addressing all these other areas but I'm not sure anyone's really figured it out yet. The benefit of the classical education is it's kind of polished and good -- and all of these other areas, we're sort of fumbling through for a while."
Rob Moose on collaborating with the other members of yMusic:
"One of the most exciting things about what we do in the group is how different our schedules are from day to day and week to week, and how enriching all of the various musical projects we get to participate in are, and how much we all individually bring back to the group. So it's nice to have a little bit of consistency and be able to tour with this group. It's also great for each of us to go off and do our own thing and come back with new ideas."
Listen to CPR Classical and OpenAir today to hear highlights from the CPR Performance Studio session with Gabriel Kahane and yMusic.
Love Classical Music?
Stay in touch with our hosting team at CPR Classical and learn more about the classical events occurring in the community. Sign up here for our monthly newsletter.