Child care costs vary greatly across Colorado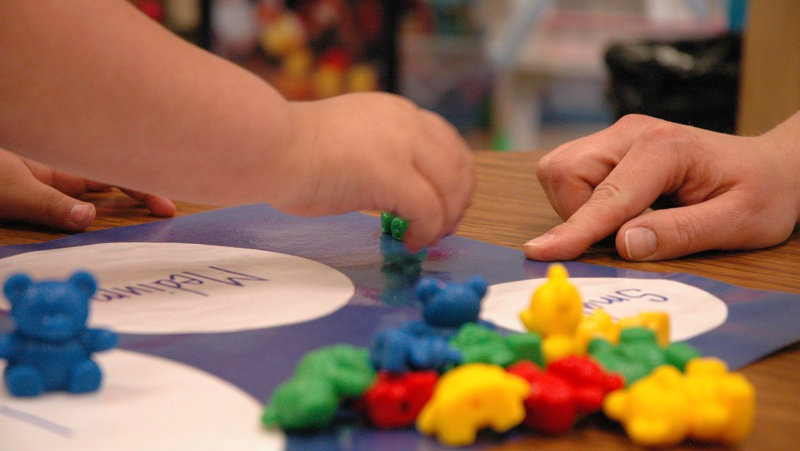 Photo courtesy of Barnaby WassanA new report shows child care costs vary greatly in Colorado depending on where you live — between $6,000 and $17,000 a year.
The report is the first of three designed to understand what is driving costs and why Colorado is the fifth least affordable state for center-based child care.
The report — produced by Qualistar Colorado, The Women's Foundation of Colorado and the Colorado Children's Campaign — shows families pay widely different shares of their income on child care depending on where they live.
In ski resort-studded Routt County, married couples top the list, paying $14,711 a year for pre-school, almost 17 percent of an average family's income.
San Juan County is the most affordable for married couples at $4,157 a year; a little over 5 percent of the average family's income.
Why is childcare so expensive?
Researchers found that personnel costs account for most of a child care center's budget. For Colorado's infants and toddlers, there must be one teacher for every five children. For older toddlers that ratio is 1:7; for young preschoolers it is 1:8, and for three- and four-year-olds the ratio is 1:10.  Even at this level, the report noted, Colorado doesn't meet national recommendations for ratios.
At the same time, early childhood professionals are among the lowest paid in the workforce and many do not receive benefits. The median salary for child care workers in Colorado in 2012 was $22,726, or $10.93 per hour.
In addition, centers are typically open for 11 to 12 hours, meaning multiple shifts of staff are necessary, which adds to costs.
Facility costs are also expensive as centers must meet numerous environmental and safety requirements.
Single moms
Most troubling to researchers is the huge financial burden of child care on single moms. Their median income in Colorado is $26,000 a year. Nearly half of it goes towards to licensed child care. A third of the state's single mothers live in poverty.
"Costs are so high that licensed child care in Colorado is more expensive than in-state tuition and fees at a public four-year university," says Louise Atkinson, President and CEO of the Women's Foundation.
For single moms, Gunnison County is the most expensive at $11,359 per year, a staggering 85 percent of the county's median income. Ouray County is the most affordable: it would cost a single mother there $4,313 dollars per year for childcare, almost 12 percent of the average income in the county.
Center-based care most expensive
Not surprising, center-based care is more expensive than home-based care. In Boulder County, it costs $13,210 a year to care for a four-year-old child, while care in a home costs on average $10,440 per year — a difference of 26.5 percent.
Although researchers found that prices tend to mirror a county's cost of living, they also found that is not necessarily true throughout the state.
"Where cost of living is higher, prices are higher and affordability is really kind of scattered," says Stacy Buchanan, who works with Qualistar Colorado, a nonprofit working to improve early childhood education.
The next report that will be released later this year will explore why costs can vary within counties. 
The final report will examine potential solutions to the high cost of child care.
You care.
You want to know what is really going on these days, especially in Colorado. We can help you keep up.  The Lookout is a free, daily email newsletter with news and happenings from all over Colorado. Sign up here and we will see you in the morning!