Watch: A SummerFest encore: Prokofiev's 'Overture On Hebrew Themes' at Colorado College
CPR Classical's 2014 SummerFest ended Sunday, and we're looking back at one of the great performances from this year's 16-concert broadcast series, along with the story behind the piece.
The musicians at the Colorado College Music Festival memorably performed Sergei Prokofiev's "Overture on Herbrew Themes" this summer in its original arrangement for clarinet, string quartet and piano.
Written in 1919, the overture was an important piece for the young Prokofiev. But the composer initially balked at writing it, Colorado College festival co-founder Michael Grace told us.
The composer was visiting the United States when a touring Russian group made up of a clarinet, piano and string quartet offered him a commission to write something based on a book of Jewish folk music. 
Grace, who presented the piece at the Colorado College festival this year, picks up the story from there:
"Prokofiev wasn't Jewish, and he wasn't particularly attracted to the idea of writing a piece on somebody else's themes, especially if they weren't sort of a part of his own heritage.  But, here it was, it was a commission. …(the leader of the group) handed (this notebook) to Prokofiev, and Prokofiev grudgingly took it home.  And by the next morning he said, 'This is terrific! I've got a draft of this piece ready to go for you!'...  It wasn't a problem with these being borrowed melodies anymore."
Hear more about the piece from Grace: 
michael_grace_prokofiev_overture_on_hebrew_themes_setup_for_web_edited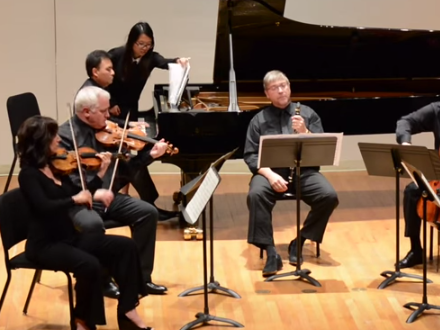 (Photo: YouTube)Prokofiev himself was at the piano for the Overture's premiere in 1920, and it became one of his early successes. (On a side note, the band leader who commissioned this piece was Simeon Bellison, who about to become principal clarinet with the New York Philharmonic, a job he would hold for over 25 years.)
Prokofiev arranged the Overture for orchestra 15 years later.
The musicians at this summer's Colorado College Summer Music Festival turned in an especially fine performance of the original arrangement, which you can see in the video above.
Clarinetist Bil Jackson is highlighted as the klezmer feel begins to appear about halfway through the piece.  Also in this group: Ellen dePasquale, violin; Stefan Hersh, violin; Virginia Barron, viola; David Ying, cello; and Jon Nakamatsu, piano.
 
Love Classical Music?
Stay in touch with our hosting team at CPR Classical and learn more about the classical events occurring in the community. Sign up here for our monthly newsletter.