For Denver teen Chaunsae Dyson, grit is 'biggest tool' for overcoming poverty
Chaunsae Dyson knows where he lies in society's pecking order. The 17-year-old calls himself part of the working class or the "poor class....whatever you want to call it, but I'm a determined class as well."
For many kids growing up in poverty it's hard to understand life outside their world. But Chaunsae's had his eyes opened through a program called Project Voyce, which he joined when he was at Manual High School. It's an organization that helps youth communicate with teachers, advocate for themselves in schools and find their voice.
He says the organization turned his life around and made him more aware of what he has to offer.
"They said I had a big heart, and I didn't know that," Chaunsae says. Project Voyce staff taught him to channel his anger, to think before he speaks, and they taught him grit.
Then, in search of a better education, Chaunsae transferred from Manual to South High in Denver's upscale Washington Park neighborhood. That was an eye-opener. For the first time he saw students wearing brand named clothing.  "I'd never heard of the brand North Face before."
(Photo: For CPR/Kevin Moloney)"Here's a sad part about life and society," he says, "You cannot determine where you wind up on the wealthy to poor chain. You're sort of just born and wherever you land is where you land."
Chaunsae says his joy comes in accepting his reality.  "The more you accept who you are and what you are, the more you can work from being what you are, to improve yourself."
Drama at Grandma's
When Chaunsae was a kid, he didn't think of himself as poor. He grew up in a house with 10 people: his parents, grandparents, four cousins, and a brother. His grandmother is the matriarch of the family.
Chaunsae laughs, "When drama breaks-out, it's at grandma's house. When good times roll out, it's at grandma's house."
The family qualified for food stamps. Still, when his dad worked construction, he'd hand 7-year-old Chaunsae $50. His dad eventually moved out. By freshman year of high school, with his mom paying the bills and not a lot of extra cash, "I said, 'shoot', my mom can't get me any money, what am I going to do? I'm going to sell candy."
Chaunsae became the Candy Man.
At school, with a backpack stuffed to the brim, cold sodas at the bottom, he'd sell to kids in the halls between classes. They'd even try to get him out of class when their sugar cravings peaked.
(Photo: For CPR/Kevin Moloney)"I had Snickers, Starburst, Skittles, Butterfingers, any kind of candy that you wanted. Then I had Doritos, Fritos, Lays, Lays-Barbecue, Doritos-Ranch," he says. "I even had cheap candies for 10 cents and 25 cents just so people who were broke could buy something."
At first, he earned $10, $15 dollars a day. By end of sophomore year he was making $50 to $60 a day. He'd restock his backpack at lunch time.
Things at home, though, were tense with his mom. So Chaunsae bounced back and forth like a ping-pong ball between his dad to his mom and to his grandmother.  
"Now everything is different," he says.
On his own
His mom cut him off completely. Some help comes from his dad, for clothes and school supplies. Chaunsae lives with his grandmother.
"When I moved in with my grandmother, she was like, 'you know you have to pay for everything?' I said 'what is everything?' She said, 'laundry detergent, food, I need $80 a month'," he says, recounting their conversation.
Chaunsae negotiated it down to $50.
"When you are growing up in poverty, when you are 15 or 16, that means you are grown," he says.  
At first, juggling all his needs hit Chaunsae hard. He'd take the bus to Walmart for groceries, fill his empty backpack with food and get back on the bus. Now, Chaunsae's a senior and he's so busy, he doesn't have time for grocery shopping and eats when he can. He works at a pizza place most days after school.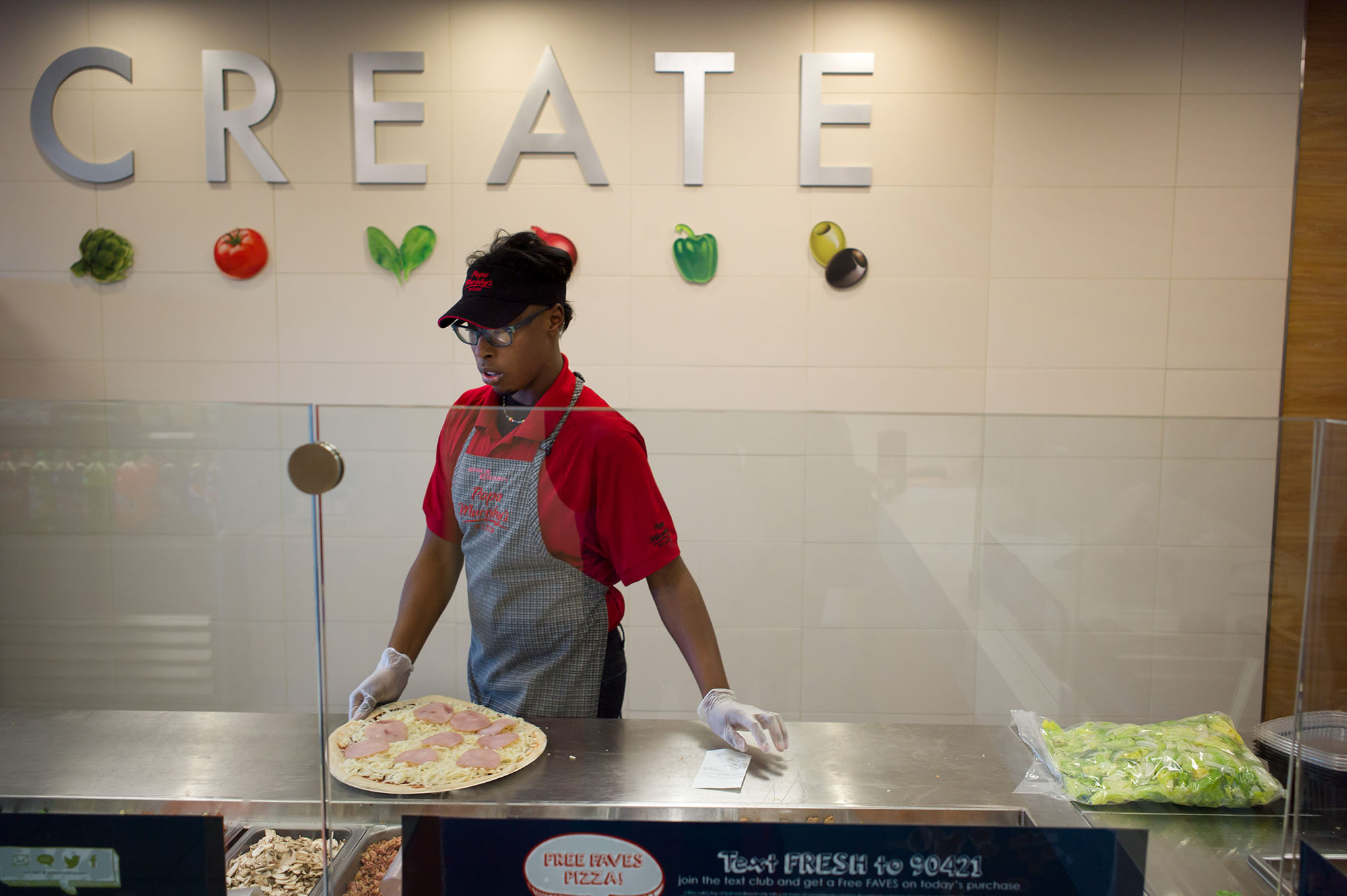 (Photo: For CPR/Kevin Moloney)"I know a student's got a better life than me when all they have to do is go home and do homework," he says. "Working a job is a necessity; it is a need for me."
Even after his shift, they're dishes to wash and floors to clean.
"So there are a lot of tired days coming home," he says.
Chaunsae tries to do his homework when he gets home, "the exhaustion kicks in and I just fall asleep."
Wants to "just learn"
Chaunsae feels pressure at high school that he needs to know what he's going to be in life and he says it shouldn't be that way.
"I feel like when you are a privileged upper class person, you have the freedom to learn because finances aren't really a problem to you," he says. "If you've  got a bad test score, it's nothing for mommy or daddy to pay extra to get into a certain college, or to get tutoring, or to get help, or to send you to the best school so that can happen. People do have freedom to just learn, but you have to be in a certain class to have that freedom. I do not have that freedom."
Part of him doesn't want to have to go to college but he knows he must to be financially stable. He just doesn't know how he'll pay for it.
It's hard to find the time to put together scholarship applications. He's having a difficult time getting the tax forms he needs from his mom. They're not talking and his dad isn't working right now.
Chaunsae says to himself this won't be his life when he's older.  
"For us people in lower-class society, what you need the most and the biggest tool that can ever benefit you is having grit – having the perseverance to just stick through it and keep going because if you don't, it will just make you fall," he says.
Denver non-profit Project Voyce has helped him see where he fits in the world.
One of Chaunsae's dreams is to be financially stable. He'd like to make millions and give most of it to a cause – like to orphans in India. He recently saw a documentary on this topic and was moved.
"Anything to help them move forward in life, and I think that [is] one of my big dreams," he says.
This story is part of our ongoing exploration of Colorado kids who are living in poverty, how it affects their lives and our common future. We'd like to hear your ideas about about what can be done about child poverty in Colorado. Share your thoughts through our Public Insight Network.
You care.
You want to know what is really going on these days, especially in Colorado. We can help you keep up.  The Lookout is a free, daily email newsletter with news and happenings from all over Colorado. Sign up here and we will see you in the morning!