Dark center of the universe: a journey through the music of Modest Mouse
by James Calvet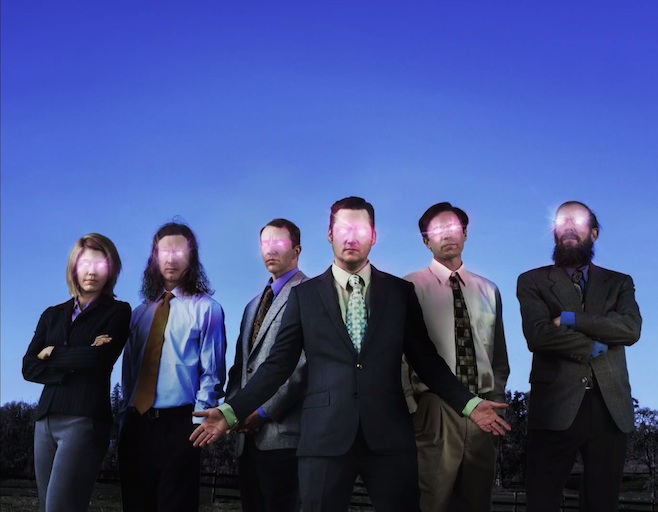 ​Over the course of 21 years, Modest Mouse has not only brought experimental indie rock to mainstream audiences but has also become one of the most important rock acts of all time.
The band formed in Issaquah, Wash., during the decline of grunge in the Northwest music scene. Modest Mouse's sound is punky and exhilarating, especially in its early discography, so much so that it rides a fine line between experimental and accessible. Singer Isaac Brock channels his incredibly unique personality not only into the lyrics but also the musical compositions.
After a long string of critically acclaimed and commercially successful records, Modest Mouse meet 2015 with the announcement of their sixth studio album, "Strangers to Ourselves." After the release of a few singles it has undoubtedly become one of the most anticipated albums of the year. The band also recently hinted at a seventh studio album to come "as quickly as its legally allowed."
But before "Strangers to Ourselves" drops on March 17, it is necessary to take a look into the eclectic back catalog of a band that has turned from a group of angry teens living in rural Washington to one of the most successful and prolific indie acts today. 
"This Is a Long Drive For Someone With Nothing to Think About" (1996)
In 1996, when the Northwest was booming with amazing indie rock acts, Modest Mouse released their melancholic debut album, "This is a Long Drive For Someone With Nothing to Think About." Written by a twenty-year old Isaac Brock, the album is slow moving and depressing. Each track accurately depicts the loneliness that comes with living in a rural Washington.
Here we can see the foundations of the sound that would later become definitive Modest Mouse. The album is riddled with off-kilter guitar pickings, angsty and bi-polar vocals and an atmosphere that is simultaneously depressing and psychedelic in the kookiest fashion. Though the album is a tad bit taxing in length, it is a wonderful primer for the indie masterpieces that would follow.
"The Lonesome Crowded West" (1997)
After a string of EPs, "The Lonesome Crowded West" was released unto the world and met with massive critical acclaim. The theme of how the rural west is becoming a wasteland, heavily influenced by barren Issaquah where the band is from, riddles the album and gives a feeling of angst much like a teenager sick of being stuck in a podunk town.
But what makes the album so exciting is the intense variety, from aggressive tracks such as "S*** Luck", left-field experiments like "Trucker's Atlas" and even a country-tinged indie folk crooner like "Jesus Christ was an Only Child."  But each track is so lively and beautifully ugly that it still remains to this day one of the most visceral indie rock records ever.
"The Moon and Antarctica" (2000)
Isaac Brock took Modest Mouse's sound to a whole other level for the band's third LP. On "The Moon and Antarctica," Brock dives deep into themes such as death, space and the existence of Satan.
The group does not necessarily clean up their sound, but unlike their chaotic and messy past releases, the record opens up and fleshes out small details for the world to see. Some tracks are short, punky and aggressive while others are long, winding and contemplative. What makes this album so great is that it presents their unique and unmatched sound in a way that is smooth and palatable for new listeners but dark and mysterious enough for long-time fans to sink their teeth into.
"Good News For People Who Love Bad News" (2004)
On the band's next record "Good News For People Who Love Bad News" the mystery and gloom of their previous releases is turned down a notch and replaced with grandiose production and a wide variety of styles. Though this album is much less raw and visceral, the album sways between anthemic indie rock ballads such as the famed "Float On" and strange twangy experiments like "This Devil's Workday." Thankfully, Isaac Brock's songwriting remains as spastic, satanic and cryptic as ever still singing as if all he thinks about is the afterlife.
But what's so interesting is that the subject matter stays occult while the music is incredibly palatable and accessible, almost like seeing Satanic Worship on cable TV. But all pentagrams aside, "Good News For People Who Love Bad News" remains incredibly important as a notable footnote in time when indie rock began to be consumed by mainstream audiences rather than just contained in the underground.
"We Were Dead Before the Ship Even Sank" (2007)
Following the massive amounts of commercial success from their previous record, Modest Mouse recruited ex-Smiths guitarist Johnny Marr for their most conceptual album to date, "We Were Dead Before the Ship Even Sank." Much like the title implies, the album incorporates nautical themes focusing on a story line of a crew of workers on a ship that dies tragically in the end of every track. 
The album continues in the same fashion as "Good News.." in that the production is sleek and easily digestible but the performances are on-edge and death-obsessed. Though the album lacks the critical acclaim of their earlier releases, it's still a solid set of tracks that all flow well together as well as a favorite among many younger fans. 
"Strangers to Ourselves" (2015)
With only a few singles released thus far from their newest release "Strangers to Ourselves," it seems that Modest Mouse will release their most mammoth record yet. Tracks such as "Lampshades on Fire" capture the catchiness of "Good New for People who Love Bad News" but with a darker demeanor. The production is lush and expansive, able to show off every little detail in the mix.
But "The Ground Walks, with Time in a Box" shows that the band is not afraid to get experimental. Clocking in at over six minutes long, the group incorporates guitar noise as well as surprisingly danceable and world-centric drumbeats that create a long and evolving journey of a song. Undoubtedly, Modest Mouse tease to the fact that they have more tricks up their sleeve with this new record, but we will have to wait until it's release to see what they have in store.
You made it!
You love learning about new music and the Denver music scene. We have a weekly newsletter for you -- Inside Track. Sign up here to stay in the know about the hottest Colorado concerts and how you can score tickets!