From Colorado's Grandest Scenery To The Suburbs, Child Poverty Persists
More than a year ago we saw one census statistic we just couldn't shake. At the time, nearly one in five kids in the state were living in poverty. We set out to learn about childhood poverty in Colorado: What it looked like and what was being done about it. We're looking back at our coverage now, taking stock of what we've learned and revisiting some of the people we interviewed.
Part of our coverage extended to the San Luis Valley and the Vail Valley. Before the recession there, one in 10 kids was living in poverty. When the recession was at its height, it was nearly one in five. 
In Resort Communities
The Vail Valley is an expensive place to live. Workers come to these areas for the jobs at the exclusive hotels and restaurants. But it's so expensive that what they bring home barely covers -- or doesn't cover -- the high cost of housing and food. People who work with the poor in Eagle County said that it's very common for these working families to double and triple up in homes. Many of these families in the Vail Valley said they came from crime-ridden parts of Mexico and were attracted to the peacefulness of the mountains. 
Eagle River Village -- which sounds a lot nicer than it is -- is a trailer park tucked into a hillside in Edwards, west of Vail. Last winter, the roads were poorly maintained and the place looked to be in disrepair. Right above it are multi-million dollar homes. A lot of people in the area see the park as an eyesore and want to get rid of it. 
Among the families living there, Erika Gonzales showed us around her trailer, which she owns. The trailer has four bedrooms. She has one. Her two boys share another. And the other rooms are rented out.
Gonzales bought the trailer before she was divorced. But to rent the space underneath the trailer, she pays $1,000 a month. She works at the nearby Subway and brings in about $1,200 a month -- so she's clearly in need of other sources to supplement rent. One of the social service workers in the valley said that sometimes, people rent out the living room, maybe half to one family and half to another. 
Some choose Leadville because it is cheaper than living near work. That's about an 80-mile round-trip drive to Vail. But even so, the people there are really scraping by. And the kids, really worry when the weather is bad.
"When it's like really, really stormy and windy with snow and everything, it's hard for my parents to get to Vail and work, so they miss their job," Behlen Castrejon told us.
The worry is two-fold. If their parents do drive or take the bus to work, the kids are concerned that their parents will be in an accident. And if their folks can't make it to work, the kids say they worry their parents won't be able to pay the bills.
Months later, Megan McGee Bonta, who works for Catholic Charities on the Western Slope, told me there are even fewer places for families to live than there were last winter.
Generation Poverty In The San Luis Valley
The San Luis Valley is one of the most beautiful parts of the state and also one of the poorest. It has the highest rate of child poverty in the state. It's about 50 percent Latino and you see a lot of generational poverty. The area just seems to be in a perpetual economic slump. It's tough to recruit good teachers and so the schools are constantly dealing with turnover. 
When I went to the San Luis Valley, I met the principal of the school in the small town of San Luis. Curtis Garcia had grown up in Alamosa and he was an outstanding student so he headed off to Yale University for college. He said when he got to college, he realized how lacking his high school education had been.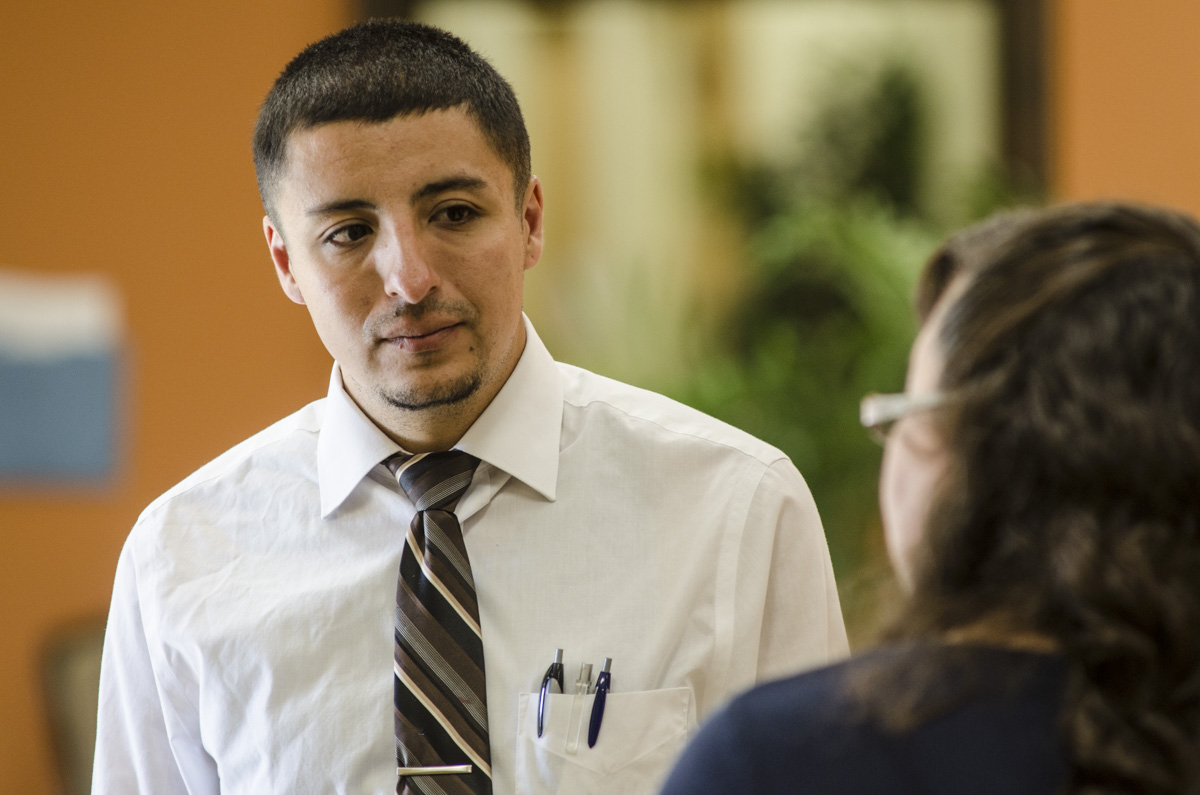 (Nathaniel Minor/CPR News)
"When I left, I thought that I had been top-tier, academically," Garcia said. "I think I was for my place and my setting. Then I was confronted with people who were a lot more prepared than me, who had access to a lot more opportunities than I did. So it just became kind of this cultural shock."
A lot of people in Garcia's shoes end up finding jobs outside of the valley after college so you end up with this sort of brain drain. But Garcia was determined to come back and improve the educational system in the valley. He sent teachers out to conferences to learn the latest ideas in education. But he found he spent a lot of his time tracking down absent students or helping families find adequate housing. When students had drug problems, he'd have to figure out how to get them to the nearest treatment center that was miles away. 
Grandparents Raising Their Grandchildren
According to researchers, Colorado has a higher than average number of grandparents who are primary caregivers. You hear about it a lot in urban areas and really anywhere there is poverty. So I ended up doing a story on grandparents raising grandchildren in the valley. In fact the first interview I did was with a 76-year-old named Euclides Gallegos who was raising her three great granddaughters. She had been living in an apartment on a fixed income when her grandaughter -- the girls' mother -- began dropping the girls off for long periods of time. She says her granddaughter was selling food stamps for drugs. And the girls just didn't look or seem right. 
 
"The girls' mom wasn't taking care of them," Gallegos said. "She wasn't feeding them properly, if at all. So I intervened and just took them with me to the house."
These older people are really at a time in their lives when they thought child-rearing was done. I spoke with one grandmother raising five grandchildren with her husband who was deeply committed to the children, but admitted it wasn't how she pictured living out her golden years.
"We really haven't had time to ourselves," said Bernadette Cisneros. "Our three kids moved out of our home and shortly thereafter, they started having kids so we really haven't had much alone time at all."
Hunger During The Holidays
The holidays can be tough for families struggling with having enough money to pay for food. When school's in session, these kids know they'll have lunch every day. But when it's not, there are kids who go hungry. Kathy Underhill, with an organization called Hunger Free Colorado, said that the holidays are a big concern for their group. 
And she told us they see all kinds of families in need. She described for example a family where a dad works construction and when the weather's bad there's no work. So, the family will cut back on food. And she pointed out that parents who can't afford food are in a constant state of worry and that also has an effect on the kids. 
After the story ran, folks had come to them with gift cards and donations. And Hunger Free Colorado told us that because of the coverage, hungry people got to eat over the holidays. Several others who heard the story joined the group's community outreach program to volunteer.
Poverty In The Suburbs
Douglas County is one of the richest counties in the country. And while the child poverty rate there is very low, it had jumped 80 percent from pre-recession levels. That is pretty emblematic of what we see in the suburbs. The country now has more poor people living in the suburbs than in cities, which has a lot to do with the high cost of living in cities and gentrification. And of course, the poverty issues were compounded by the recession. 
I talked with a family who had been middle class. The mother is a single mom who had lost her $70,000-a-year job during the recession and things really snowballed. She racked up debt and eventually started going to a food bank.
(Photo: CPR/Andrea Dukakis)
I also spoke with her son Ryan, who was 13 at the time. At one point during the interview, the boy started looking upset. I suggested he didn't have to stay for the whole interview:
"Do you want to stay and listen?"
"I don't want to listen. This is really dumb."
Ryan got up and walked out. His mom said it was the first time he had ever talked about the changes in his family. 
"He just didn't realize how those things had impacted him, but I looked over at him at one point and he was almost in tears," she said.
Besides feeling quite intrusive at that moment, I also felt for the boy who you could tell had been really affected by this. 
Suburbs are struggling to build up the infrastructure needed to deal with folks living in poverty. Many haven't had to do this in the past so they've had to increase services and set up new food banks. They're also experimenting with a program where they work very closely with a couple of dozen struggling families to help them get on solid footing. So along with traditional things like food stamps and child care, they'll provide a month of rent for a family or money to fix a broken car. The idea is that with a little extra help, these families can get past a challenging period.
After the story aired, one listener donated a computer after learning that the family had to go to the library to use the computers because they didn't have one at home.
I recently checked back in with the mom. She said she still hasn't gotten a job that pays nearly as much as the one she had before the recession. 
I also asked if she regretted doing the story, given the interview had upset her son so much. She told me she didn't regret it and wrote the following:
"It is a story that people need to hear and understand. That hard times don't just impact low-income people but even people who were at one time doing well. The economy has impacted all levels of economic backgrounds. The hard truth about the story is the longer people like me are stuck in low-income bracket the harder it is for us to get back to where we were."
The Big Takeaway
No matter how you try to solve this or what your politics are, we shouldn't have kids living in such dire conditions in one of the wealthiest nations in the world. From what I witnessed, kids and families shouldn't be piling into housing where kids don't have a quiet space to do homework and where they have incredible anxiety about their parents and their financial situations. 
I also think, and this is already happening, that some of the suburbs that are seeing poverty for the first time need to deal with the lack of infrastructure -- like food banks and shelters, to deal with the influx.
And as I always do with these stories, I came away having met some incredible people who work with kids and families in need. But most of all, I met wonderful kids. They are just as smart and sensitive as kids who do have a lot. And with just a little more opportunity, these children could have a better chance of moving out of poverty.
You care.
You want to know what is really going on these days, especially in Colorado. We can help you keep up.  The Lookout is a free, daily email newsletter with news and happenings from all over Colorado. Sign up here and we will see you in the morning!