Denver Students Pair With Alzheimer's Patients To Ease Disease's Pain
Seventh grader Greg Kintzele remembers hiking in the mountains with his grandmother. And playing lots of games with her, like Scrabble.
"She'd always come up with all these words and I'd be like 'is that a word?' and then she'd be like 'oh yes it is, you can check it in the dictionary," he recalls.
And she was usually right.
Then his grandmother started changing. Whenever he visited her, Kintzele recalls their conversations.
"Oh what's your name?," Kintzele says she will say. "'Oh, it's Greg. And, 'how tall are you?', and she asked that multiple times when I came over and I always wondered why?"
His grandmother's mood was changing too, becoming sharper.
"I felt kind of hurt," he says. "I've known her since I was a baby."
Then saw his first video on Alzheimer's at the beginning of the school year and began learning about it intensively in science class.
"Oh, this explains a lot!" he thought.
Learning Across Generations
Kintzele's understanding of what has happened to his grandmother has increased exponentially because his school, Graland Country Day School in Denver, has developed a comprehensive learning module for seventh graders focused on Alzheimer's disease.
"Our goal here is intergenerational learning," says Mark Gatlin, the seventh grade science teacher.
There is little research into and practice of "intergenerational" learning between adolescents and the elderly in the United States. It is more common in Europe. In England, hundreds of schools are termed "dementia-friendly." Those schools give students a deeper understanding about dementia, and provide interaction between students and people with dementia. There are even teaching resources for schools to teach specifically about dementia.
The disease is widespread. In the U.S., one in three seniors dies with Alzheimer's or another dementia. In Colorado, there has been an 85 percent increase in Alzheimer's deaths since 2000. That means a generation of children who may not understand in a deep way what is happening to their grandparents.
Related stories:
Several years ago, Graland was searching for a new focus for its seventh grade service learning project. Christi James, the school's service learning coordinator, asked a group of sixth graders what was important to them.
They said they wanted to work with the elderly.
"And they said, "We really want to work side by side, and visit with and befriend elders and we want to do it in our neighborhood," James recalled.
The project has evolved over time and has several pieces. The focus on Alzheimer's came about through a Graland alumna, whose grandmother had Alzheimer's. She connected the school to the Rocky Mountain Alzheimer's Disease Center.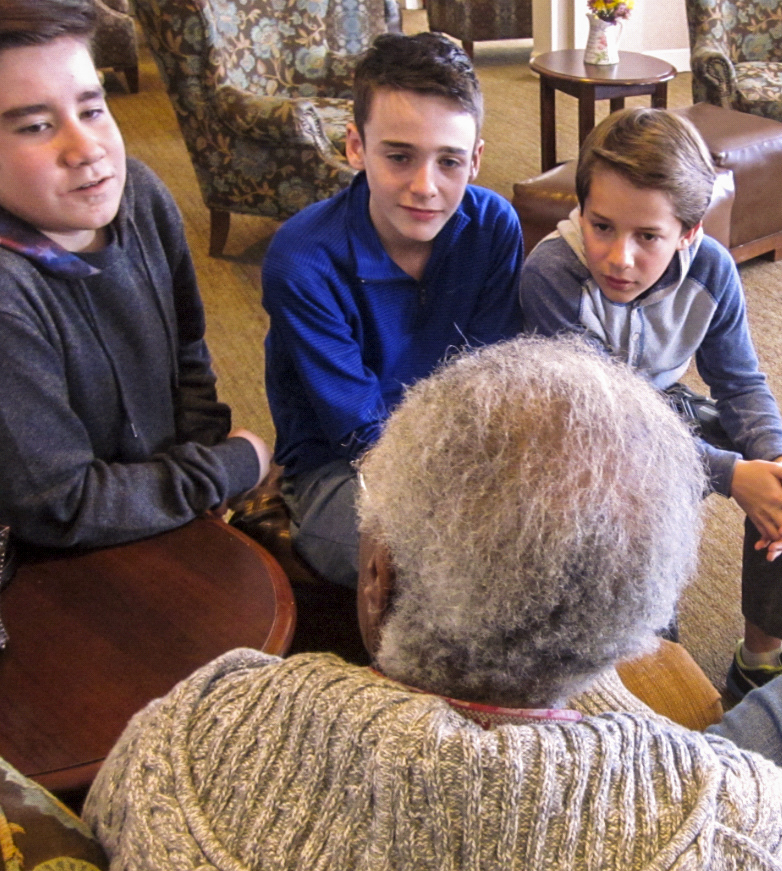 On a recent evening, parents and students peppered the center's director and researcher Dr. Huntington Potter with questions on the latest research.
"Do you know what comes first, neurofibrillary tangles [a primary marker of Alzheimer's] or senile plaques [beta-amyloid protein deposits found in brain]? asks one seventh grader.
"How do you put the genes of Alzheimer's in the mice?" asks another.
Mark Gatlin, the seventh grade science teacher, said his class is focused on the clear progression Alzheimer's takes. 
"It's predictable and potentially preventable," he said.
Students learn about the history of the disease, genetic mutations and biochemical changes in the brain, about different medicines, and how research into a cure is progressing.
On a recent evening, the students show parents and grandparents the "memory boxes" they've built. They are simple black box with a glass cover. Inside are objects representing an elderly person in the student's life, accompanied by a biographical sketch. But the intergenerational Alzheimer's unit is more than art, writing and science.
Life Lessons Learned Outside Of Comfort Zone
On a sunny recent Friday afternoon, the seventh graders walk over to Sunrise senior center on Colorado Boulevard.
The students jockey over who will get to go up to the third floor, where patients with dementia live. There are more kids who want to go than are able.
"At the beginning of the year, we only have a handful of students who would like to go up on the third floor," says Gatlin, who is accompanying the students. "But they become much more curious. Plus, they would like to, I think, make a change in people's lives."
Student Greg Kintzele, in a striped shirt, sits down right away in front of senior Jerry Shafer, also in a striped shirt. He politely introduces himself and begins asking Shafer questions.
"Do you have any family you can remember?"
(Jenny Brundin/CPR News)
Shafer begins talking about his mother and his father. They talk about what Shafer liked to do when he was a boy. Kintzele asks Shafer what war he was in. A few seconds pass.
"Korea," says Shafer.
"The Korean War?" says Kintzele. "My grandfather was in the Korean War too."
Shafer meanders a bit – going back and forth between the war and his childhood. But that doesn't faze Kintzele. The kids here roll with the topics – even when one senior talks about her days skiing in Oklahoma City, or another comments again and again about when the members of the band Earth, Wind and Fire attended school in Denver.
Teacher Mark Gatlin says not only are the students coaxing memories out of seniors, kids are learning complex social skills.
"The hardest thing is teaching patience," he said. "They want immediate feedback and going to Sunrise takes them out of their comfort zone."
Some of the seniors like to joke with the kids.
"I'll bet the girls are just chasing them! Are they?" Martha Holyfield asks a reporter, nodding to the two boys in front of her.
The boys tell Holyfield they don't have girlfriends.
"Smart rule 'till you get through school," Holyfield says in her rural Virginia accent.
Phillip Albright, 12, likes seeing the smiles on their faces when he asks questions and they remember.
"It kind of stretches their brain memory," he says. "It doesn't really help the disease. It just makes them think about their memories more so they don't lose them as quickly. Sometimes they just give you a blank stare, but you still need to talk to them -- you don't just walk away."
Albright's own grandfather died of complications from Alzheimer's. When the students learn about the strong genetic connection to the disease, it's sobering.
"I've learned that, well, I'd be very lucky if I don't get Alzehimer's," says Albright.
Finding "Magical Moment" On Croquet Field
These same skills – being authentic, patient and gentle with seniors – are put to work a couple of days later at the school on a makeshift croquet field.
About once a month, some of the seniors come over to the school to play the game. The kids roll out a green artificial turf, set up the wickets and get out the mallets and balls. They're aided by an organization called Jiminy Wicket, which connects students and seniors with dementia to play croquet. The idea is to dissolve the stigma of aging and Alzheimer's.
(Nathaniel Minor/CPR News)
James Creasey, CEO and founder of the Jiminy Wicket Foundation, has discovered the croquet is the perfect vehicle.
"As we age and our cognitive and physical abilities diminish, those games [golf, baseball] become very difficult because there's a lot of eye-hand coordination with a moving ball," he says. Creasey has found that croquet is a game you can play longer in cognitive and physical decline.
"Connection, laughter, and smiles across generations," is the goal, he says.
"I'm just happy when I'm around kids!" says Sunrise's Martha Western, after nailing a ball through a wicket.
One man, though, Bill Taylor, hasn't cracked a smile since he's got here. Then he hits the most incredible shot.
The room erupts.
(Nathaniel Minor/CPR News)
He smiles the biggest smile at his student mentor Greg Kintzele.
"That was amazing," exclaims Kintzele.
For Kintzele, the experience learning about Alzheimer's in-depth has helped him with his own grandmother. He says he's learned not to get so frustrated with her questions and moods.
And after talking with the wide variety of people with dementia at Sunrise, he knows what to expect as her disease worsens.
"It's kind of like a map for me, what's going to happen to my grandmother," he says.
He still plays Scrabble with her -- though now, her words are made up. But now, he says, that's OK.
You care.
You want to know what is really going on these days, especially in Colorado. We can help you keep up.  The Lookout is a free, daily email newsletter with news and happenings from all over Colorado. Sign up here and we will see you in the morning!