Colorado 'Berners' Meet The Democrats' Superdelegates And Come Away Sour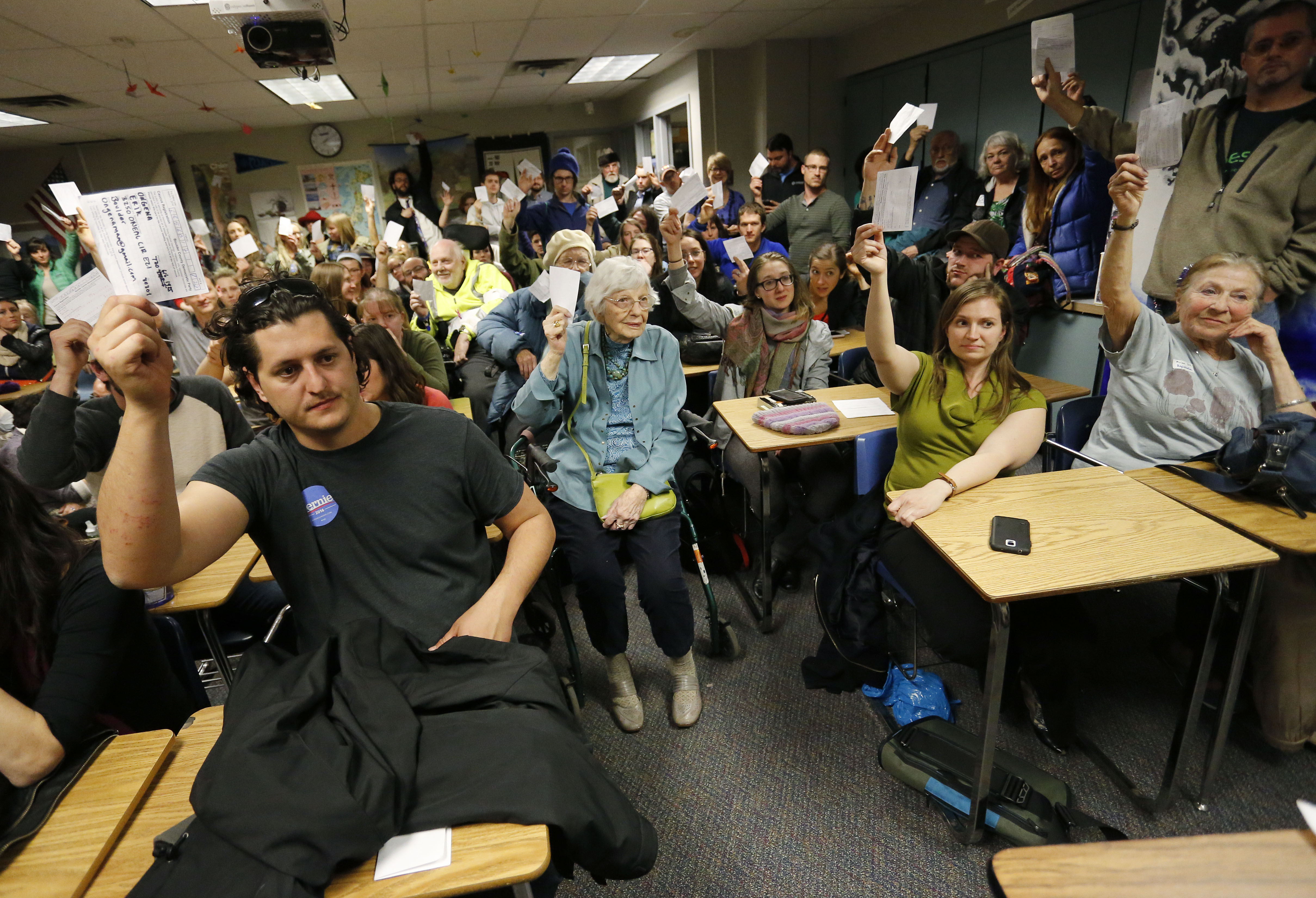 Superdelegates aren't so super among Bernie Sanders supporters in Colorado. The Vermont senator and presidential candidate won Colorado's Democratic caucuses by a 59-40 margin on March 1, but he could end up with same number of state delegates as his rival, former Secretary of State Hillary Clinton.
That's because Colorado's Democratic caucus process only determines 66 of the state's 78 delegates to the party's national convention. The other 12 slots are reserved for top elected officials and party leaders -- the superdelegates -- and nearly all of them are backing Clinton.
Super heroes often have the strength of many humans. Superdelegates have the strength of many voters. They're the result of an evolving nominating process, one that tends to alternate between favoring party elites and empowering the voting public.  
The pendulum really started swinging in 1968, when insider support allowed Minnesota Sen. Hubert Humphrey to win the Democratic Party's presidential nomination without entering a single primary election. He went on to lose to Republican Richard Nixon. In response, the Democratic Party changed its nominating process to avoid that kind of catastrophe -- and reduce the influence of party elites while giving more voice to primary voters.  But just four years later, those same primary voters picked South Dakota Sen. George McGovern, whose 49-state loss to Nixon is legendary.
After Republican Ronald Reagan handed the Democrats another landslide defeat, beating Jimmy Carter's re-election effort in 1980, Democratic party leaders decided once again to re-examine their nominating process. In 1984, the Hunt Commission recommended the creation of the superdelegates.  Their purpose: to tilt the delegates scales in favor of a candidate deemed most electable by party elders.
But while superdelegates have been around for more than 30 years, their existence is still a surprise to many.
"People were actually blown away, once they, like, heard about the superdelegates," says Denverite T.C. Bell, who spent much of last year training his fellow Sanders supporters on the caucus process. Bell made sure to play up the role of superdelegates, to convince people why it was so important to offset their influence with as many Sanders delegates as possible. But he says after caucus night, less informed "Berners" got a rude shock.
"They see, 'Oh wow! We won! Bernie Sanders in Colorado!" And then finally they're getting this piece about the superdelegates. It becomes so disheartening for them. It's like, "all my work, all those hours on the phone, wait a minute -- just so we could tie?"
Bell thinks superdelegates give the political establishment too big a say in the nominating process and leave out-of-the-box candidates like Sanders as double-underdogs. He'd like to see the party do away with the position. But in the meantime, he's lobbying the existing superdelegates to switch their support.
"Just because they might be distinguished party leaders, that doesn't mean we can't talk with them, it doesn't mean we still can't write them letters, and show up to events and ask them  respectfully and nicely, if they are willing to stand with the voice of the people," Bell says.
He's emphasizing courtesy. But it sounds like not everyone gets the message.
Superdelegate Manny Rodriguez says he's been getting a lot of "lot of threatening letters, threatening e-mails" in recent months.
Rodriguez represents Colorado on the Democratic National Committee -- a position he had to run for within the party -- which automatically makes him a superdelegate. A Clinton supporter since her first presidential run in 2008, Rodriguez sees superdelegates as looking out for the good of the party as a whole.
"Part of being a DNC member is to get people elected, Democrats elected, and that's all I've done," he says.
Rodriguez has also spearheaded Latino outreach efforts for the Colorado Democrats and says his vote as a superdelegate is another way to represent the interests of that community. And he points out that superdelegates are generally long-standing Democrats. whereas some of the Sanders supporters objecting to the process only joined the party recently. 
"They don't follow the principles of the Democratic Party and they want to come and change it at the last minute," he says.
On the other side, Sanders' supporters warn that the party risks alienating his young activist base, if this election leaves them feeling like the system is rigged. However, Colorado's Democratic Party chairman, Rick Palacio, believes there will be a clear nominee well before the national convention, making all of this concern around superdelegates moot.
"We've never been in a situation where the superdelegates were the ones that chose the nominee... And they're not going to in 2016 either," he says.
But in this election, lots of things have happened that have never happened before. And that means Sanders supporters aren't taking the superdelegates -- and their potential power -- for granted. They're hoping to win at least a few to their cause before the party meets in Philadelphia this summer.
You care.
You want to know what is really going on these days, especially in Colorado. We can help you keep up.  The Lookout is a free, daily email newsletter with news and happenings from all over Colorado. Sign up here and we will see you in the morning!