As Military Phases Out PFC Firefighting Foam, Colorado Drinking Water Questions Remain
Brenda Piontkowski has a to-do list most people recognize with meal plans and family events.
But the regular run to a filtered water station stands out.
"[This is] the sound of clean water," said the resident of Security, near Colorado Springs, as she fills a one-gallon plastic jug. It's one of a half dozen containers she's filled every two days for months.
"All I know is it's not healthy. I can't drink my tap water."
Across the cities of Security, Fountain and Widefield, officials have worked overtime since January to remove higher-than-normal concentrations of perfluorinated compounds, or PFCs, from the water supply. While the city of Fountain is now 100 percent PFC free, Security and Widefield still have work to do.
The cities are three of 194 drinking water supplies across the country estimated to have higher-than-normal PFC levels in drinking water. The higher levels are often connected to manufacturing facilities, or spots near airports and military bases where Aqueous Film Forming Foam was used to put out fuel fires. Colorado health officials have begun to trace the issue to foam used at nearby Peterson Air Force Base.
The Environmental Protection Agency links high levels of PFC exposure to low birth weights, forms of cancer and other health problems. Pregnant and breastfeeding women are groups of particular concern. The agency made health advisory levels for PFCs more strict this May after an exhaustive review of peer-reviewed research.
"Almost every American has been exposed to these chemicals through consumer products, and for most people that's probably their largest exposure," said Joel Beauvais, deputy assistant administrator for The Office of Water at the EPA. "But in some communities around the country there's exposure through drinking water as well where there's been a localized contamination event."
Colorado health officials now have two goals. First, make sure water across three Colorado towns is PFC free. Second, find the source of PFC contamination.
A Complicated Problem
At the Colorado Department of Public Health and the Environment, work kicked into high gear late this winter. That's when officials got wind that higher-than-normal PFCs were in the water supply of Security, Fountain and Widefield.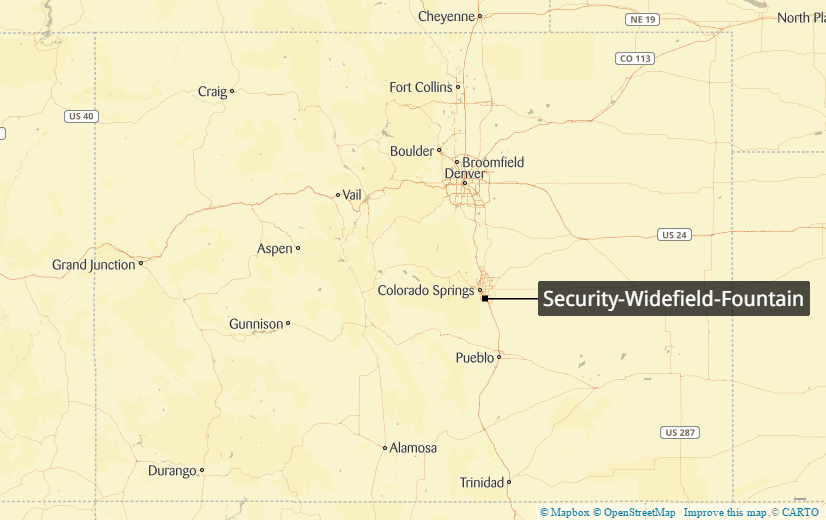 "This is a complicated problem. It involves both public water systems and private well owners," said Warren Smith, spokesman for CDPHE. Smith said the problem stems from contaminated groundwater. Surface water from reservoirs and rivers isn't an issue. CDPHE asked the Air Force to accelerate its investigation into possible contamination of groundwater near Peterson Air Force Base.
A preliminary assessment completed this July identified six spots on the base where the firefighting foam was used. It's specifically used to put out fuel fires.
"Because we know that PFCs are associated with firefighting foam that is used for fuel fires, it's highly likely that Peterson Air Force Base is at least one source of the PFC contamination in El Paso County," said Smith.
But there could be other contaminants on or off base. For example, the commercial airport near Colorado Springs may have used the foam. The Air Force expects to complete its investigation of Peterson Air Force Base and issue a public document in July 2017.
Across the country, the Air Force has spent $137 million since 2010 to study how, when and where the foam has been used. Right now it's currently mitigating the issue on 12 current and inactive installations including Peterson.
"It's important for us to study the problem and see where they're located so we spend the future dollars on the right places," said Daniel Medina, a PFC subject matter specialist with the Air Force.
Medina said 1,800 areas across more than 190 U.S. installations warrant further investigation. Meanwhile, the U.S. Department of Defense said it's examining more than 650 possible contamination sites for other military branches.
The Air Force announced last month it will spend $6.2 million to replace the foam it uses on fire vehicles. The current stock of vehicle foam will be incinerated. The Air Force is still working to move the foam from air hangers.
The Air Force will spend another $4.3 million to help install filtration systems for Colorado water districts. Sharon Stone, remedial project manager for Peterson Air Force Base said the Air Force is still working out the details of how and where the filtration systems will be installed for water districts.
"We have additional options built in, so if [the project] comes in less than we thought, we may get a few more things in there than our estimate shows we're going to get," said Stone.
The money will also pay for water to be delivered to about two dozen private well owners who have higher than average levels of PFCs.
A Tangled Ball Of Questions
In Security, Water and Sanitation District Manager Roy Heald has his eyes on a different prize: Drinking water that's 100 percent PFC free.
It's not as easy as you might think.
"It's not a matter of just flipping off a switch and shutting off a well," he said.
Right now the water is 97 percent PFC free. Back when the May 19 EPA health advisory went into effect, parts of Security exceeded it by two to four times. Crews have worked hard. Heald's goal is to blend in more surface water. And make new infrastructure improvements. It all costs money. The price tag is expected to reach $3 million for Heald's agency, which has a $5 million annual budget.
"This has not affected our rates yet, but unless there's relief from somebody else, it has to," he said.
But it could take years until studies determine who's responsible. And that leaves Heald and ratepayers on the hook for now.
Just up the road, Venetucci Farm is managing even more layers of complexity. Manager Susan Gordon said the organic farm stopped production July 22. It runs a Community Supported Agriculture program that it shut down.
"I feel like a dark cloud is kind of hanging over this farm," said Gordon. "There's a haze and it's very difficult to make decisions about the future."
The estimated loss this season could reach $150,000. Venetucci uses a private well to irrigate crops. Efforts from local water districts won't solve their problems. The Air Force is now providing drinking water for residents of the farm, and animals.
Right now there are more questions than answers. It's like a tangled ball of yarn, each strand representing a single question. What are the PFC concentrations in the soil? At what rate do plants take up the chemicals? How are farm animals impacted by PFC water they've drunk?
Researchers at Colorado School of Mines and the U.S. Department of Agriculture have initiated studies on Gordon's farm. But she needs answers now.
"Do I proceed with my plans for the 2017 growing season? Or do we stop growing food, put everything in cover crops and maybe just focus on pumpkins for a year?" she said.
Gordon touches on a fundamental tension in this part of El Paso County. Scientists and health officials research as fast as they can. But in a world where the public expects quick information, the gears of science seem painfully slow.
For 33-year-old Security resident Darla Carlton it's the health questions that are vexing. She grew up in town and said she developed kidney problems in 2014. Now she wonders how, or if, they're connected to PFCs in the water.
"We actually went to buy a water cooler," she said. "We don't wash our clothes here...my animals don't drink this water anymore. We still have to pay for water we don't use."
Carlton said she developed kidney stones and is still in pain. On a recent Friday, she ripped open a Fed-Ex package to find relief she hasn't felt in years. It was paperwork from the law firm Napoli Shkolnik.
A cover page on the large packet read "If you are interested in having the firm investigate your potential claim, kindly fill out the enclosed packet."
Carlton said she intends to pursue legal action. CPR News' calls to Napoli Shkolnik about the status of a potential lawsuit have not been returned.
Correction: We originally reported that an EPA health advisory was issued in April. The advisory was issued in May, and the story has been updated. CPR regrets the error. 
You care.
You want to know what is really going on these days, especially in Colorado. We can help you keep up.  The Lookout is a free, daily email newsletter with news and happenings from all over Colorado. Sign up here and we will see you in the morning!