Star Wars At The Denver Art Museum: Pop Culture Or Art?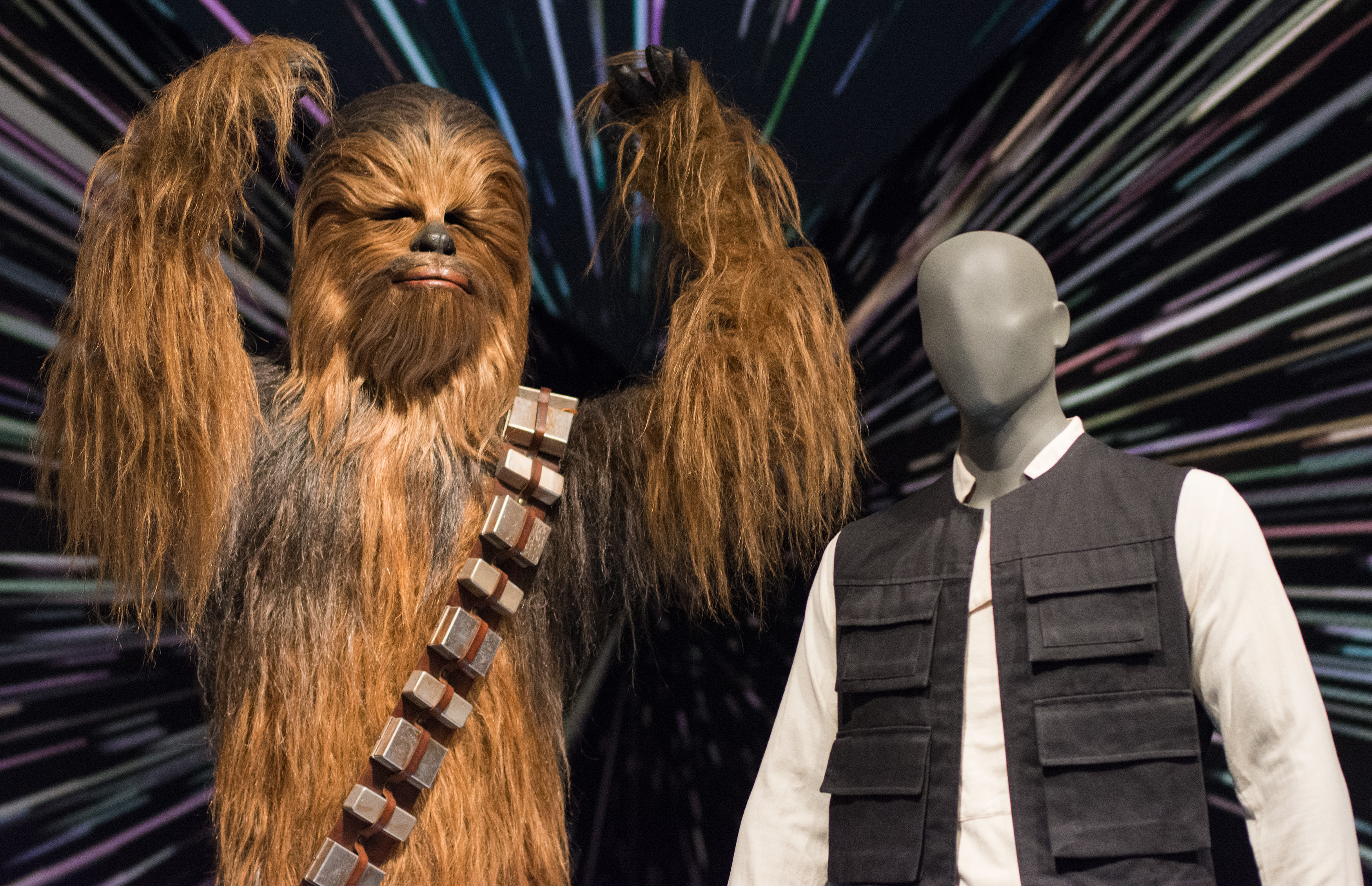 Where does the Star Wars galaxy fit inside the art world?
That's a question to ponder when you navigate the lightsaber battles and Galactic Senate meetings in a new exhibition called "Star Wars and the Power of Costume" at the Denver Art Museum.
There are more than 70 original Star Wars costumes on display now through early April. These are costumes that actors wore while portraying characters like Darth Vader, Padmé Amidala, and Han Solo beside his trusty co-pilot Chewbacca -- a character inspired by creator George Lucas' dog, by the way.
"We really tried to extend our footprint, to extend the notion of what an art museum can do," Denver Art Museum director Christoph Heinrich says.
(Corey H. Jones/CPR News)
The museum staff thought long and hard about whether to host a Star Wars show. It's expensive, although Heinrich won't give an exact cost.  But there's no denying the cultural phenomenon's wide appeal, and Heinrich hopes that will attract lots of visitors.
"We want of course to have the broadest audience possible, we want to be really accessible," he says. "But that does not mean we're dumbing down things."
This exhibition, which is curated with the help of the Smithsonian Institution Traveling Exhibition Service, is more than just costumes. It explores the creative process behind bringing Star Wars characters to life. The pieces all come from the Lucas Museum of Narrative Art in California.
"It's important for people to see the costumes to see the tip of the iceberg," concept artist Iain McCaig says amidst some of his early sketches and storyboards. "And the reason I like rooms like this is they get to see underneath for the rest of the iceberg."
McCaig first jumped on board with "Episode I: The Phantom Menace" in 1999. You can see some of his early drawings in different galleries at the Denver Art Museum. This is how he helped design many Star Wars characters like Darth Maul: By first putting pencil to paper.
(Corey H. Jones/CPR News)
"It's really important to know that costume comes from character, character comes from story," McCaig says.
That story comes from the mind of George Lucas, whose team realizes the ideas. Once he approves the concepts, the costume designers take over. This exhibition also has raw materials and test fabrics. In fact there's a couple hundred of these ancillary items from the Lucas Museum of Narrative Art, many of which have been boxed up for years.
"We've been doing Star Wars exhibitions for about 25 years," Laela French, director of archives at the Lucas Museum, says. "This is our first costume exhibition."
(Courtesy Lucasfilm Ltd.)
Other exhibitions have explored topics like mythology and the fake science of Star Wars. They typically appeal to science or interactive museums. But art museums? Not so much. So this costume design show is kind of an experiment.
"There's still that 19th century philosophy kicking around about the fine arts and the elitism, and pop culture is having a hard time finding its way into those doors," French says. "Let's embrace that pop culture can be fine art."
This isn't the first time a traditional arts institution has embraced pop culture icons. New York's Museum of Modern Art hosted a retrospective of filmmaker Tim Burton's work in 2009. A traveling show on musician David Bowie ran at the Museum of Contemporary Art Chicago two years ago. And next year, the Colorado Symphony will perform a concert inspired by the video game Pokemon.
Denver Art Museum director Christoph Heinrich says the Star Wars show has parallels to others the museum has done. That includes "Shock Wave," a look at Japanese Fashion that's on display now. He also points "Becoming Van Gogh" in 2013, which highlighted the painter's creative process.
Aiesha Morris of Aurora remembers when the first Star Wars movie came out in 1977.
"When I saw it at 10, we never saw anything like that," she says.
Now Morris' son -- who has seen most of the films -- is 10. She says it's important for her kids to see how many people pitched in to make the Star Wars series.
"As a mom, I think about all those different things to encourage their creativity and imagination," Morris says.
You care.
You want to know what is really going on these days, especially in Colorado. We can help you keep up.  The Lookout is a free, daily email newsletter with news and happenings from all over Colorado. Sign up here and we will see you in the morning!