An Interview And Album Preview With Itchy-O, Denver's Most Mysterious Band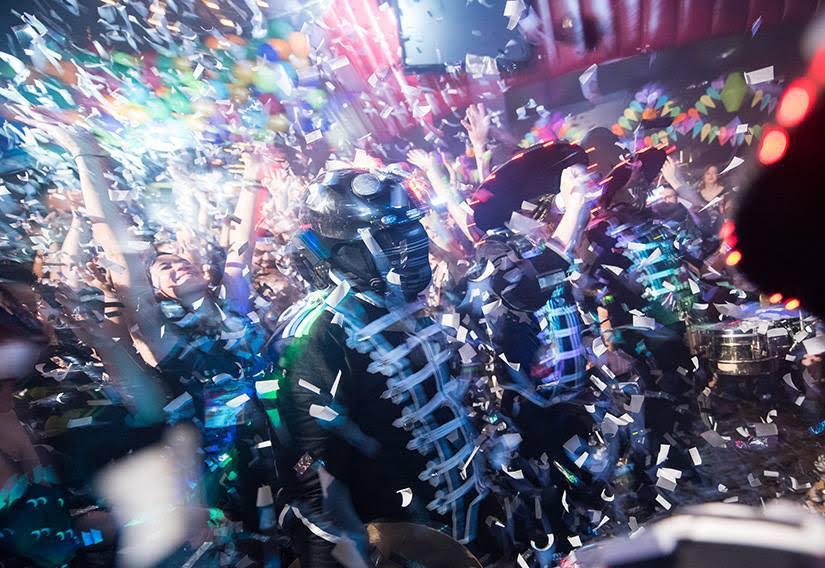 Denver's itchy-O is a 32-piece band that thrives on weirdness. The band's sound is heavy on percussion and experimental electronic sounds. Its live shows are a unique spectacle featuring unconventional stage theatrics, Chinese lion dancers and audience interaction. Sometimes, those performances are unleashed on an unsuspecting public audience in a "flash mob" style.
itchy-O released its debut album in 2014 on Jello Biafra's Alternative Tentacles label, and a follow-up is on the way. The band will wrap up a year in which it brought its live show overseas to Tasmania with a New Year's Eve show at Denver's Summit Music Hall, presented by CPR's OpenAir.
We recently conducted an email interview with the members of itchy-O -- all of whom wear masks while performing and answer interview questions collectively. Read it and watch video of the band below.
Also, stream an exclusive preview of the band's forthcoming album "From The Overflowing."
itchy-o_-_from_the_overflowing_-_from_the_overflowing - Itchy-O
CPR's OpenAir: Your live shows are a one-of-a-kind immersive experience. What kind of venues work best for an itchy-O performance?
itchy-O: Our collective effervescence is like a gas. It fills any space/void. Seriously, though, anything works outside of seated venues.
What do you love about playing for unsuspecting audiences vs. scheduled audiences?
There are real risks involved in crashing events that we find extremely exhilarating. It's always an adventure. Also, the adrenaline that comes from playing virgin crowds and blowing unsuspecting minds is absolutely addictive. Seeing the "why is this happening?" expression on people's faces as they surrender themselves to dancing is absolutely electrifying.
When it comes to scheduled shows we often hear fans make comments like: "I can't wait to take my friends and watch them lose their minds!" This makes us so happy that fans are able to tap into this "virgin-exposure-energy-by-proxy." 
Also, there are a number of things we are able to do at scheduled events that we are not able to do at guerilla-crashings. We love to "create temple" so to speak. When we are able to get into a space and methodically put together our big show with the Tesla coil, Confetti cannons, taiko drums, giant puppets, altars and everything else that is not mobile we are able then to transform an entire venue into our special church of entropy.
Of the artists you've collaborated with, which were the best fits for itchy-O and why?
Being invited to close the David Byrne and St. Vincent show in 2013 was such an honor. We played a short version of "Road To Nowhere" in our own fashion and were asked to play two more of our own songs to end the night. Mr. Byrne was so gracious and personally accommodating. Another collaborating highlight was with Munly and the Lupercalians, when we overlapped and joined them on their last song "Amen Corner" at the Gothic Theatre last year. The crowd went absolutely wild.
However, hands down, the most incredible collaboration we have done yet was down in Tasmania at the Dark Mofo Festival this year. We worked with local Tasmanian taiko drummers, Taiko Doramu and Balinese performance artist Ketut Rina.
Here we led a parade of over 10,000 people to the burning of an effigy, called an ogoh-ogoh, filled with festival-goer confessions of fears. Here in the cold and dark of the descending winter, everyone became a member, a spectator and part of the parade as the festival celebrated its close.
Dancers choreographed a wild Balinese fire ceremony with Ketut to itchy-O's signature climax piece -- "Inferno No Corridor" -- and the enormous dragon-like creature was set ablaze under a 30-foot crowning sculpture that read "FEAR EATS THE SOUL." We burned our fears and prepared ourselves for what the world has to offer and what we have to offer it. It was magnificently life-affirming, and we were intensely moved by the experience.
The members of itchy-O spoke through vocoders when they visited CPR's OpenAir in 2014. The band's music doesn't really have any vocal sounds that could be considered "human" either. What do you like or dislike about the human voice?
Friedrich Nietzsche might have said it best in terms of music: "The principal task is to lead our thoughts to higher things, to elevate, even to make us tremble. … The musical art often speaks in sounds more penetrating than the words of poetry, and takes hold of the most hidden crevices of the heart."
We're not interested in dictating any sort of narrative story or experience through human voice. Our aim is to produce platforms for anyone listening to create their own experiences.
You made it!
You love learning about new music and the Denver music scene. We have a weekly newsletter for you -- Inside Track. Sign up here to stay in the know about the hottest Colorado concerts and how you can score tickets!