More Questions About Refugees In Colorado: Who Pays? How Can I Help? Help Others First?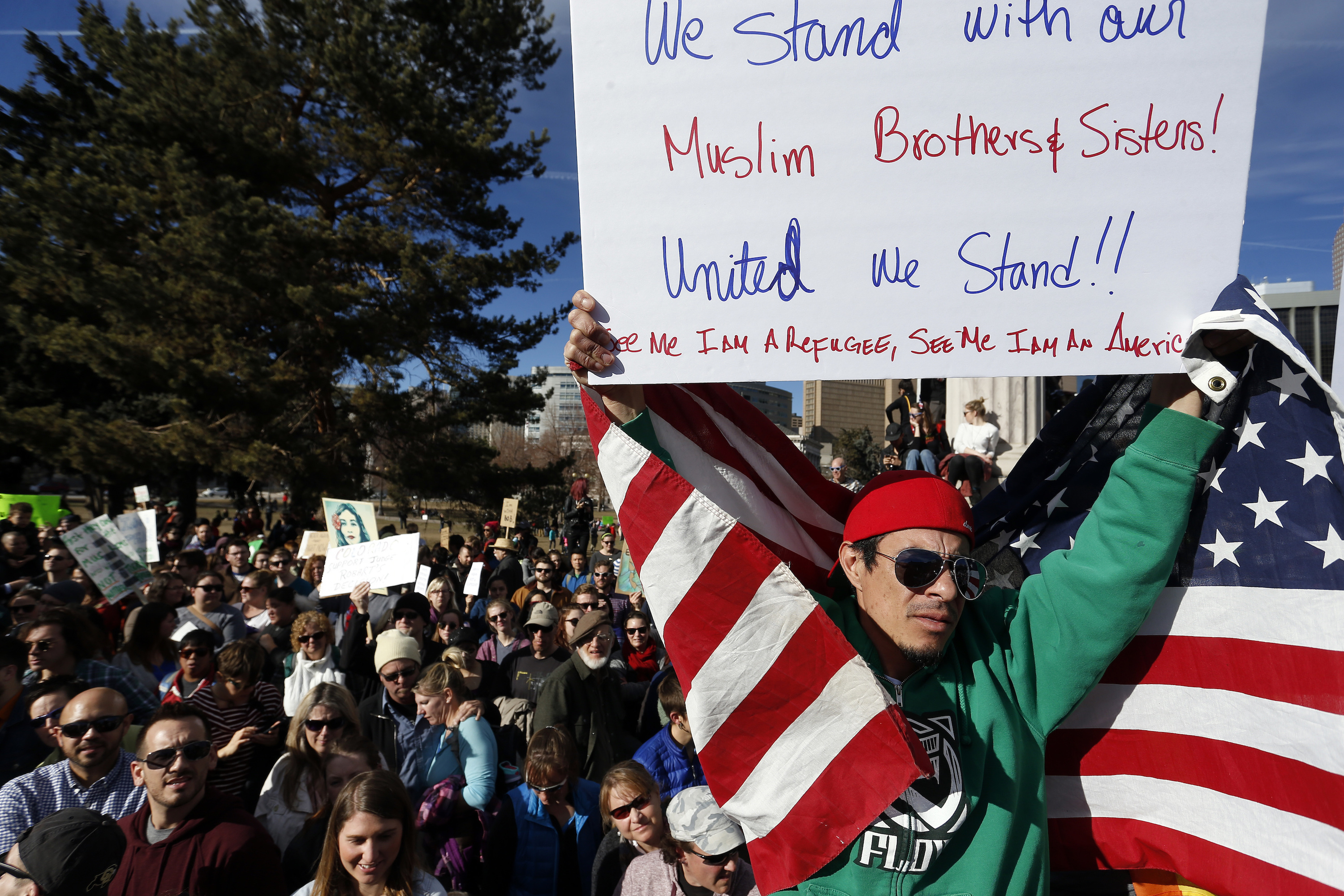 In the wake of President Trump's executive order temporarily banning refugees and immigrants from seven Muslim-majority countries, we answered some basic questions about Colorado's refugee population. As the controversial measure makes its way through the courts, we wondered what other questions you had about refugees in Colorado, and asked for your thoughts on Facebook.
Thanks for all the responses — more than 250 at last count: questions, and expressions of support or opposition to the president's executive order. We can't answer every question, but here's some answers based on some general themes we saw.
How Can I Help?
Get in touch with the three main service providers for refugees in the state -- Lutheran Family Services, the African Community Center, and the International Rescue Committee. Rebecca Burris, marketing and communications manager for Lutheran Family Services Rocky Mountains, said they've seen a big increase in donations and volunteers in recent weeks.
"One of the best things that we really push for is to be a cultural mentor," Burris said. "That is when you really get to hang out with a refugee family."
Cultural mentors help refugees with English, teach them how to use bank accounts, how to take the bus, and other things many take for granted. But Burris says if Trump's executive order goes back into effect, they may not need as many volunteers.
"We're not exactly sure what the future looks like," she said. "It seems to change almost on a daily basis."
Who Pays For All Of This?
The U.S. Department of State and federal Office of Refugee Resettlement fund refugee efforts, said Kit Taintor, Colorado's state refugee coordinator.
"All of the money is federal. The state of Colorado does not contribute state funds," Taintor said.
The federal government contracts with nationwide refugee resettlement nonprofits that have local offices or affiliate organizations. Taintor wasn't able to give an estimate on how much money the federal government spends on refugees in Colorado.
"It's really complicated and challenging. It's not that we don't want to provide that information, it's that we want to provide correct information," she said.
Refugee resettlement nonprofits spend about $200 a month per refugee on services. Refugees can get services for up to five years.
Refugee programs in the U.S. exist not just for humanitarian reasons, Taintor said. Their main focus is to get refugees to the point where they are self-sufficient. Refugees are even required to pay back their airfare.
"That's the other gift that we give them," Taintor said.
Why Not Fix Other Problems First, Like Homelessness?
The refugee program is funded by the federal government. Homeless services do receive some federal money, but a lot of local money too. The city of Denver, for example, spent $47 million on homeless-related services in 2016.
Taintor said she doesn't think of it as an either-or situation. She said it should be both-and.
"Refugee resettlement is part of what we've done," she said. "It's part of our American values. It's part of our generous hearts. It's part of our foreign policy."
Do Refugees Ever Return To Their Home Countries?
Not very often, Taintor said. Many have left war zones to come here, she points out. Some might relocate within the U.S. -- maybe to be closer to family or for work. Colorado saw a positive net migration of about 350 in 2016, Taintor said.
The majority become citizens, she said.
"They haven't been citizens for years and decades and maybe even their entire lifetime," Taintor said. "We find that's something that refugees want -- to be part of something and part of a country."
The process to become a citizen is not easy. Refugees have temporary legal status for their first year. After that, they need to acquire legal permanent resident status. After five years in the country, they are eligible to become citizens — provided that they pay a hefty fee and pass a civics test.
More Answers
Didn't see the answer to your question here? Check out our earlier story on refugees in Colorado.
You care.
You want to know what is really going on these days, especially in Colorado. We can help you keep up.  The Lookout is a free, daily email newsletter with news and happenings from all over Colorado. Sign up here and we will see you in the morning!