Judge OKs Class Action Certification To Lawsuit Over Denver's Homeless Sweeps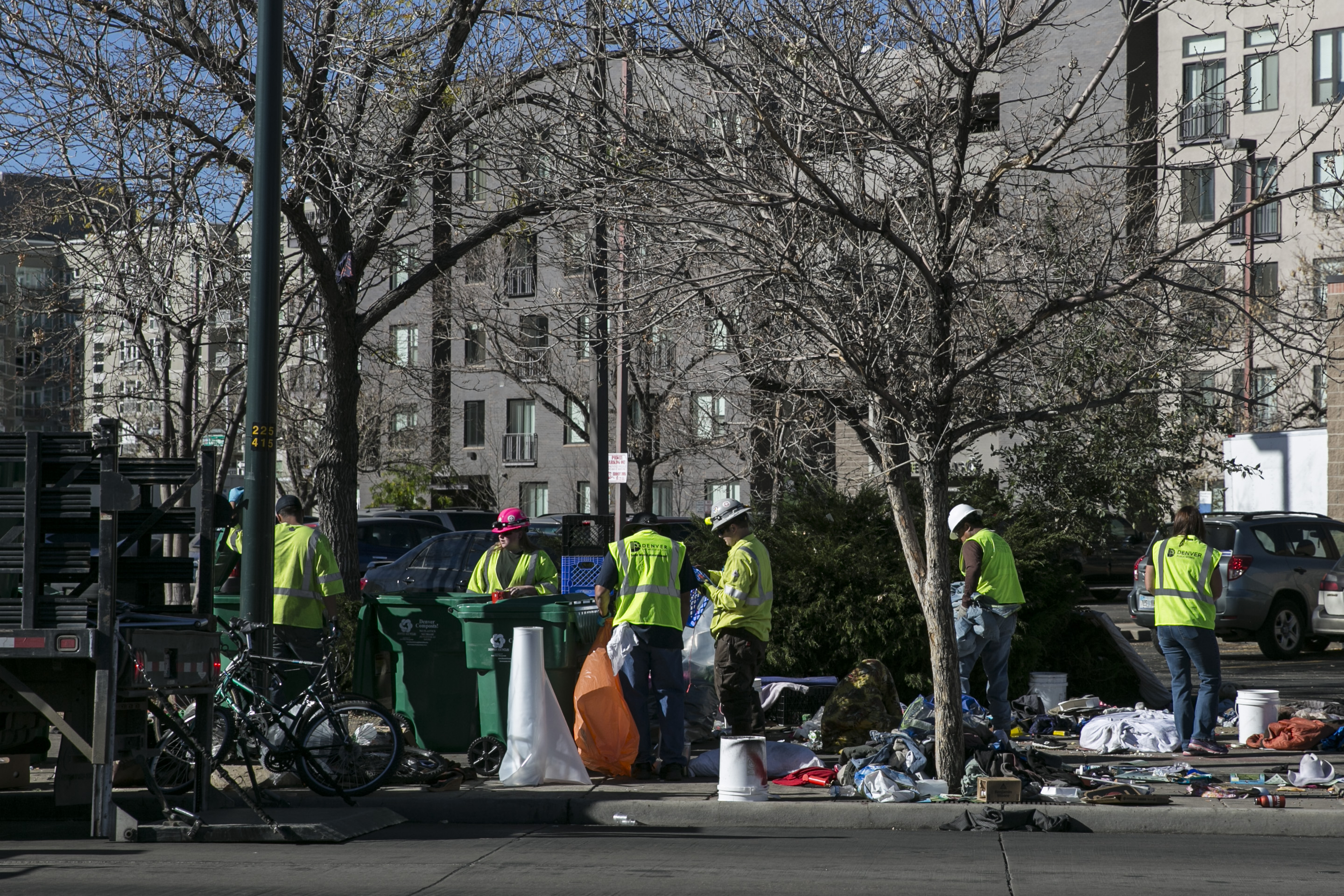 Posted 4:15 p.m. | Updated 5:45 p.m.
A lawsuit that claims the City of Denver violated the constitutional rights of its homeless residents took a big step forward on Thursday.
A federal judge granted class-action status to the suit, which was filed last year. That means the lawsuit, which originally had nine plaintiffs, will be expanded to cover every homeless person in Denver, said attorney Jason Flores-Williams. There are more than 5,000 homeless people in the metro area, and more than 1,000 have been affected by the sweeps, Flores-Williams said.
"These people are going to have their day in court," Flores-Williams said.
The lawsuit alleges that city crews violated the Fourth and 14th Amendments -- protection against unreasonable searches and seizures and right of due process -- of the U.S. Constitution when they cleared homeless camps multiple times over the last year or more.
Without the class-action certification, the lawsuit would have been limited to the original plaintiffs and would have focused on specific incidents between them and the city. Now, each incident is seen as representative of what the city has done to other homeless persons -- not just the original plaintiffs. Flores-Williams said.
"What the trial is going to be looking at is the entirety of Denver's behavior, and asking whether it's been constitutional," Flores-Williams said.
In his order, U.S. District Court Judge William J. Martinez dismissed the city's arguments against the class certification. But Martinez also took Flores-Williams to task for frequently displaying "ignorance of or dismissiveness towards rules and procedures."
"Although each of these, in isolation, might be considered a minor infraction, they collectively suggest that Mr. Flores-Williams sees no value in attempting to cultivate a useful working relationship with opposing counsel," Martinez wrote.
Martinez also questioned Flores-Williams' financial wherewithal, noting that the attorney cited a decision that has been withdrawn and superseded. Martinez inferred that Flores-Williams could not afford expensive research tools like LexisNexis that flag outdated decisions.
(Nathaniel Minor/CPR News)
"The Court cannot fault such thrift, if that is indeed the motive, but it does raise questions generally about his ability to sustain a class-action lawsuit," Martinez said.
Finally, Martinez wrote that while it was clear Flores-Williams believed in the righteousness of his client's cause, he was concerned that the attorney had so far failed to take the opposing side's arguments seriously.
Martinez strongly encouraged Flores-Williams to get help from another firm for the next phase of the case. And Flores-Williams said he would, telling CPR News he will seek to partner with a "power social justice firm" or the American Civil Liberties Union.
"I'm basically a solo practitioner here with a street-law practice," Flores-Williams said, adding that he's spent $18,000 of his own money so far.
Flores-Williams acknowledged that Martinez's criticisms had merit, but defended his methods.
"Sometimes it's hard to go from the streets where you're seeing the poor and most vulnerable amongst us be shoved around and pushed around and then come back and put a smile on your face," he said.
Flores-Williams said he'd work on building a better relationship with the city's attorneys.
"I take anything the court says extremely seriously," he said.
The Denver City Attorney's office said in a statement that Thursday's order had nothing to do with the merits of the plaintiff's claims.
"The City remains confident in its legal position in the case, that its clean-up efforts were consistent with due process, and that it will eventually prevail on the merits," the office said.
You care.
You want to know what is really going on these days, especially in Colorado. We can help you keep up.  The Lookout is a free, daily email newsletter with news and happenings from all over Colorado. Sign up here and we will see you in the morning!