Our 2017 Guide To This Summer's Classical Music Festivals Across Colorado
It's easy to stay busy in Colorado during the summer, especially when it comes to classical music festivals. From the historic Central City Opera House to Red Rocks Amphitheatre, great music and stunning scenery come together during each summer festival season in Colorado.
This year finds multiple festivals hosting in-demand ensembles and performers like Renee Fleming and Joshua Bell. Festivals across the state also help the next generation of classical musicians to hone their skills and give performances in Aspen and Breckenridge and at other small festivals.
Here's a look at some upcoming highlights and where to find them. Look for more concert details on CPR Classical's events calendar and use our classical summer festival map to help plan your road trip around Colorado:
One of the biggest and most well-known classical festivals in the world, AMFS presents more than 400 performances each summer, including orchestra concerts, chamber music and fully-staged operas. Founded in 1949, the festival is one of the oldest in Colorado and provides a diverse and massive number of summer concerts. At the nearby school, hundreds of aspiring professional musicians study under some of the best players anywhere. The festival theme for 2017 is "Enchantment," featuring works like Maurice Ravel's fairytale opera, "The Child and the Enchantment" and Igor Stravinsky's "Firebird" Suite.
Highlights: Too many to list. For starters, the 2017 schedule includes performances by soprano Renee Fleming on July 30, the Pacifica String Quartet on July 26, guitarist Sharon Isbin on Aug. 5, pianist Conrad Tao on July 8 and violinist Sarah Chang on July 19.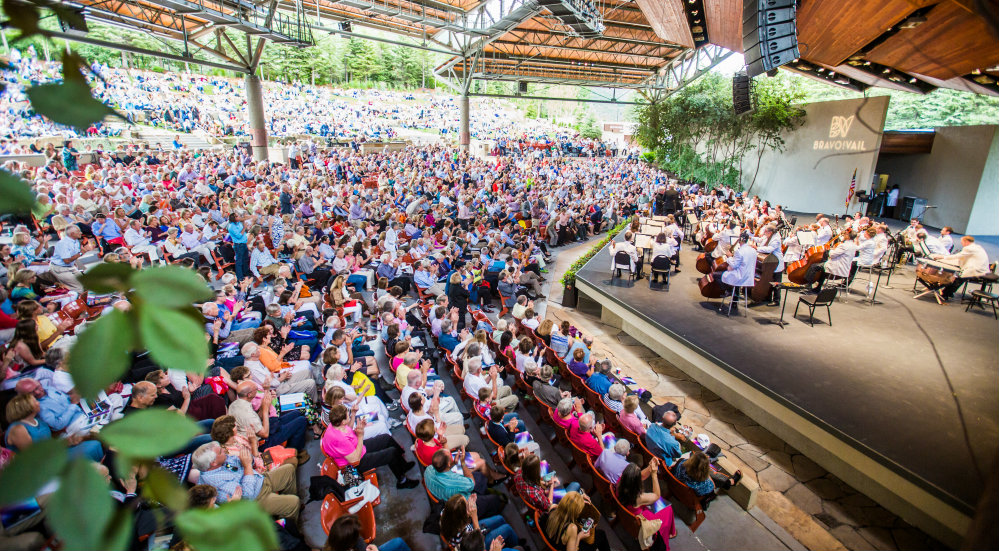 Bravo! Vail celebrates its 30th season this year. It welcomes back three of the best orchestras in the U.S. -- the New York Philharmonic, Philadelphia Orchestra and Dallas Symphony -- for open-air residencies at the Gerald Ford Amphitheater. The London-based Academy of St. Martin in the Fields chamber orchestra, one of the world's most recorded orchestras, returns for its second year with the festival. Bravo! Vail unveils a new project this year: festival organizers commissioned a new piece to be debuted by each of the four orchestras in residence at the festival, plus a fifth piece for the more intimate chamber concerts. This year also marks the final Bravo! Vail appearances of two important music directors: Jaap van Zweden of the Dallas Symphony and Alan Gilbert of the New York Philharmonic.
Highlights: The Academy of St. Martin in the Fields opens the season with a world premiere by bassist and composer Edgar Meyer on June 22; The Dallas Symphony plays an all-Tchaikovsky program on June 28; and the New York Philharmonic performs Beethoven's Ninth Symphony with the Colorado Symphony Chorus on July 28.
Central City Opera brings top-notch singers and stage productions to a historic mining town about an hour from Denver. The company performs in the historic Central City Opera House as well as smaller venues around town. The five productions scheduled for this summer span centuries of music and styles.
Highlights: Productions of Georges Bizet's "Carmen," Wolfgang Amadeus Mozart's "Così fan tutte" and Benjamin Britten's "The Burning Fiery Furnace."
The Boulder festival celebrates its 40th season this summer and continues to present six weeks of orchestral and chamber performances at Chautauqua Auditorium and other nearby venues. This year's schedule includes pianist Olga Kern, genre-blending classical trio Time for Three and an appearance by the festival's founding conductor, Giora Bernstein. This year also marks Jean-Marie Zeitouni's final season as music director. The Toronto Symphony's Peter Oundjian is slated to take over Zeitouni's responsibilities for the 2018 season.
Highlights: Beethoven's Symphony No. 9 with Colorado mezzo-soprano Michelle DeYoung as a featured soloist on July 13 and 14; Gustav Mahler's massive Ninth Symphony on Aug. 3; and a concert with violinist Gil Shaham on Aug. 4.
With performances on the Colorado College campus in Colorado Springs, this festival pairs 52 students with mentors. The young musicians perform in three weeks of orchestra and chamber concerts  with assistance and guidance from festival faculty like Music Director Susan Grace and conductor Scott Yoo.
Highlights:  Beethoven's Symphony No. 7 on June 13, Johannes Brahms' Symphony No. 2 on June 24, and a concert featuring the works of only living composers like Colorado College's Ofer Ben-Amots on June 20.
Located on the banks of the Blue River at the Breckenridge Riverwalk Center,  this four-week festival presents orchestral and chamber concerts each summer since 1980. In addition to classical performances, it also hosts concerts by folk acts like Mandolin Orange and other non-classical fare.
Highlights: A collection of influential piano works from Mozart, Bach, and Tchaikovsky on July 18; a "Best of Bernstein's Broadway" concert on July 20; and a joint concert featuring the National Repertory Orchestra, also based in Breckenridge, on July 22.
The NRO and its music director, Carl Topilow, immerse younger musicians -- some of whom we featured last year -- in a wide selection of orchestral music for eight weeks each summer. Founded in 1960, the NRO shares the Riverwalk Center with the Breckenridge Music Festival each summer and presents the works of composers from Pyotr Ilyich Tchaikovsky to John Williams. This season marks Topilow's 40th year with the orchestra.
Highlights: The Colorado Symphony's Brett Mitchell conducts Aaron Copland's Third Symphony on July 1; music by Mendelssohn and Shostakovich on July 7; Karina Canellakis conducts Beethoven's Fifth Symphony on July 19.
In addition to its chamber music concerts by pianist Bruce Adolphe and other musicians, the annual Fort Collins festival offers workshops, art shows and film lectures. This year, the festival focuses on the connection between human rights and the importance of art and expression.
Highlights: A June 19 screening of the documentary "The Music of Strangers," about Yo-Yo Ma's Silk Road Ensemble, followed by the group's performance on June 21; and several performances by the Miami String Quartet.
The CSO's summer season is technically not a festival, but it's full of music worth hearing. Colorado's biggest professional orchestra maintains a busy and eclectic summer schedule. The lineup includes a variety of Red Rocks Amphitheatre performances, from classical works to concerts that find the orchestra accompanying musicians like Ian Anderson of Jethro Tull, Amos Lee and Diana Krall.
Highlights:   A performance of Gustav Holst's "The Planets" & Mozart's "Jupiter" at Red Rocks June 29; and a "Mozart Under Moonlight" concert at the Arvada Center on July 29.
This chamber music festival in Dillon, Silverthorne and Keystone is led by Charles Wetherbee, who serves as concertmaster of the Boulder Philharmonic and teaches violin at the University of Colorado. The programs include music by classical composers as well as jazz and new pieces by living composers like mandolinist Jeff Midkiff.
Highlights: Midkiff performs a composition of his own with Wetherbee's Carpe Diem String Quartet on Aug. 10; and fellow CU professor pianist David Korevaar plays Franz Schubert on July 30.
This festival in Chaffee County features musical highlights from the Aspen Festival and School. Musicians who perform in Aspen head to Salida to play concerts each summer at Salida High School's auditorium.
Highlights: Pianist Joyce Yang returns to the festival Aug. 5; Grammy-award-winning Pacifica Quartet plays on July 22; bassist Edgar Meyer performs with his son, violinist George Meyer, on Aug. 12.
Another festival celebrating an anniversary this year, 2017 marks 30 seasons for the Strings Music Festival in Steamboat Springs. The festival presents classical music as well as jazz, country and other performers.
Highlights: The anniversary concert features Paganini's "Caprice," the first piece ever performed at the festival in 1987, on July 22; the Parker Quartet perform Mendelssohn and Brahms on July 12; and Bravo! Vail Music Director and pianist Anne-Marie McDermott performs Dmitri Shostakovich's Piano Concerto No. 1 on Aug. 5.
The Durango-based festival offers classical concerts as well as non-classical fare. The festival and conservatory provides instruction for younger musicians in southwestern Colorado.
Highlights: Performances by pianist Inna Faliks, the Cezanne Quartet and trumpet-player Byron Stripling.
Presenting music near scenic Mt. Crested Butte, CBMF presents concerts and other events during this seven-week festival . The eclectic line-up features chamber music, symphony and opera as well as jazz, world and folk concerts.
Highlights: "Beeroque:" a concert featuring Baroque concertos and beer pairings with flutist Eugenia Zukerman on July 8; Voxare String Quartet performs on July 18; and a pair of comedic operas, Jacques Offenbach's "Island of Tulipatan" and Giacomo Puccini's "Gianni Schicchi," run July 13-15.
2017 marks the inaugural year for this brand new chamber music festival based in Boulder. The schedule features three concerts performed in and around the city.  
Highlights: Chamber music programs include music by Dvořák, Brahms, Stravinsky and composer-in-residence Benjamin Park.
Formerly known as the Emerald City Opera, Opera Steamboat presents concert versions as well as fully staged productions of classic and contemporary operas. The festival also offers training for up-and-coming opera singers.
Highlights: Productions of "Cavalleria Rusticana" by Pietro Mascagni, "Alcina" by George Frideric Handel and "The Enchanted Pig" by Jonathan Dove.
Founded in 1973, the intimate three-day weekend festival brings small-ensemble classical performances to this Western Colorado ski town.
Highlights: Chamber music programs include music by Brahms, Antonín Dvořák, Edvard Grieg and Mozart.
Celebrating 75 years, Rocky Ridge Music Center offers music instruction to students in Estes Park. There are performances by students and faculty featuring solo and chamber music.
Highlights: Classical chamber performances include pieces by Brahms, Chopin, J.S. Bach, Beethoven and Mendelssohn.
With concerts along the Western Slope, this relaxed and intimate festival presents performances in Montrose, Ridgway and Ouray. The schedule includes chamber music and a family concert from a group of guest musicians.
Highlights: An opening concert at the Ouray County 4-H Event Center in Ridgway on Aug. 17; and a performance at the Wright Opera House in Ouray on Aug. 18.
Did we miss your favorite classical festival in Colorado? Let us know in the comments section below.
Love Classical Music?
Stay in touch with our hosting team at CPR Classical and learn more about the classical events occurring in the community. Sign up here for our monthly newsletter.