March For Our Lives: Sights, Sounds From A Day Of Gun Protests Across Colorado
"Enough is enough!" they chanted. "Not one more!" "Prayers are not enough!"
Thousands of people thronged into Denver's Civic Center Park, and later its streets, as part of the nationwide March for Our Lives rallies Saturday. Crowds gathered all around the state, as well — Colorado Springs, Grand Junction, Fort Collins and elsewhere — with common purpose: demanding solutions to gun violence, and more restrictions on gun ownership.
"This is your Vietnam," said Tom Mauser, the father of Columbine High School shooting victim Daniel Mauser, and one of 11 speakers who addressed the Denver crowd, which appeared to fill Civic Center Park.
The protests were galvanized by students who survived a mass shooting in Feburary that left 17 people dead at Marjory Stoneman Douglas High School in Parkland, Florida. Angered by what they saw as an ineffectual political response to that event and other mass shootings in recent decades, the Florida students became activists and organized this national day of protest.
One of them, Maddie King, spoke to the Denver gathering.
"My friends are dead. People are dying," she said in words directed at politicians. "You aren't doing anything."
Eighteen-year-old Tay Anderson, one the Denver protest organizers, lay the blame for endless stories of gun violence at the feet of adults and "20 years of consistently failed policies."
With the speeches over, the crowd began a march through downtown that ended on the east side of the state Capitol.
Denver Voices
If one thing was clear at the rally, it was that the memory of Columbine seems to be among the most enduring of all of the mass shootings in the last 20 years. Several people carried signs listing the names of all the students killed there.
Chuck Schom made his way through the crowd with a piece of paper safety-pinned to his backpack. It read: Ex-Columbine Teacher. He was a guidance counselor there, retired by the time of the shooting, but close friends with some of the victims and their families.
"One of my good counselor friends happened to be the counselor for both of those guys," Schom said, referring to the two Columbine shooters. "It was just devastating for him, because of course, he didn't anticipate it. Nobody did, and it's kind of repeating itself over and over and over again."
Schom's wife, Jean, an artist, jumped in: "I've been anti-gun since before Columbine," she said, adding that she's done some gun control activism in the past. "We went to several funerals after the event, and it was just surreal sitting there in the pews and hearing people around you saying 'Where did you hide? Where were you? Did you get hit?' It just didn't seem real."
Now when she hears about a school shooting, "I just get more and more angry."
She held up a button, showing a gun, with a red line through it next to a blue and white ribbon. The button was given to her after the Columbine shooting, and she's kept it for the past 20 years.
Chuck Schom is still in touch with many of his old colleagues at Columbine High School, and he thinks the debate around guns in schools leaves out the impacts of shootings on teachers and faculty members.
"Many of those faculty people were so traumatized, they actually quit teaching, and they're still traumatized today," he said. "We've just somehow got to stop this."
#denver #marchforourlives March starting @NewsCPR pic.twitter.com/2RKURAhsMl

— meredith turk (@murdithshewrote) March 24, 2018
Melissa Stassner was a freshman at Columbine High School in 1999 when two students went on a shooting rampage there. Still, she said she wasn't active in gun reform events in the past. "Sandy Hook broke me," she said. Watching young children get killed at the Connecticut elementary school made her stop speaking out.
"These Parkland kids have given me hope," she said during the Denver protest. "Parkland has my boxing gloves back on."
Joseph Campbell, a teacher in Thornton, said both of his children went to Columbine High School and his son still experiences PTSD from the attack, even though it happened the year before Campbell's son started at the high school.
Nonviolent movements like March for Our Lives lead to change, he said, and he's proud of what students have done since Parkland.
"If they're wise enough to show that they have a voice, they should do it," Campbell said. "That's how things happen. And I hope we can make it work."
Like many people at Denver's march in Civic Center Park, Campbell said he favors laws designed to keep weapons out of the hands of the wrong people. He said he'd never touch a gun again after a close friend was killed by one. And he insists he would not carry one in a school.
"There are situations when we go in to a lockdown, and I know at any moment that could be my death," Campbell said. "Because I'll do whatever I have to do to protect those children. And if that means taking a bullet, I'll take my chances."
The march included lots of families, like the Galvins. Harris Galvin, 14, said guns do a lot more harm than good, and "I've seen violence." A friend recently took his life with a gun — she reported his suicide threat to Safe2Tell, the state's anonymous hotline made for students, but help got there too late.
While she believes her voice and those of others' are being heard at the march, and at a walkout at her school earlier in March, some students don't think it will do any good. "And I've heard that instead of focusing on the gun part, we should focus on counseling students," Harris said. "But I feel like no matter what, there is always going to be that outsider that's going to feel upset. And if there is access to guns, they're going to get access to that, and it's not going to be good."
Davida Wright Galvin, Harris' mother, said she's very proud of her daughter for wanting to join the march.
"It's up to these kids to unite us and lead the way," Davida said. "So that we can outnumber the dollars of the NRA. That's the only thing these politicians are going to listen to."
It wasn't hard to find teachers in the crowd during Saturday's March For Our Lives in Denver's Civic Center Park — thousands of Montessori teachers were attending a conference in town this weekend, and their green signs that read "Peace in Schools" peppered the massive crowd. They only had to walk a few blocks from their conference hotel to the rally.

Elsewhere, Andrew Carroll, a Regis Jesuit High School teacher, said he attended the march with a handful of colleagues because something changed for him this year. Even though he's been required to go through active shooter training the entire six years he's been a teacher, "seeing the way the country has gone this year, I've become more politically active."

Also joining the protest: teachers who worked with kids in preschool. Wendy Hanson, who teaches in Centennial, said just this past week they had a lockdown drill for their preschool students.
"I won't tell them what it's for because I don't want them to have a nightmare," she said.
Instead, she tells them a bear is in the parking lot, and they're hiding from it.
Colorado Springs Voices
Hundreds of protesters showed up in Acacia Park in downtown Colorado Springs to hear a lineup up of speakers, including students, parents and several Democratic candidates running for the state legislature. The crowd chanted "not one more," "enough is enough" and "NRA go away" as they marched. Police were scattered along the march route, which stretched a few city blocks.
They did so in a county with more concealed carry handgun permits than any other county in the state. According to the El Paso County Sheriff's Office, there are between 45,000 and 46,000 such permits.
Given those numbers, many said Saturday that gun control there could be an uphill battle.
Meghan Taylor, 11, was undeterred. A sixth-grade student at Manitou Springs Middle School, she said "it's important that we're not afraid and we show enough is enough."
A handful of counter protesters were at the park as well; a few with their firearms.
"Ultimately you can ban whatever you want, but people are going to figure out a way around that," said Zach Rosen of Colorado Springs. Still, he felt the rally was "propagating a lot of good talk between people" and was a positive part of a conversation that needs to go beyond just guns.
"Focus on a lot of the regulations that we have now that aren't being implemented, that aren't being followed," Rosen said. "That's obviously coming down to our police officers or our federal government on that."
"What is going on in the way that we are raising our children in our households and stuff, that we are having these kind of mental disorders at such a young age?" he said. "I think it's just bringing up a lot of things a lot of people aren't really thinking about."
Linda Cantu, who founded a group called Mothers Against School Shootings, and who organized the Colorado Springs march, said she wants to start working with teachers.
"I think teachers are a huge part of this," she said. "I need to know what the teachers think and what the teachers want in the classroom. I want to know if the teachers want to be armed and if they don't want to be armed, I want to know what they need… to keep their students safe in school."
Grand Junction Voices
A few hundred people marched from Lincoln Park to Grand Junction's City Hall. Although the crowd on the Western Slope was mostly older, the teenagers ran the programming — strumming guitars and talking about their personal experiences and brushes with fear.
Gaby Bowman, 16, from Monument High School said right after Parkland there was a lockdown because of an armed burglary nearby and it crystallized the fear for her. "Before the Parkland incident, I had a lot of opinions on guns," she said. "But having it happen closer opened this issue to me."
Organizers didn't close off any roads, so marchers stayed on the sidewalks chanting, "This Is What Democracy Looks Like!" and crossing at the intersections during the mile-long walk. Chants were punctuated by honking cars. No police activity was reported.
Doug Congour, who worked in Washington, D.C. for the State Department and Secret Service, carried a sign that read "This Gun Owner supports background checks, registration, training, licensing and banning assault rifles." Congour, 62, now lives in Montrose and is married to a teacher. He said she was horrified about the prospect of carrying a gun to school.
"One thing I'm certain of is there are too many guns in too many people's hands," he said. "The last thing this country needs is more untrained, unlicensed people with unregistered firearms … and expecting we're going to be safer."
'Recoil Therapy' In Cherry Creek
About 20 minutes south of the protests in Denver, gun owners were enjoying a beautiful day at the Family Shooting Center at Cherry Creek State Park.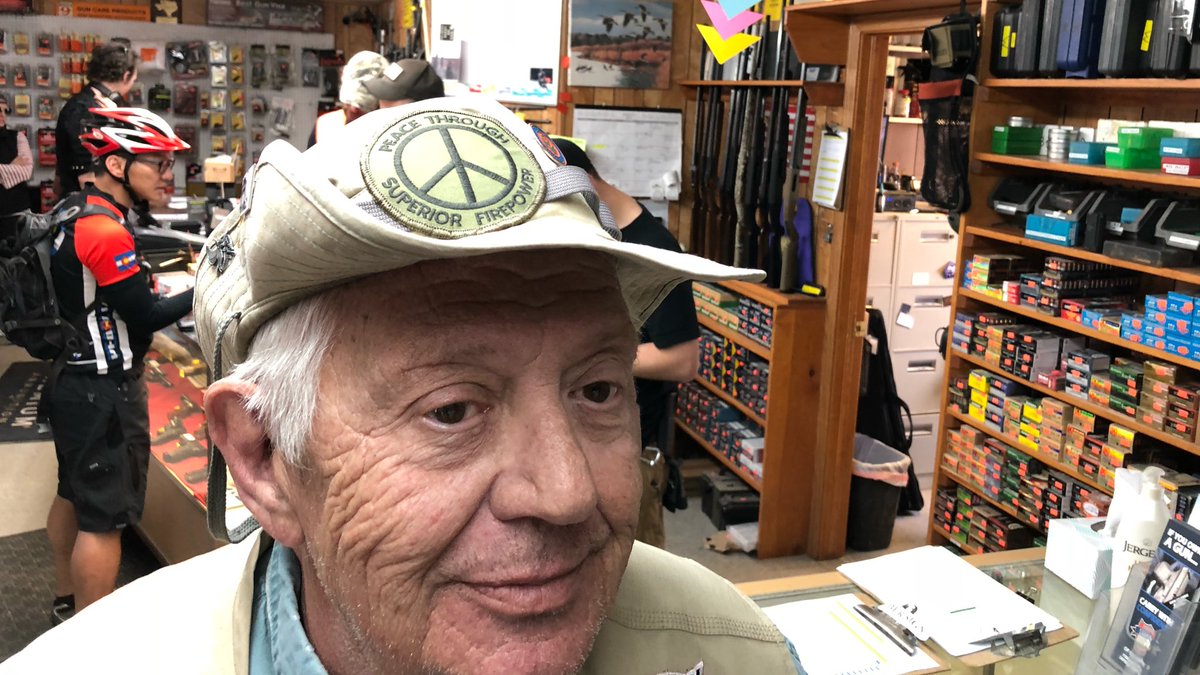 Two things motivate their purchases. It's fun to shoot, and they want to have a gun for self-defense. Charles Allen came to the Cherry Creek Family Shooting Center for what he called a little "recoil therapy." He wore a hat that said, "Peace Through Superior Firepower."
Robert Burnside said he and his wife came to the shooting range because "it is fun." When he brings newcomers he says they quickly break out in a smile after a few rounds.
There was a sense too that people who protest guns or call for gun control often don't understand guns, and the heavy emphasis on gun safety at ranges like this. One survey shows that the vast majority of gun owners use their firearms safely and with respect, according to these enthusiasts.
Compared to 10 years ago, gun sales are up 130 percent in Colorado, even though the state's population grew by about 15 percent in that time. There are now about 4 million adults in the state, and a roughly equal number of firearms have been sold in the state since 2001.
Contributing: Ann Marie Awad, David Fender, Jim Hill, Ben Markus, Nathaniel Minor, Michael Elizabeth Sakas, Allison Sherry, Meredith Turk, Hart Van Denburg, Megan Verlee, Stephanie Wolf.
You care.
You want to know what is really going on these days, especially in Colorado. We can help you keep up.  The Lookout is a free, daily email newsletter with news and happenings from all over Colorado. Sign up here and we will see you in the morning!