Get Ready To Smile: New Downtown Art Will Give Denver A 'Happy City' Makeover
You'll soon be able to check your emotional baggage at Denver's Union Station. Just look for the big booth with gold letters that declares "Emotional Baggage Drop."
British artist Stuart Semple says the idea is for you to "leave behind an emotional issue with a stranger.
Semple, who made international headlines for an "art war" with British sculptor Anish Kapoor, designed "Emotional Baggage Drop" for a six-week art project that will sprawl throughout downtown. Get ready for "Happy City: Art for the People."
Here's how "Emotional Baggage Drop" works: People enter on opposite sides so they can't see each other. Once inside, they face a wall with a hole just big enough for them to make eye contact. Then they bare their souls.
Semple, who went to Catholic school as a kid, says it's inspired by a confessional booth.
"Although I'm not a religious person, there was no denying there's a huge sense of relief after you get something off your chest," Semple says of his own experiences with the Sacrament of Reconciliation.
He particularly likes that you share your baggage with a stranger, saying the anonymity can remove the fear of judgment.
The tell-all arts piece is one of a handful of installations Semple has brought to Denver for "Happy City" — which runs May 18 through June 30. Others include Semple's "Happy Clouds." These are large, soapy smiley faces that float into the air. They'll be released from more than a dozen metro Denver locations, including Red Rocks Amphitheatre, in May and June.
Semple first released them, by the thousands, in 2009, outside London's Tate Modern museum. It was the height of a recession in the United Kingdom, and Semple says that experience was life-changing — he saw how art could have an impact and, in the case of "Happy Clouds," make people happy. He's since released them in a number of countries.
"I really believe that creativity, community, mindfulness and self-expression are the ways that we achieve the lasting happiness. And that's just as effective if you're depressed or anxious as it is if you aren't," says Semple, who adds that he's struggled with anxiety himself.
The "Happy City" art project originated with Semple. He recalls, years ago, writing in his sketchbook: "Happy City: a radical citywide intervention to incite mass happiness." In 2016, he came to Colorado to speak at the Denver Art Museum. He found Denver very welcoming.
"I just fell in love with it," Semple says, "and I was like if I'm going to do this Happy City thing anywhere, the first place has to be Denver."
During that visit, he met David Ehrlich, executive director of the Denver Theatre District. Ehrlich was on the hunt for new art installations, as part of the theatre district's three-year urban arts initiative known as "Terra Firma." The "Happy City" idea resonated with him, and it felt timely for Denver given the city's "unbelievable growth" — Denver gained more than 10,000 residents in 2017, according to the Census Bureau.
"That grow stresses both a society and people," Ehrlich says. "And as the idea [for 'Happy City'] started to germinate, everybody we talked to got really excited."
It is his hope the art will get people talking openly about mental well-being.
"We feel the art excites people, it disarms them and it sort of makes them ready for the conversation," he says.
"Happy City" is the theater district's most ambitious undertaking. Some aspects had to be postponed, such as transforming an RTD stop into a "Happy Station." Ehrlich has his fingers crossed that the Denver Theatre District can mount it next year.
As the concept evolved, organizers also recruited nine Colorado artists, plus Vince McKelvie of Los Angeles, to contribute. Cortney Lane Stell, "Happy City" art director and curator of the nomadic contemporary art museum Black Cube, says they added local artists "because this project is about the city of Denver."
"I think, at the end of the day, [the local artist] bring more diverse perspectives that hopefully resonate with the city," Stell says.
One of the local artists is Carlos Fresquez. He infused humor into his installation, and designed giant car fresheners for an alleyway off of the 16th Street Mall. He wants to "spruce up the scent of the alley" and get passersby to smile.
Five artists in total have created site-specific artwork for downtown alleyways. That includes Semple and Kelly Monico of Denver. Monico created 300 resin life-sized cats to line a downtown alley come mid-June.
"I want it to have this unexpected feeling where people would want to go explore [the alley]," Monico says.
It'll be hard to miss the three monochromatic pink billboards on the southeast side of the Denver Performing Arts Complex. This is "Triple Billboard - Baker-Miller Pink" by Denver artist John Roemer.
He's long been fascinated by the color Baker-Miller Pink, which has been credited with inciting a calming effect after it was tested on the walls of inmates.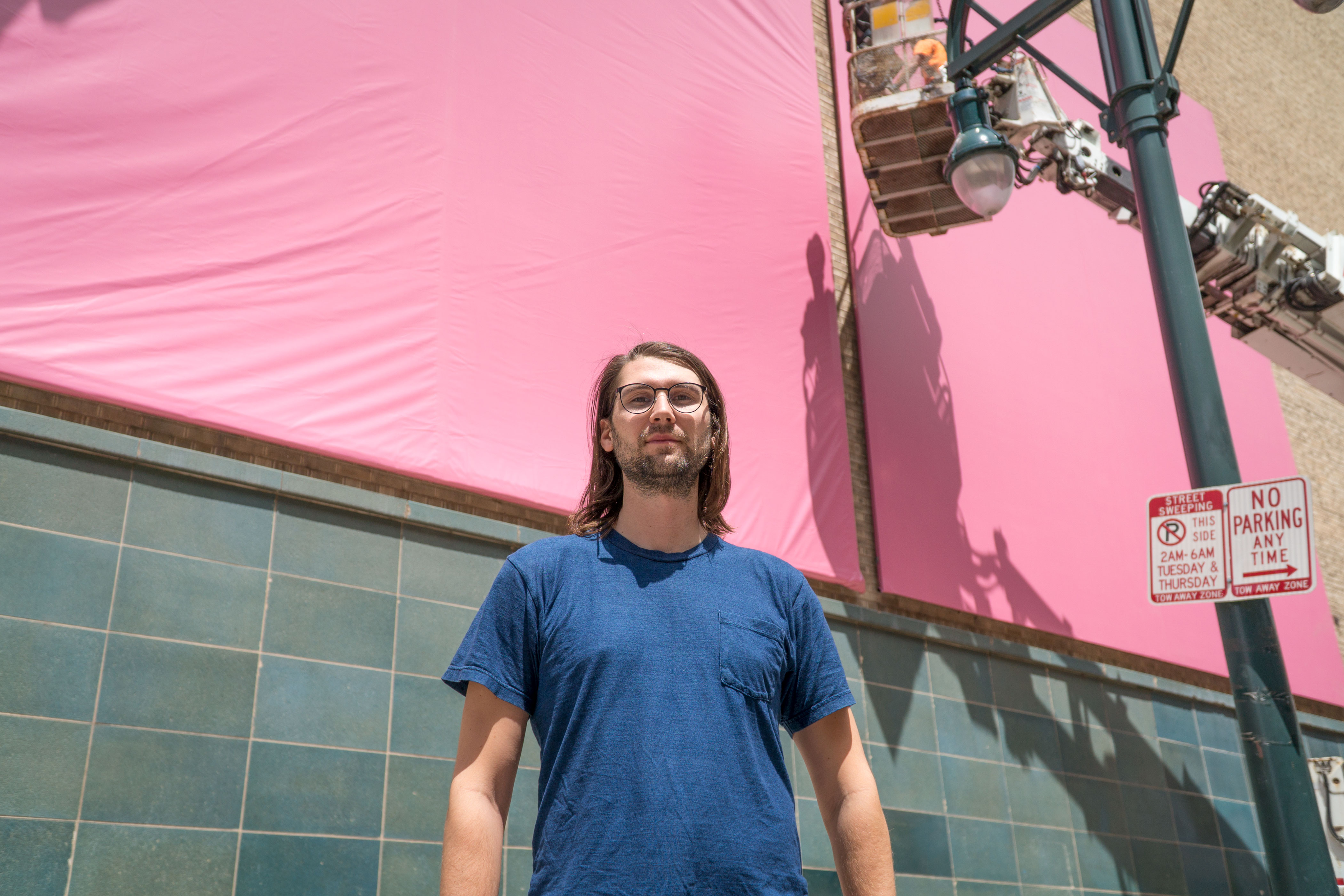 Denver Theatre District's downtown Understudy gallery will host an immersive exhibition called "Something Soft" June 8 through 29. It features the work of Colorado Springs artist Matt Barton.
Semple also recently announced that he's been planning a "Happiness Headquarters." He hasn't disclosed the location, saying it will be a surprise. But it will be open June 1 through 20.
If the art doesn't get people talking, then organizers hope one of the "Happy City" forums or panel discussions will. From self-care workshops to "Happy Talks" with guest speakers, they've partnered with a number of community organizations to develop an array of programming for people to engage in conversations about art and mental wellness.
Denver-based nonprofit Mental Health Colorado is one of the "Happy City" community partners. When asked if art can start discussions about mental health, CEO Andrew Romanoff says "we can use all the help we can get."
"We need to show more progress [on this issue]," says Romanoff. "And using art to try to open up the conversation... I'm all for it."
If you interact with any of the "Happy City" artwork, you might see people with clipboards asking questions. It's for a study led by Canadian author Charles Montgomery. He wrote a 2013 book also called "Happy City," in which he examined how a city's design affects its residents' ability to be happy. He also runs the Happy City consulting firm.
Montgomery says there's "a bunch" factors that contribute to making a city a happy one: "But the most powerful of all is the sum total of our positive social relationships. Nothing matters more than social trust."
Cities should be designed in a way that brings people together, "not to push people apart." Montgomery thinks art can play a role in that, adding that "the best art" can break "barriers between social classes, age, ethnicity, you name it."
Urban design has also been an interest of Stuart Semple's, though, the artist says he became aware of Montgomery's book only after starting this project in Denver.
In Denver, Montgomery will study if the art does have a positive effect on people. He wouldn't, however, share his methodology.
"Because I don't want to bias your listeners [and readers] if they happen to bump into our surveyors," he says.
"Happy City" runs through the end of June. But organizers hope these conversations will continue long after the art comes down.
You care.
You want to know what is really going on these days, especially in Colorado. We can help you keep up.  The Lookout is a free, daily email newsletter with news and happenings from all over Colorado. Sign up here and we will see you in the morning!