On The Western Slope, Worries About Affordable Housing, Health Care, Public Lands
---
---
In early October, it was the end of the farmers market season in the mountain town of Carbondale.  A Dixieland jazz band warmed up. Just up the street, Bob Olenick worked at a vegetable stand. Parked next to it: his vintage Chevy truck.  "There's not a lot of vehicles that have moss and lichen growing on them, but this one does," said Olenick. "So, it's a unique structure."
Olenick has lived here in the Roaring Fork Valley for decades. For years he a ran a local restaurant. And he's watched as Carbondale shifted from its coal and mining past to become a popular tourist destination and bedroom community for booming Aspen up Hwy 82. Valuing the past while adapting to the future has presented challenges -- much like taking care of his truck.
"In our community the biggest challenge is housing, you know, keeping employees and stuff like that, and I think that's probably an issue in the state," Olenick said.  "I mean there's got to be more employee housing built, somehow something that's a little bit affordable."
It's a common concern.  At Bonfire Coffee, on Carbondale's Main Street, there's a long line of customers and the steamer on the espresso machine is in near constant use.  Charlie Chacos, who was raised in Carbondale, owns the shop. He opened it in 2011 and says business has steadily climbed since the recession.
The local economy is driven by real estate development, he said, along with plenty of business from contractors and service workers who live in the valley.
"Things are busy and booming," Chacos added.  "Right now as a business owner in a small town, finding qualified labor is our biggest challenge for sure."
The lack of affordable housing in Carbondale compounds the challenge, and one of his managers exemplifies the issue.
"I love the small community and I love what the outdoors has to offer, yeah," said 32 year-old Brittney Rippy.  "But it is tough to be here."
Rippy works three jobs, about 80 hours week.  The cost of living is high so she rents a room in her sister's basement, for $800 a month.  She's had friends leave town because they couldn't afford to live here -- for many people the economy is at a breaking point.
"There's really no middle class any more.  You're either up top or you're in the bottom," Rippy said.  "I mean there's so many of us that are just struggling."
Health Care, Public Lands, Energy Issues
Farther west there are other economic worries.  Nikki Halladay, an administrator for small businesses, in Grand Junction, says the number one issue for her family this election season isn't housing, it's healthcare.  Halladay's family feels "stuck in between this paradox of the government trying to expand health care for people and then health care costs going up."
Halladay's husband is a carpenter; they have three daughters, but are uninsured because healthcare coverage is simply too expensive.  "It seems like there could be a reasonable fix," said Halladay.
On Grand Junction's bustling Main Street, Phyllis Hunsinger said the top thing on her mind is Proposition 112.  The proposal would increase the minimum distance for new oil and gas wells from homes and schools and Hunsinger believes Coloradans would feel the brunt if the industry has to pull back.
"I think they would be horrified if they realized how many billions of dollars that we stand to lose should that amendment pass," she said.
Hunsinger is a retired school superintendent and President Trump supporter. She backs Republican Walker Stapleton for governor and worries about funding for the public pension system.  She maintains it'll be bad for the state if both Democrat Jared Polis is elected governor, and the setback measure passes.
"Walker Stapleton is the only one that could possibly keep the economy going in this state," Hunsinger said.  "We can't afford to have Jared Polis any more than we can afford to have life without the oil and gas industry."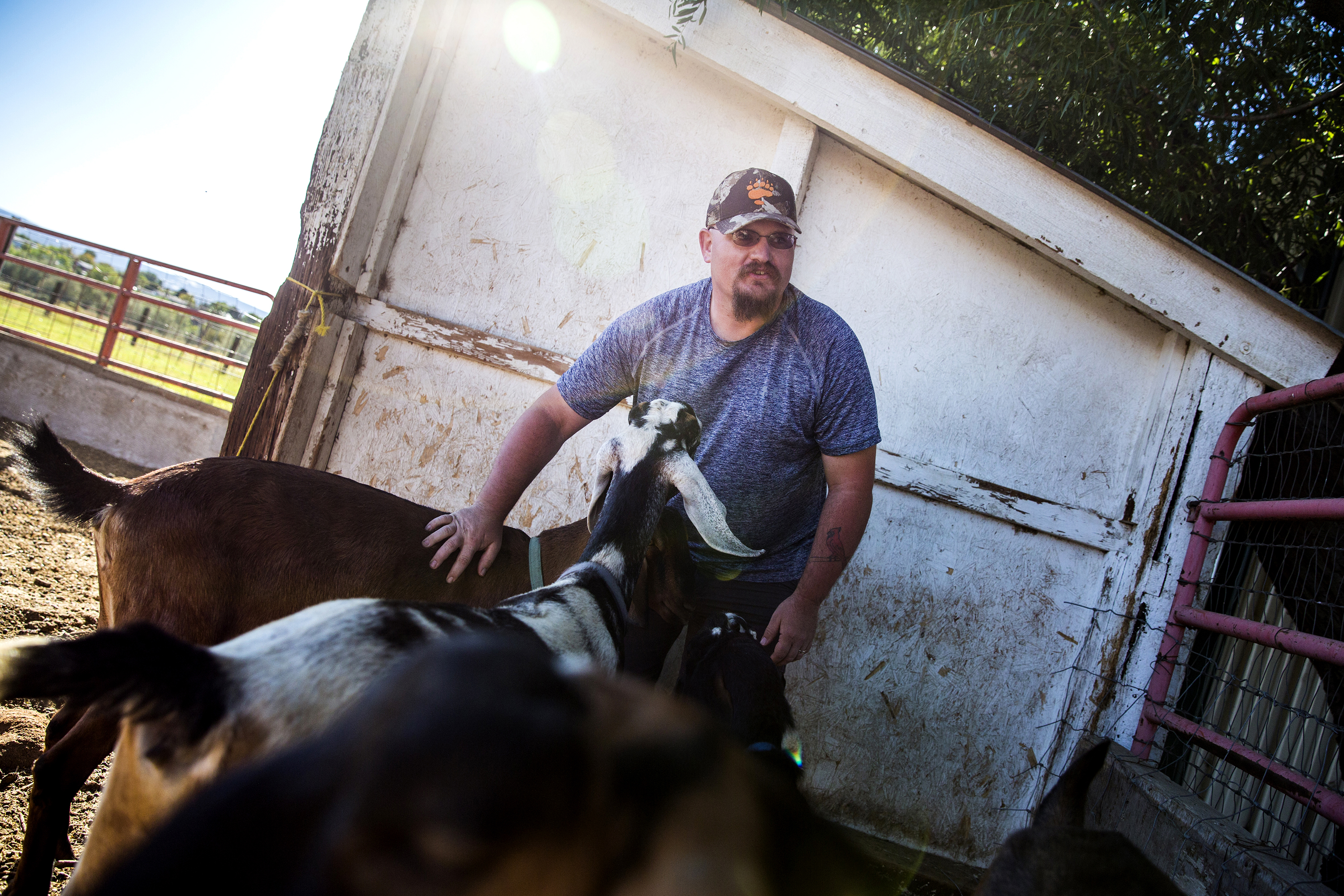 But you'll get a different opinion from John Noyes.  He's studying environmental science at Colorado Mesa University in Grand Junction.
"I'm a big advocate for our public lands.  It's very important to me that we keep our American heritage," Noyes said.
On his family's plot of land down near the Colorado River on the edge of town, Noyes and his wife raise their two young boys, along with nearly a dozen goats, some geese and couple of hogs.  Noyes described himself as a libertarian conservationist. He voted for George W. Bush and then Barack Obama before casting his ballot independent Gary Johnson in the last election. This fall he backs Democrat Jared Polis and favors the oil and gas setback measure.
"I'm very worried about the impact of oil and gas.  I'm worried about what fracking is actually doing to our environment," said Noyes.
Peaches And Water
Not far away east, just off Interstate 70, there are worries about drought and the future of the water supply.  Brian Hessling helps run a family-owned fruit farm called Just Peachy in Palisade. The farm has about a thousand trees on 10 acres.  It gets its water from the Colorado River, but Hessling says drought is hitting the Colorado Plateau hard. Demand for Palisade Peaches seems limitless, but Hessling says water to grow them is not.
"If we do not start having decent winters on the Western Slope you will start to see shortages," Hessling said.  "We've had unprecedented growth in this state for so many years and the water is getting used up."
Hessling is an independent voter who has supported both Democrats and Republicans. He thinks a lot of people are just turned off by politics.  But Hessling says whoever wins this November will be faced with tough decisions on many things, including how to make a limited supply of water go as far as it can.
"It's gotta be dealt with, and it needs to be dealt with in a way that has plans for the future," Hessling said.  "Growth is good. But at some point you're going to grow to the point that you can't sustain it."
Back at the Carbondale farmers market, trombonist Greg Russi's band, called Chicken Soup, was set to start.  He's an attorney from Newcastle and and ponders the tenuous state of the natural world that's helped make Colorado what it is -- the area has seen its share of big fires and bad air quality lately.
"Wildfire mitigation is incredibly important and I don't know if we're doing enough in our outlying areas to mitigate for the potential of wildfires taking out buildings and structures," Russi said.
Russi has also been closely watching the shrinking levels of a key water source, the nearby Paonia Reservoir.  The reservoir feeds into towns in the North Forth Valley, but its levels have dropped considerably.
"You'll see that it's a mud wallow that maybe two hippos could fit in," Russi said. "The best thing we can do in the long range is begin to take global climate change seriously."
It's a top election-year issue for Russi.  And he'd like government officials, at all levels, to face the music.
You care.
You want to know what is really going on these days, especially in Colorado. We can help you keep up.  The Lookout is a free, daily email newsletter with news and happenings from all over Colorado. Sign up here and we will see you in the morning!