With Teen Vaping Exploding, Colorado's QuitLine Will Now Help Users As Young As 12
When smokers dial 1-800-QUIT-NOW they can work with a coach, over the phone, to understand triggers, manage cravings and grapple with relapse.
The eligibility age for the Colorado QuitLine was 15. Now, with the explosion in teen vaping, the state health department will drop it to 12. The change comes as the state scrambles to head off what public health officials say is a catastrophe.
"It's a very troubling trend," said Alison Reidmohr, Tobacco Communication Specialist with the Colorado Department of Public Health & Environment. "And we reduced the age of eligibility understanding that kids as young as middle school could be using these products, could be concerned about their use of these products, and might want to quit."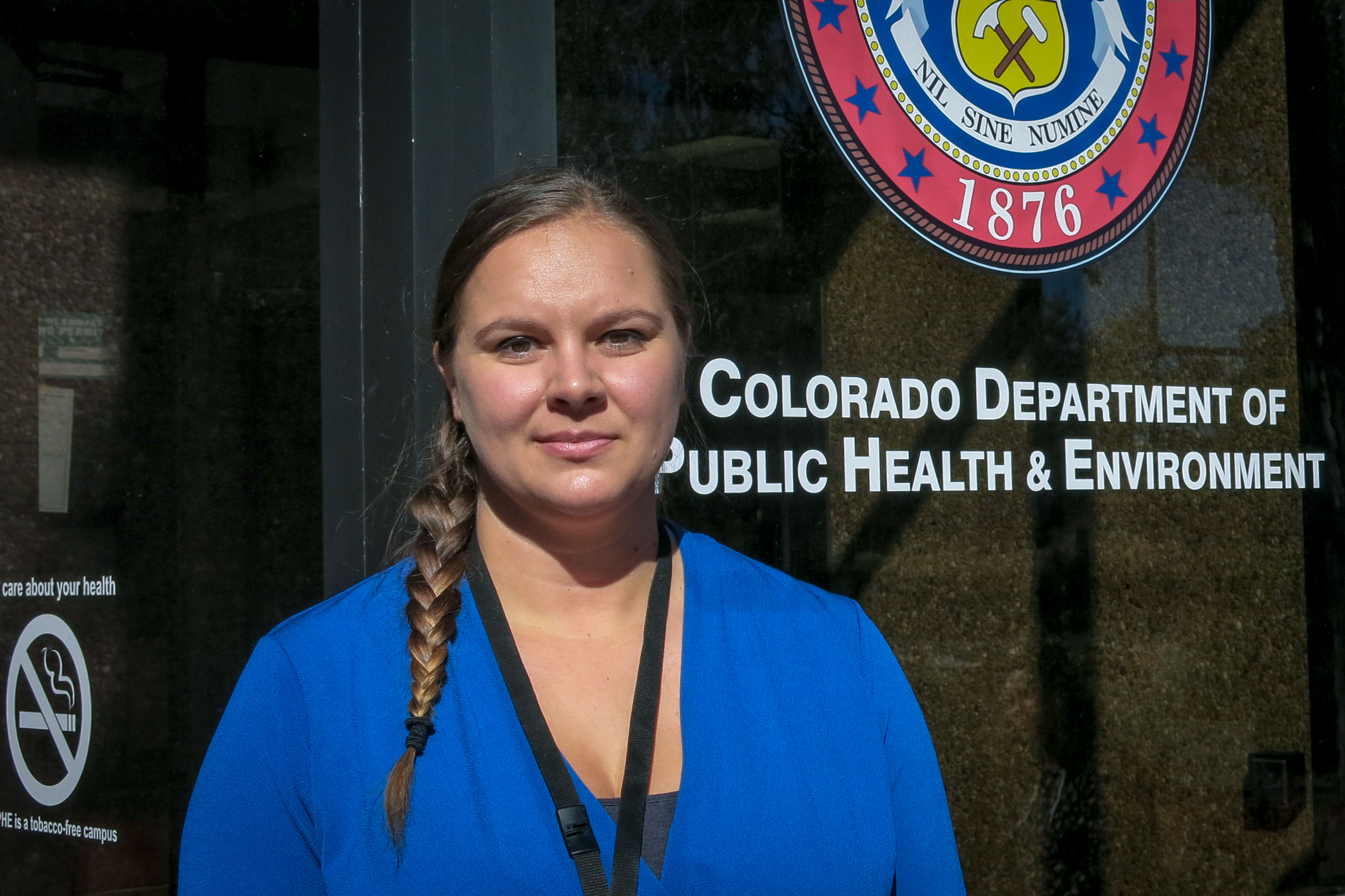 Colorado leads 37 states in a Centers for Disease Control survey of teen electronic cigarette use. Twenty-seven percent of high school students here say they now use an e-vaping product, twice the national average.
About 10 percent of those enrolled in the state's QuitLine say they use e-cigarettes or vaping products.
Clinical director Thomas Ylioja, points to Juul e-cigarettes as a game changer. He said Juul blitzed its competition by changing the formulation of nicotine in its vaporizing e-liquid into a nicotine salt.
"They could actually deliver a much higher dose of nicotine without people feeling the really adverse effects like really drying out their throat and nasal passages," Ylioja said. "They could get that higher nicotine without really having what they called the throat hit."
That higher level of nicotine comes a higher risk of addiction, Ylioja said.
The QuitLine can help adults transition with the nicotine patch, gum and lozenges. But those aids are not approved by the U.S. Food and Drug Administration for anyone under 18.
"We're really concerned about youth using nicotine containing products," Ylioja said. "We know that it's damaging to the developing brain."
Ylioja is unaware of any other state that's lowered its eligibility age to 12. But with Colorado a leader in teen vaping, it makes sense to him.
The legal age to both purchase and use tobacco in Colorado is 18. According to Colorado law, possession of tobacco products by a minor is prohibited. The law attaches only a small fine or tobacco education program as a penalty.
Don Daniels, a teacher at Chatfield High School in Littleton, likens the e-cigarette sensation to smoking in the '50s: people did it, but long before there was research to show the consequences. Daniels teaches government and runs the school's tobacco education efforts, called the NOT program. The American Lung Association provides education and training through the Not-On-Tobacco program.
"We've got a tip of the iceberg situation where we really have not even yet got to the point where we fully can comprehend what these devices are doing to young people's bodies," Daniels said of e-cigarettes.
Olivia Ridl, a 17-year-old junior, is one of the students that Daniels teaches about potential health risks — and ideally helps them quit. Ridl said she started smoking e-cigarettes at 15, as a freshman.
"I just met this wrong group of kids who were just kind of like, 'Hey, do this' and I'm like 'OK,' so I guess, just trying to fit in and trying to be that word cool, I guess, in high school."
Almost 6 percent of Colorado high school students say they vape frequently. This tracks with what Ridl sees at school, and her own use, of which her parents were unaware.
"I was probably using it every day, in class, after school," Ridl said. "Probably doing homework was most of it, sitting there and frustrated and worried about a test I had the next day and I was just trying to calm myself down."
Her school's smoking prevention program helped her understand why she started in the first place. It helped Ridl learn the risks to brain development, respiratory problems and addiction. It helped her with coping mechanisms when a craving hit. Ridl knows many middle schoolers are vaping, so she backs lowering the age to use the QuitLine.
"I feel like it's good, but it's kind of sad," Ridl said. "It probably would help a lot of people."
Meantime, Colorado is becoming an epicenter in the fight over teen vaping. Teen use has prompted pushback. You need to be 21 to buy tobacco products in four of Colorado's mountain towns. The town of Berthoud has decreed public indoor spaces as vape-free to crack down on teen use. Gov. John Hickenlooper just announced new get-tough measures, saying "it would be foolhardy and irresponsible if we didn't address this."
The governor's executive order directs regulators to increase checks of retailers to make sure they do not sell to underage customers. The order also bans vaping in state buildings and on state grounds.
Hickenlooper's tobacco prevention blueprint also recommends state lawmakers raise the minimum age of purchase from 18 to 21 for tobacco and vape products, and to consider the ban of flavored tobacco and e-cigarette items.
Juul Labs, maker of the Juul, dominates the e-cigarette market with more than 70 percent of market share. It's taken out full-page ads in The Denver Post, and other papers around the nation, that declare "what parents need to know." The ad warns its product "contains nicotine, an addictive chemical." It says "if you don't vape, don't start."
Stanton Glantz, the head of the Center for Tobacco Control Research and Education at the University of California San Francisco is skeptical. He thinks the ads target audience isn't really parents or teens, but politicians whose constituents are up in arms. The FDA recently seized documents from the offices of Juul, amid signs it might crack down.
Glantz said Juul hopes to avoid that by feigning concern.
"That's to try to argue to policy makers that 'Oh, we just want adults to use these things as an alternative to cigarettes. We're as horrified as everybody else that we've taken over the kid market,'" he said G. "Which is just completely baloney of course, because they're making a small fortune selling their products to kids."
Juul Labs declined repeated requests for an interview. Spokesman Ted Kwong provided a statement that said "we fully support FDA's efforts to curb underage use of tobacco products, and we believe restricting access to flavors will negatively impact current adult smokers in their journey to switch from combustible cigarettes."
"As JUUL Labs works to support adult smokers in their efforts to switch," the statement continued, "we also remain steadfast in our commitment to preventing underage use of vapor products. Both goals can be achieved through reasonable regulation to restrict advertising and naming of flavors such as cotton candy and gummy bear that are directed at children. We look forward to continuing to engage with FDA, policymakers, and community leaders on helping to reduce cigarette use while protecting young people."
The company also said it supports the governor's call to raise the age to buy tobacco to 21.
The key question for Glantz is whether Juul would stop adding flavors, like mango, mint and cucumber, that appeal to kids — something the government is making a move on. "The evidence showing the flavors attract and hold kids is just overwhelming."
Juul's Kwong said "appropriate flavors help adult smokers who do not want to be reminded of the tobacco-taste of a cigarette." The company wants the FDA to allow for scientific exploration of the role flavors play with helping adults quit smoking.
Still, Glantz said the feds have "never really been a leader in this area because the tobacco companies just have too much money and too many lobbyists and they're too connected." It'll be up to local and state efforts to fight teen vaping.
Glantz applauds Colorado lowering the age to access services on its Quitline. To him, anything to help young people give up nicotine is a good thing.
You care.
You want to know what is really going on these days, especially in Colorado. We can help you keep up.  The Lookout is a free, daily email newsletter with news and happenings from all over Colorado. Sign up here and we will see you in the morning!