Kassidy Webber Saved Her Horse From A Slaughterhouse. He Turned Out To Be A Triple Crown Winner's Descendant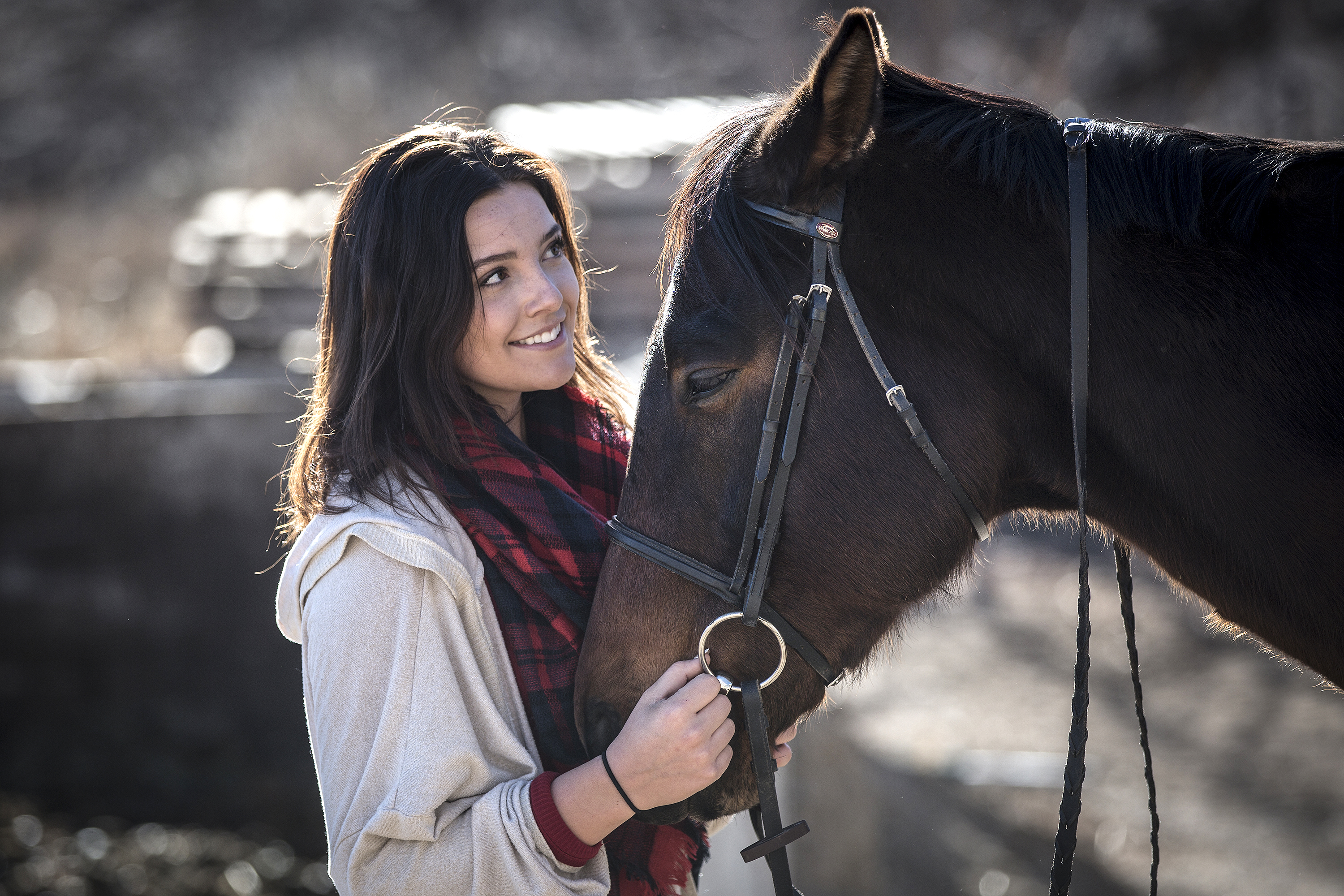 In 2015, Kassidy Webber took a chance on a horse that nobody else wanted.
The brown gelding — whom Webber appropriately named Chance — turned out to be more than she could've ever imagined.
Webber, who was an Arvada high school student at the time, came across a Craigslist ad from a horse rescue group. It advertised a horse that had been rescued from a feedlot in northern Colorado.
The next stop was probably a slaughterhouse, the last place where unwanted horses go.
"It's kind of like a dog shelter that's an only-kill dog shelter," Weber explained. "And then these horses, after so long being on the lot, they load them up on a truck. And since it's not legal to slaughter a horse in the United States, they ship them to either Canada or Mexico, and these horses are used for meat."
Chance was in bad shape, he was underweight and "looked pretty rough." But Webber saw something in something in his face, "something about how he warmed up to me, how he didn't warm up to a lot of people. This $750 horse from the feedlot who looks like he's been through it; this one might just be the one."
Chance struggled in his early recovery with Webber. His severe colic and ulcers required constant veterinary attention. As he improved, Webber, who is now a biomedical sciences student at Colorado State University, was obsessed with finding out where her horse came from.
The only thing the horse had that could possibly identify him was a tattoo under his top lip. Webber came to learn it was a racing tattoo.
You don't get a lot of information with a feedlot horse, "maybe the bill of sale," Webber said. For her first couple of years with Chance, people told her the tattoo was illegible, that "there was no way I was going to be able to decipher these letters and numbers on his lip. But they were kind of the key to his whole background, his whole past."
Webber found some answers after she posted a photo of the tattoo on a Facebook horse group. There, she found out the tattoo might be a quarter horse identifier, which led to the American Quarter Horse Association. A representative pulled up some records and began describing the horse with a front white sock.
"I was like, 'Oh, I'm pretty sure that's my horse!'" she said. "And they went on and they told me so much. I can't lie. I was in tears. And all my friends are making fun of me. I was on the phone with her and she says, 'Yeah he made $50,000 racing, and his registered name is Louisiana Dan.' And I was just so happy to finally know everything I had been searching for, for years."
Further research turned up even more information about the past of the former Louisiana Dan. As it turns out, Chance is the great grandson of 1977 Triple Crown winner Seattle Slew.
"It took me a little bit by surprise," she said. "And it's neat to know, but my horse is gonna be the same to me either way. It doesn't mean I'm going to love him any more or any less."
How does a descendent of a Triple Crown winner end up on a feedlot? Webber said that's partly because Chance was one of many grandchildren to Seattle Slew.
"Lineage at some point stops giving them value, and people take them for the horse they are instead of blood lines they come from," she said.
Webber said many racehorses end up like Chance. They get injured or they're "run into the dirt" and lose value when they stop winning. Some are lucky and become pasture horses. Others aren't. Many horses struggle to adjust to life outside of racing — all they know is how to run. Webber said you "have to retrain them from the bottom-up."
Because of that, Webber needed to be patient with Chance. She admits at first she tried to make Chance do too much too fast. It stressed him out.
"So, then I took breath and told myself, don't expect the world from this horse that's been through everything in the last year," she said.
Since then, Chance has become a calm, happy horse. He lives at Taft Hill Acres, a horse facility in Fort Collins. Webber nannies two young children, who interact with Chance frequently. Her horse has taught her patience, and helps her heal.
"[Last semester] I had just finished a finals week that put me through it and back," she said. "I had not slept in 48 hours. And as soon as I got out of my chemistry final, I drove straight here and just hung out [with Chance], and got on bareback. And that's all I needed. It was more important to me than sleep."
You care.
You want to know what is really going on these days, especially in Colorado. We can help you keep up.  The Lookout is a free, daily email newsletter with news and happenings from all over Colorado. Sign up here and we will see you in the morning!