Turning A (Non) Profit: Habitat For Humanity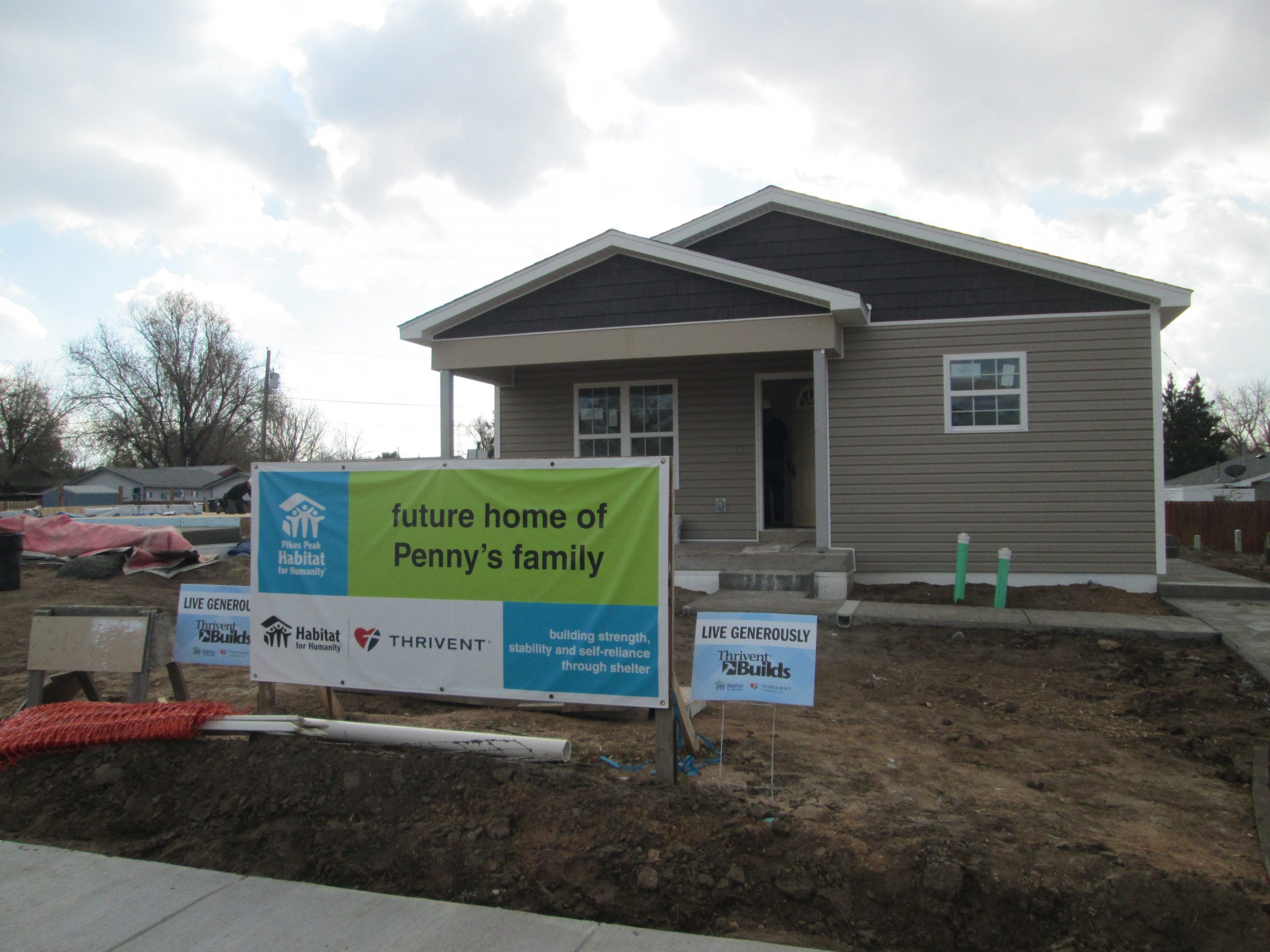 mprocell / 91.5 KRCC
A new house is almost ready to become a new home... I visited the construction site of Penny's future home in November 2018.
m.procell / 91.5 KRCC
Some of the other Habitat homes in Penny's neighborhood
m.procell / 91.5 KRCC
The inside of Rick's house (across the street from Penny). Custom cabinets were built by inmates from the Crowley County Corrections Facility. Fridge and dryer donated by Whirlpool.
mprocell / 91.5 KRCC
Laurel Thorstensen, board member and long time construction volunteer at Habitat painting Penny's home.
mprocell / 91.5 KRCC
Habitat in El Paso County also has a repair program to assist existing homeowners with various projects. This particular house received hail damage in 2018.
mprocell / 91.5 KRCC
Penny and her family at the home dedication ceremony on January 12, 2019.
mprocell / 91.5 KRCC
Penny with tears of joy just prior to receiveing the keys to her new home.
mprocell / 91.5 KRCC
The moment to 'unwrap' the new home has finally arrived.
mprocell / 91.5 KRCC
Joe and Gail Regalado (Red Man Pours Co.) receive recognition for their donated services in the construction of Penny's home including labor and engineering for walks / driveway, etc. Transit Mix Concrete provided the materials.
mprocell / 91.5 KRCC
One of the many volunteer groups in the construction of Penny's home. In this case a few folks from the U. S. Air Force Academy Prep School. From left to right: Aniya Cosby; Johnny Montgomery; Matthew Core; Bo Spafford; Lane F. Campbell; Heaven Dill
mprocell / 91.5 KRCC
Habitat for Humanity offices for El Paso County - 2802 N. Prospect
'Turning A (Non) Profit: How Non-Profits Benefit Our Community' is an occasional series from 91.5 KRCC. There are thousands of non-profit organizations in El Paso county alone. Some are fairly well known, many are not. 91.5 KRCC would like to introduce you to some of the lesser known organizations, and help you discover some things you didn't know about the more familiar groups. On this occasion we visit with the local Habitat for Humanity.
Habitat for Humanity is an international organization. Its roots and beginnings can be traced back to the mid twentieth century. There are well over 1,300 communities across the U.S. currently being served by Habitat for Humanity. In Colorado, about two dozen separate Habitat affiliates exist. The first, and largest, was founded in the Denver Metro area in 1979. Teller County has its own affiliate, as does El Paso County. One office currently serves the entire San Luis Valley. 
A common misperception that should be cleared up right away is the fact that Habitat For Humanity is not some sort of housing lotto where a lucky person just wins the keys to a new house and moves in and lives happily ever after. There are lots of steps and moving parts in the process before someone gets to say 'home sweet home'. This includes partnerships and sponsorships with community organizations, local church groups, corporations, construction volunteers from all walks of life, and plenty of sweat equity on the part of the future homeowner. 
I recently spoke with Kris Medina, the Executive Director of the local Habitat for Humanity that serves El Paso County about the process a prospective home owner typically faces. Kris says about two or three times a year the application process is open to those who can demonstrate three basic criteria for qualification. First and foremost, to be eligible for consideration applicants must show the need for housing. They must demonstrate their current housing situation is unsafe, overcrowded, unhealthy or unaffordable. The ability to pay is also a consideration. Again, this is not free housing. There is a monthly mortgage. And finally, a willingness to partner... once selected, future homeowners must complete two hundred hours of sweat equity, attend mandatory homebuyer classes, and submit to monthly financial review. The entire process, from application to home dedication, can often take up to and even exceed a full year.
Kris was quick to point out that Habitat does not only benefit local families who might not otherwise be able to afford a home and a mortgage. The program also has a good return on the investment for the greater community of El Paso County, as well as the state of Colorado, through sales and property taxes paid, and jobs created. The 2018 Habitat for Humanity Impact Study can be found here: https://habitatcolorado.org/impact-colorado/
Pikes Peak Habitat for Humanity (pikespeakhabitat.org) has a number of ongoing projects throughout El Paso County including about thirty home sites in the Fountain area. In Colorado Springs, there are several neighborhoods being served, from the Mill Street area south of downtown to the Woodman Vista area on the northeast part of town. More information on applying for a home or receiving home repair assitance can be found online or by calling 719-475-7800 ext. 109. If you'd like to volunteer your time and talents for the cause, Habitat welcomes folks from all backgrounds to do so. Steve Boyce, a retired Air Force engineer and long time volunteer for the local Habitat, says "no special construction skills are required, just bring a good attitude". 
There's also the Restore, open to the public, and located at 411 S. Wasatch in downtown Colorado Springs. It's the first Restore in Colorado to be a certified PaintCare drop-off site. That means the paint collected can be recycled, reused or safely disposed of, including latex, oil based paints, stains and varnish (please note: no  aerosols or spray products accepted). The Restore also has many other materials for your renovation projects including cabinets, flooring, tile, and more. The Restore also accepts donations of said items. You can drop items off or call for a pickup. More information available on the donation hotline - 719-475-0841.
Kris Medina stressed that local veterans are strongly encouraged to apply for housing, or the home repair programs available. Kris was under the impression that vets can be reluctant to even ask for help. She also expressed surprise that there are veterans who believe since they did not serve overseas or see actual combat that they don't qualify as 'veterans' or believe they are eligble for any veterans benefits. 
As for the Jimmy Carter connection... the former president did not found Habitat for Humanity. The concept of 'partnership housing' was initially conceived on a community farm outside of Americus, Georgia (not far from the Carter's home) by farmer and biblical scholar Clarence Jordan and Habitat's eventual founders, Millard and Linda Fuller. The basic concept was straightforward - people needing shelter would work side by side with volunteers to construct homes at no profit. The new homeowners house payments would then be combined with no interest loans provided by supporters and monies from fundraising to create the Fund for Humanity which in turn would be used to build more homes.
As for the Carters... the story goes they were looking for something to do after leaving the presidential office, and both Jimmy and Rosalynn, being master carpenters, found a good match for their time and talents with Habitat for Humanity. The relationship quickly became mutually beneficial. Having a former president and first lady as your most vocal and visible spokespersons can certainly make for great name recognition, and garner plenty of good publicity.
You care!
Southern Colorado is changing a lot these days. We can help you keep up. Sign up for the KRCC Weekly Digest here and get the stories that matter to Southern Colorado, delivered straight to your inbox.