New RTD Light Rail Operators Still Drive Red Light Violations, Even As Safety Improves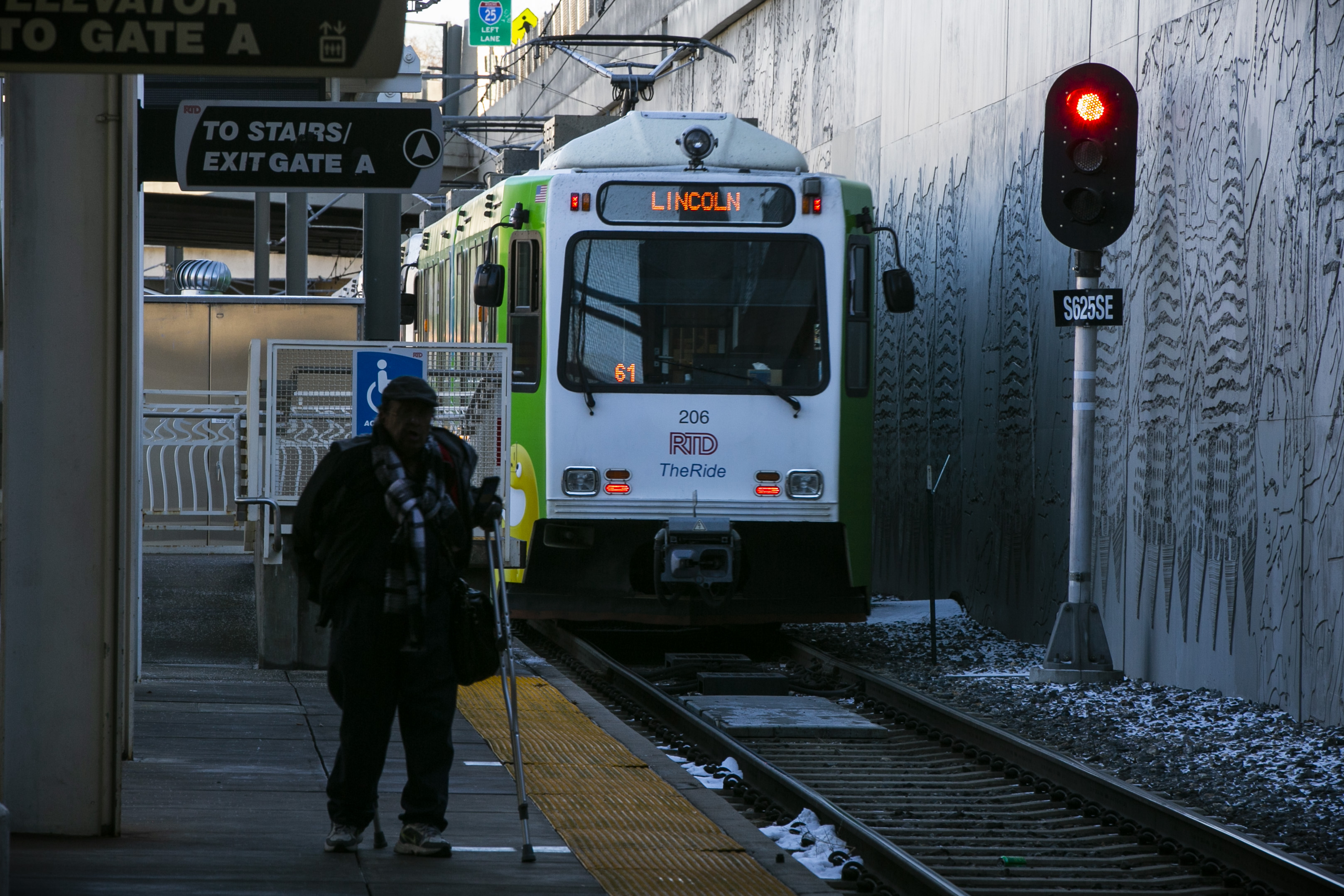 Light rail trains are running more safely than they have in the past, a review of internal data shows. Regional Transportation District light rail operators blew through a stop signal — a potentially deadly mistake — far fewer times last year than they did in 2017.
The number of stop signal violations is a good indication of how well the system overall is operating, according to RTD officials: It reflects training, operator experience, technology and design.
In 2017, the number of violations spiked significantly, prompting a suite of reforms.
About 300 of the stop signals are spread across RTD's light rail network, meant to keep train cars clear of each other and street traffic.
Dave Jensen, RTD's assistant general manager of rail operations, said trains automatically halt once they pass a stop signal, so actual collisions caused by a train operator are exceedingly rare. An RTD report filed with the Colorado Public Utilities Commission shows only one such instance last year.
Data obtained under the Colorado Open Records Act shows violations dropped from 116 in 2017 to 85 in 2018.
In 2018, the operators' union, ATU Local 1001, said a number of factors caused the 2017 peak, including working conditions and inexperienced operators. Both the union and RTD said a number of changes have been made since then.
"The way that we are attacking this is through technology, is through supervision, is through oversight, is through training and through evaluation," Jensen said. "And I'm really pushing to make sure that we're safe and good as we can be."
RTD's data shows the vast majority of mistakes are made by operators with less than a year of experience. In response, RTD now requires trainees to get more time in the cab before they carry passengers. Operators also have to point at each signal and say aloud what it says, an effort to require them to focus. And they now hear chirps when maintenance workers are nearby, another new alert.
Jensen said RTD is researching a new system that would prevent trains from passing a stop signal in the first place.
The additional weeks of training marks progress, said Walter Palmgren, chief steward for rail operators at the ATU Local 1001, but they don't solve a bigger problem in the system: It's hard for operators to actually get that time, because of congestion. With so many new passenger-bearing trains on the lines, operators don't have the space to run practice trains until late in the evening.
"There'd be times where it'd be 6:00, 7:00, 7:30 in the evening before we could get a train out with students so they could try learning the alignment," said Palmgren, himself a light rail operator and trainer. "You get like one trip, or part of one trip, done — and then it's time to go home."
RTD has opened more lines and added more trains in the 15 years since voters passed a sales tax increase to fund more transit. But the flip side, Palmgren said, is that expansion has created bottlenecks, especially between the Broadway station and downtown Denver.
It has also created more opportunities for operators to run stop signals.
RTD runs about 1,000 trains a day on a system with about 300 signals, according to data the agency provided. That means a train passes a signal about 108 million times a year on RTD's system.
That growing system has also strained even experienced operators. Palmgren said they are often required to work two short shifts in one day and on their days off. Both Palmgren and RTD's Jensen said that leads to "a vicious cycle."
"We're working people more than we'd like because we don't have enough people and then they quit," Jensen said. "And so we don't have enough people."
The situation may be improving: The amount of mandated overtime operators took dropped 50 percent, Jensen said operators also received a sizable pay bump. But Palmgren said conditions are still not sustainable.
"Money's great. I'll be the first one to say that. Who wouldn't say that having a nice fat pocket is good for them and good for their life and good for their family?" he said. "But you know, sometimes we need more rest too."
Both sides say they'll keep working to improve working conditions.
You care.
You want to know what is really going on these days, especially in Colorado. We can help you keep up.  The Lookout is a free, daily email newsletter with news and happenings from all over Colorado. Sign up here and we will see you in the morning!