Uncle Sam Says Wants YOU To Watch Him Pop This Sick Wheelie, And More Of Our Favorite Photos Of The Week
Our website, Facebook, Twitter and Instagram feeds go beyond the radio to show you what Colorado looks like, as well as what it sounds like. This is a new weekly feature curated by CPR visuals editor Hart Van Denburg and Denverite photojournalist Kevin J. Beaty from stories and moments we've covered in the previous week.
Passengers and visitors to Denver International Airport find themselves navigating a lot of detours (and an artist's interpretation of Blucifer shooting laser beams) as they check in or pick up baggage Friday June 28, 2019.
Jamie Perkins poses for a portrait in Denver's Cheesman Park, June 27, 2019. Women feel unsafe on Denver's streets after dark, Denverite's Kevin Beaty reported. Perkins has worked for organizations like Bicycle Colorado and Denver's Transit Alliance, and she says she thinks about urban design issues all the time. For her, the issue of safety at night revolves around cities built for cars and designed from a male perspective.
The Denver Blue Stockings took on the Colorado Territory nine on Independence Day in Broomfield. The teams from Colorado's Vintage Base Ball Association play ball with rules from the year 1864, in uniforms to match. This photo is part of larger story reported by Vic Vela and photographed by Hart Van Denburg that's coming soon.
USDA biologists herd Canada geese down a chute into an enclosure to be culled from City Park, July 1, 2019. The molting birds were helpless to fly from their fate, and some hissed or honked at the workers, but all eventually found themselves trapped against temporary fencing on shore. Workers inside the pens passed the birds to colleagues, who loaded them into orange plastic crates. In total, about 300 birds — far from all the geese in the park — were carted away to a processing center to be killed and turned into meals for hungry households.
A crowd gathered outside the federal building housing Sen. Cory Gardner, July 2, 2019. Lupe Lopez, Jose Luis Garcia and Jennifer Piper, who led the rally, were greeted politely by Gardner's staffer, Madeline Quartaro. Gardener wasn't in, but she offered to take the letter they'd prepared. It urged Gardner to cut funding to U.S. Immigration and Customs Enforcement.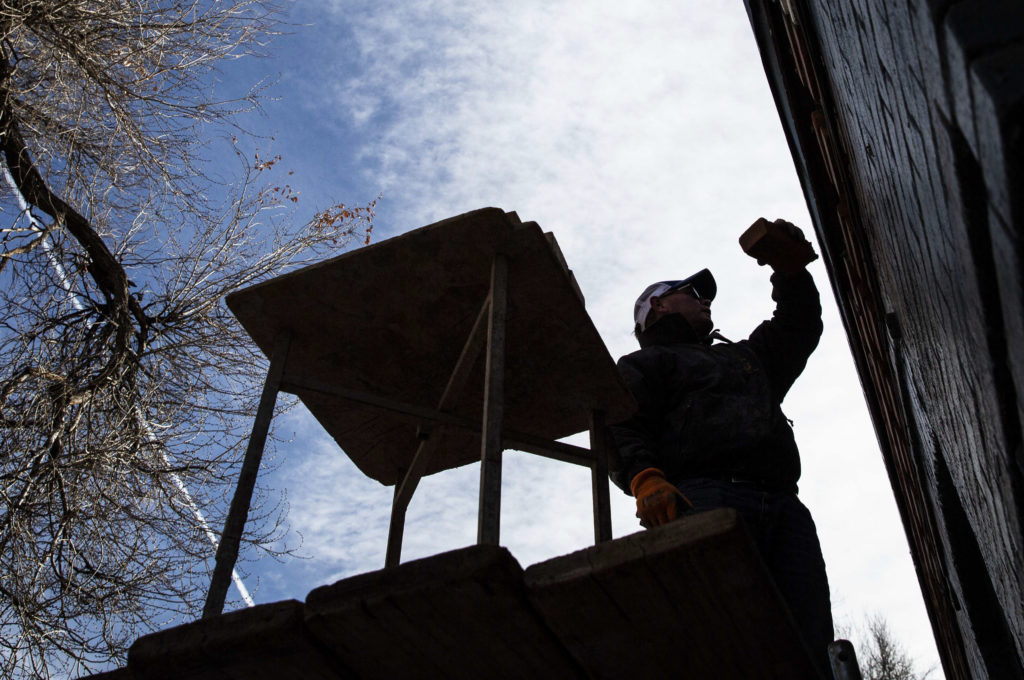 Gary Holt, president of Olde English Masonry, patches up a damaged brick apartment building in Denver's City Park neighborhood on Thursday, Feb. 28, 2019. Did Denver ever ban wooden homes at some point, giving birth to the thousands of brick homes that line Mile High City streets today? If so, why? The answer — to the first question anyway — goes back to an April night in 1863. Denver was little more than a smattering of canvas and wood buildings near the confluence of the South Platte River and Cherry Creek. 
Inside RTD's security command center, July 3, 2019.
Joshua Hopkins is surrounded by the Central City Opera's cast of "Billy Budd," in which he plays the title role. Photographed during a rehearsal Wednesday Jan. 3, 2019 in Central City. Full story from Steph Wolf and more photos from Hart Van Denburg coming soon.
Denver International Airport's iconic tent structure reflected in the adjacent Westin hotel Friday June 28, 2019. A massive remodel at DIA has closed shops and restaurants and shoved travelers into long security lines.  The remodel now threatens to drag on an additional three years, news that threatens the relationship between the contractor in charge of construction and city officials. 
In case you missed it, CPR's OpenAir is now Indie 102.3. This the portrait Hart Van Denburg shot of morning host Jeremy Petersen for the station's new website.
Attorney Hollynd Hoskins holds the door for Curtis Brooks as he leaves the Arkansas Valley Correctional facility after 24 years behind bars on Monday July 1, 2019. Brooks release was the culmination of years of legal work and lobbying by a team of supporters, including his original attorney in the case, Hollynd Hoskins of Denver. In December 2018, then-governor John Hickenlooper granted Brooks clemency, citing his "extraordinary rehabilitation." Brooks took college courses, studied philosophy and learned two languages during his 24-year-long incarceration.
Apartment construction in Denver at 16th Avenue and Pearl Street. Given the tension between the city's booming economy and residents who are increasingly concerned about affordability and quality of life, the stop sign felt like a coincidence too good to pass up.
Speaking of growth ... a ballot flies through a verifier machine at a Jefferson County elections facility in Golden, July 1, 2019. Lakewood voters approved a 1 percent cap on housing construction in a special election that ended Tuesday night with the neighbors behind the "Strategic Growth Initiative" celebrating over a potluck at the home of the woman who led them. Proponents launched a petition drive and overcame a court challenge to get to Tuesday's one-issue special election.
"Seriously," reporter Stina Sieg says, "I could walk up and down Paonia's cozy streets for hours. Meet Marshmallow." The picture is part of a new regular photo feature from Stina's travels on the Western Slope.
And since we have a cat in this story, it's only fair to get the other side. Honey, a part-bulldog part-shih tzu in Denver, barks at a reporter.
You care.
You want to know what is really going on these days, especially in Colorado. We can help you keep up.  The Lookout is a free, daily email newsletter with news and happenings from all over Colorado. Sign up here and we will see you in the morning!