Vintage Base Ball, Lots Of Dogs, A Gorilla Suit And More In Our Favorite Photos Of The Week
Our website, Facebook, Twitter and Instagram feeds go beyond the radio to show you what Colorado looks like, as well as what it sounds like. This weekly feature is curated by CPR visuals editor Hart Van Denburg and Denverite photojournalist Kevin J. Beaty.
---
On summer weekends, players from the Colorado Vintage Base Ball Association travel around the state and take fans back to the way the game was played in the 1860s, with the uniforms to match. "Ballists," as ballplayers were called back then, wear things like period-appropriate pillbox hats, knickers and shirts with cavalry-style bibs embroidered with logos written in Old English-style lettering. 
"You will find that every last one of us here on the field was actually a thespian of sorts," said Steven "Scorpion" Castellani, the CVBBA commissioner. "We do this because we love acting. The organization was actually founded by a group of civil war reenactors who basically got tired of pointing guns at one another."
---
Every now and then we pull out the old black curtain at Denverite and set up somewhere to take poignant shots of humans in a specific place. It's a way to level the visual playing field. The consistent background puts everyone in the same context-less context and lets their personalities fill the frame. This is one of those posts – just with less emphasis on humans.
These are all the dogs we met at City Park Jazz last Sunday before intermission. An unexpected technical difficulty made it hard to keep going all night: the more dogs that sat on the curtain, the more smells it accumulated. It became too large a distraction as more models came for their close-ups.
---
Kids got their hands colorfully dirty Wednesday while they helped artist Pat Milbery paint radiant blazes on the corner of 14th and Curtis. The bright little leaf-shaped arrows will point people toward the city's natural amenities in the otherwise concrete downtown jungle during the Denver Greater and Greener conference starting this weekend.
The conference will pull parks leaders and elected officials from all over America to the Colorado Convention Center from Saturday through Thursday. Park people will nerd-out on all things parks: tree canopies, urban street planters, public gardens and yes, controlling the Canada geese population.
---
As a singer on Denver's City and County Building steps finished rehearsing the national anthem she would soon perform at the inauguration of Mayor Michael Hancock and city council members, activists across the street  pressed the incoming government to address homelessness.
The activists said they would be back. They pledged to show up regularly at city council meetings to monopolize the public comment period with calls for a repeal of Denver's urban camping ban; improvements at shelters including ensuring they are ADA compliant; increased funding to create housing that the poorest can afford; more protection for renters; and other points in a 13-page, agenda on homelessness released Monday by Denver Homeless Out Loud, an advocacy group led by people who are or have experienced homelessness.
---
When the feats of aquatic athleticism are over and Chiquita the gorilla is captured, the entertainers of Denver's iconic Casa Bonita restaurant retreat to the bowels of Black Bart's cave.
That's where the dressing room is hidden, stuffed with costumes, swimsuits and a lot of mysteries.
Oh, and it smells like rubbing alcohol. Employees sanitize the gorilla suit with a mix of cheap vodka and water after every performance.
---
Thousands gathered in front of Aurora's private immigration detention center last Friday in anticipation for ICE "raids" that were supposed to begin on Sunday morning.
No sweeping action had taken place in the metro area as of Sunday afternoon, and it was the third time in recent weeks that tweets from President Trump or announcements from federal Immigration and Customs Enforcement caused the nation's undocumented residents to brace for something big.
Some 2,000 people who have signed voluntary deportation orders were thought to be the subject of these operations. News reports across the country published Sunday said nothing had happened in many U.S. cities. The New York Times reported "low-key" enforcement had begun, though they only identified a handful of operations this weekend in Chicago, Florida and New York resulting in fewer arrests.
---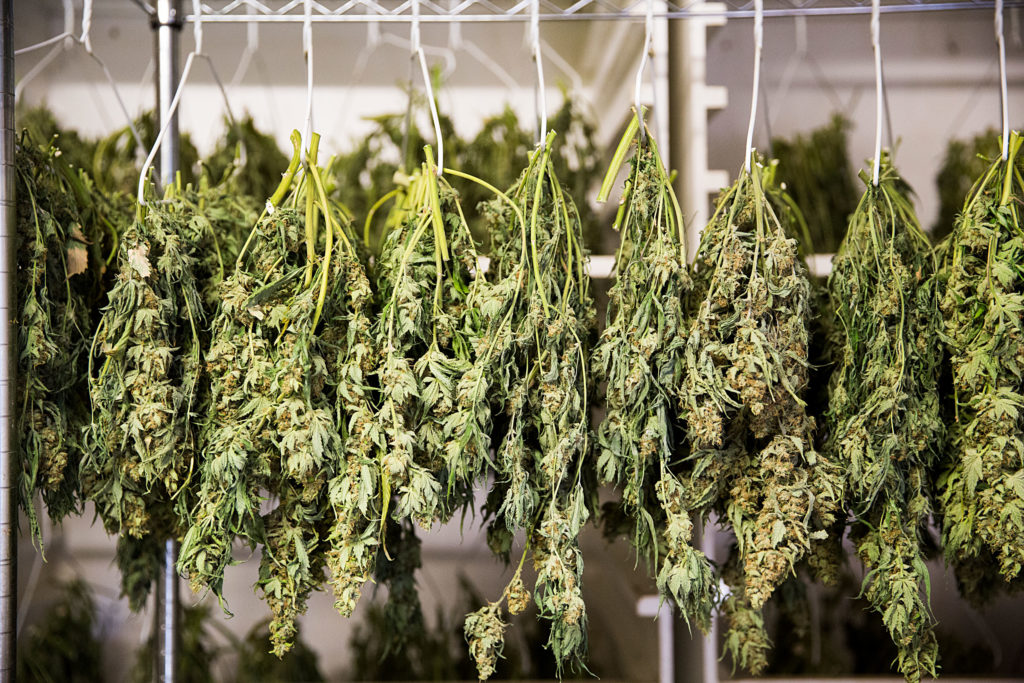 Have you heard? We have a new podcast called On Something. Hosted by Ann-Marie Awad, it explores the political, legal and cultural effects of marijuana legalization. Episode 3, with Heal Pollack, is up now. Colorado Harvest Co. facility in Englewood recently gave a tour of what it looks like to cultivate cannabis commercially now.
---
The Centennial Institute at Colorado Christian University hosted its 10th annual Western Conservative Summit in Denver. The speakers lasted late into the night on Friday, ending with Donald Trump Jr. He attacked Democrats for what he called a failure to back the country's best interests.  
"The reality is the left hates Trump much more than they love America. Because they would much would rather see America fail with him at the helm, than it succeed," he said to applause.
You care.
You want to know what is really going on these days, especially in Colorado. We can help you keep up.  The Lookout is a free, daily email newsletter with news and happenings from all over Colorado. Sign up here and we will see you in the morning!