Why So Much Great Art Came From Paris Before WWI
The Paris Salons by Karla Walker
Fifty years of peace in Paris resulted in an explosion of art. Beginning in the 1860s and 70s, painting, sculpture, poetry, literary works, music - all were being re-thought by creatives who turned to each other for ideas and support.
This time was known as La Belle Epoch - the Beautiful Era.
It was a high point for the centuries-old Parisian "salons" - gatherings held by an inspiring host.  The most notable of these salons in the 1880s was the home of poet Stéphane Mallarmé at 89 rue de Rome in Paris.  The who's who of Paris's thriving arts community attended. Writers Oscar Wilde, Paul Verlaine, and W.B. Yeats together with artists Édouard Manet, Pierre-Auguste Renoir, Edgar Degas, and occasionally Claude Monet, were a few of this artistic elite. 
Composer Claude Debussy was a regular at these salons and was drawn to Mallarmé's elusive poetry.  It was a style called "symbolism," where the poem's subject is alluded to but never named. "Symbolism" in poetry helped inspire future artistic revolutions like "cubism" and "surrealism." 
Symbolist poetry provided a philosophical underpinning for Debussy's musical revolution which began with his adaptation of Mallarmé's poem Prelude to the Afternoon of a Faun. Through Mallarmé, Debussy met poet Paul Verlaine whose poem Clair de lune inspired Debussy's beloved piano miniature by the same name. 
Debussy most likely met painter Claude Monet at Mallarmé's salon, too. Monet introduced Debussy to American painter James Abbott McNeill Whistler whose misty paintings, "Nocturnes," were the source for Debussy's own "Nocturnes For Orchestra."
Parisian salons continued after Mallarmé and Debussy. The next generation of creatives included Ernest Hemingway, F. Scott Fitzgerald, and Pablo Picasso. They were regulars at the home of writer Gertrude Stein.
It was a beautiful era (La Belle Epoch) until WWI brought it all to an abrupt end.
Here's a deeper look into the The Titans of Impressionism - Claude Monet and Claude Debussy.
This story is part of a Monet Mondays series CPR Classical is airing every Monday through January 2020. The stories and music about Impressionism air on CPR Classical (88.1 FM in Denver) at 6 a.m., 8 a.m., 10 a.m.. 1 p.m., 3 p.m., 6 p.m. and 8 p.m.. Listen to CPR Classical on your radio at 88.1 FM in Denver, stream the music on this website, or by asking your smart speaker to "Play CPR Classical." (Find other ways to listen.)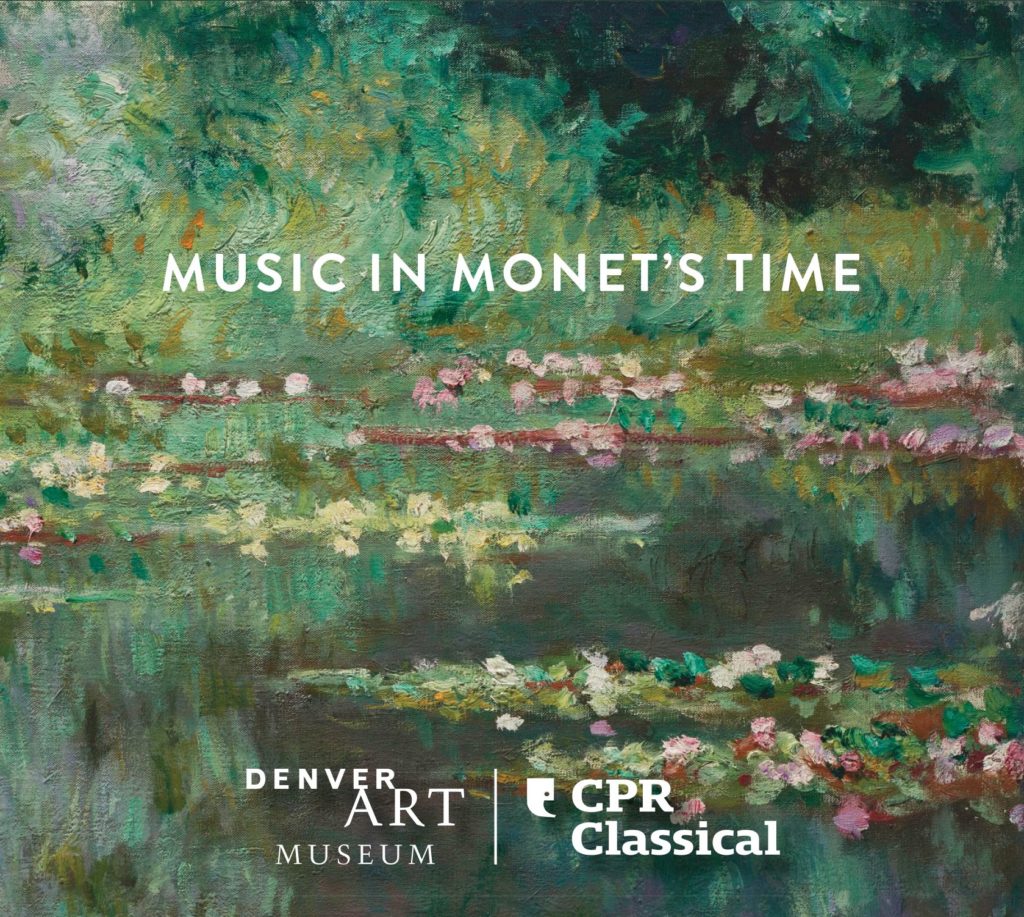 For a limited time, if you become a member of Colorado Public Radio, you'll receive "Music in Monet's Time," a custom CD of greatest Impressionist works created by CPR Classical in partnership with the Denver Art Museum.
Love Classical Music?
Stay in touch with our hosting team at CPR Classical and learn more about the classical events occurring in the community. Sign up here for our monthly newsletter.