'Ghosted' Is A Play That Wants Teens To Open Up About The Stresses Of Their High School Lives
The story starts outside a school counselor's office, where four teens run into each other. One is dealing with anxiety and experiences panic attacks. Another has a tough home life, which causes him to lash out. The third worries about her boyfriend, who seems to be thinking about suicide.
The "Breakfast Club"-like setup is core to "Ghosted," a new touring play that brings teen mental health to center stage.
"Oh my God, it felt 110 percent relevant," said 16-year-old 5280 High School sophomore Daisy Ortiz Ramirez after she saw the show. "And those situations, in my opinion, will never go out of date because new generations will go through it."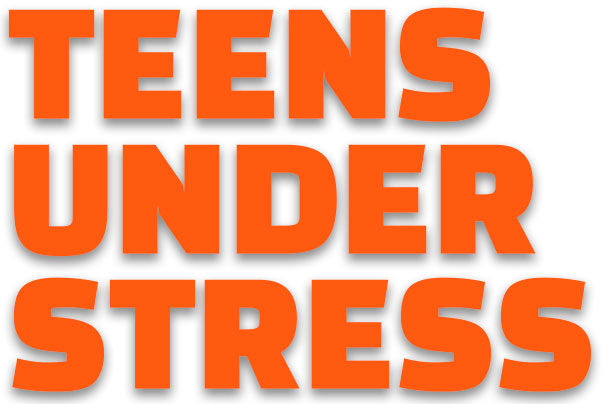 She connected most with a character named Andre. This is the aforementioned boyfriend that the character Kayla worries about "all this weird stuff" he says. The boyfriend plays sports and is a straight-A student. But the pressure to succeed — go to a good university and get a scholarship — is suffocating and he doesn't seem to know how to talk about it. 
Ortiz Ramirez sympathizes.
"I get good grades and... there's been some cases where I do feel overwhelmed and pressured, especially being the oldest in my family," she said. "I gotta be an example for my younger siblings to do good and have a good career."
That is the hoped-for reaction when teens see this play. 
"Ghosted" premiered in Colorado last fall and it wasn't put on by a local theater company, but by Kaiser Permanente — a health care company.
"I always like to think of it as art moves messages from the head to the heart," said Brian Harper, part of the staff in Kaiser Permanente Colorado's Arts Integrated Resources division and local director of the "Ghosted" project. "When they can actually feel and empathize with the characters, when they can see themselves in the character, it just transforms the message."
And that message is that it's OK to talk about your emotions with others.
---
If you need help, dial 988 to reach the Suicide and Crisis Lifeline. You can also reach the Colorado Crisis Services hotline at 1-844-493-8255 or text "TALK" to 38255 to speak with a trained counselor or professional. Counselors are also available at walk-in locations or online to chat.
---
The play is Kaiser Permanente's latest offering from a 35-year-old program that uses art to address health issues. It came from the Washington state region where it was developed in collaboration with the Seattle Children's Theatre. After its tour of Colorado schools, it will eventually go nationwide to tackle the issues of anxiety and depression in light of an alarming increase in the teen suicide rate.
A report from the United Health Foundation found that the national rate is up 25 percent from 2016 to 2019, and up 58 percent alone in Colorado. 
Jenna Garrow, the dean of students at 5280 High School, said her staff and teachers do their best to address students' mental health needs but it never feels like enough.  
"Most days I leave thinking, 'I wish I had more time to better understand what this particular student is navigating,'" she said. 
She also wonders frequently "how many students want to share something and just don't know how or when."
The Denver high school sets aside time each week for students to talk about their emotions and feelings with their peers and teachers. Students also have some access to a school psychologist. But Garrow said that "strapped" individual visits only once a week because she serves several schools around Denver. 
With limited resources, Garrow sees the play as an additional way to try and reach her teens. She thinks the depiction of teens talking about their issues might inspire students to do the same.
"It's much easier to talk about feeling sick or physical health stuff," Garrow said. "And so I hope our students can recognize that just because it's difficult doesn't mean we can't."
Stephanie Wolf/CPR News
Jenna Garrow, 5280 High School dean of students, speaks to the student audience following a performance of "Ghosted" on Jan. 28, 2020.
Stephanie Wolf/CPR News
Brian Harper, Kaiser Permanente Colorado's lead on "Ghosted," watches a performance at 5280 High School.
Kaiser Permanente staff also hope the play will help teens realize they aren't alone and that they can help each other. In fact, the play ends just as the four characters realize this.
Brian Harper explains that the title actually comes from this final scene, when the four teens say to each other, "Let's text if we need a moment. If we need each other and I won't ghost you if you promise not to ghost me."
Each performance is followed by a talk-back, as well as a workshop to walk through ways to help a struggling friend. Harper said the workshop not only helps teens "navigate that moment," but also shows them that their sole job is to be a friend. 
"They don't have to be a counselor or therapist or an expert, but that they make sure that they are a friend of that person," he said. 
Sophomore Liam Olson,15, loves movies and theater, basically "anything that has a good story and good actors." And so, for him, it made sense to use theater to dig into issues around mental health.   
When you have good acting and real feeling onstage, he said it can deliver a "good punch to the chest" and have a "bigger impact than just having [someone] be like, 'So today we're going to talk about mental health.'"
For him though, one of the biggest takeaways was how so many of his peers either struggle with mental health issues or know someone who does, and how many of them keep it bottled up. 
"It was shocking how many people we know could have that and not tell other people around them, not even tell their closest friends possibly," Olson said.
---
We want to know more, and we hope you do, too.
CPR News will spend the next few months investigating the factors that have created the ultimate pressure cooker for some teens. We'll go into their world through audio diaries, interviews, reflection and analysis. Most importantly, we'll examine what teens, families and schools can do to let some of the pressure loose.
_
You care.
You want to know what is really going on these days, especially in Colorado. We can help you keep up.  The Lookout is a free, daily email newsletter with news and happenings from all over Colorado. Sign up here and we will see you in the morning!