The Local 303: Colorado Artists We're Featuring For December 2020
In this final month of an unprecedented year, the Local 303 welcomes some of the most talked about Colorado releases of the year.

R&B singer Britney Jane steps into her own with original music after singing backup for many notable local artists and electronic producer Machu Linea is a genre polymath and blends psychedelic hip-hop, Latin, and pop on his collaborative new album. Donny Blot is a rising rapper in our community with a new album titled "The T Is Silent," a nod to how you should be pronouncing his last name.

Kris Drickey, formerly of Chimney Choir, will release her debut solo album in 2021 and Sarah Slaton, whose most recent band was Edison, has returned to her solo roots with a new indie pop single "Get Up." Danae Simone brings together hip-hop and R&B while Kaitlyn Williams has foundations in jazz and pop.

Other debuts include despAIR Jordan (you could perhaps call this new collective a local indie rock supergroup) and Mike Marchant has revealed his latest incarnation as Steady Circuits. This month will also feature raucous singles by rock duo The Trujillo Company, while Denver's mon cher and Colorado Springs band The Sum Beaches make their music debuts in 2020.

Meet some of the musicians (virtually!) We will livestream our Local 303 Meetup on Dec. 14 at 4 p.m. MT on our homepage or watch from our YouTube page.
Meet December's picks:
Britney Jane
Hometown: Roanoke, Virginia. Now living in Denver.

Formed: 2018

Latest Release: "What If" (Single), Self-Release, Oct. 22, 2020

About: An acoustic R&B singer-songwriter, Britney Jane grew up in Roanoke, Virginia where her late father cultivated her joy and passion for music by investing in a karaoke machine. She would sing day and night entertaining family and friends. Britney Jane has done various gigs in the Denver area, ranging from open mics, studio work with other artists, and live performances as bandleader of her crew and backing vocalist for Lee Clark Allen and Kayla Marque.

Britney Jane's voice has been captured on various artists' works, such as Donny Blot, Mawule, Lee Clark Allen, Kid Astronaut, and Swank Sinatra.  

What's it like being a musician in 2020: Sheesh….where do I start. This year has definitely been full of ups and downs. With COVID, an increase of police brutality, the election, the bold racists, the trying-to-stay-sane while our norm is no longer ... it's just been a lot, and in all honesty, I'm thankful that I am a musician. Having this time of change especially earlier during the lockdown, I was really going through it. Not being able to see family and just other things going on in the world, music was not on my mind. I was scared, stressed, upset, and all the above.  However, I told myself that I have to keep pushing. I'm like, 'OK, 2020, you can try to suck my joy, but you can't do it.' I've learned so much. I can say that if 2020 wasn't so up and down, I probably wouldn't  be in the place I am with my music and my artistry.  For me, I guess it's all about having a thankful type of perspective on this year. P.S - ALL BLACK LIVES MATTER! Don't forget it.
despAIR Jordan
Hometown: Denver

Formed: 2019

Latest Release: "Before Your Wings Gave Out" Snappy Little Numbers, Release, TBD

About: despAIR Jordan's members have been kicking around the Denver music scene for the better part of two decades. Formed from the ashes of rowdier bands like SleeperHorse, Tin Horn Prayer and Sugar Skulls and Marigolds, despAIR Jordan is a mature and seasoned retelling of a story its members have spent years crafting.

It's debut album "Before Your Wings Gave Out" combines post punk sensibilities with post hardcore volume to create a sound that is earnest, sincere and triumphant. For fans of Interpol, HUM, and well told drinking stories. Members- Josh Friedman: Vocals/Guitar, Danny Aranow: Guitar, Matty Clark: Bass, Andy Thomas: Drums

What's it like being a musician in 2020: Music has been a lifesaver for the members of this band. It has been our solace and escape from a stressful and disappointing world. While we miss playing shows immensely, being able to create music with people we care about has made us feel overall very fortunate.

Website: https://www.snappylittlenumbers.com/

Get Social: Instagram, Facebook
Donny Blot
Hometown: Miami, Fl (resides in Denver now)

Latest Release: "The T is Silent," At Night Group, Oct. 7, 2020

About: In a sea of rappers, Donny Blot (pronounced Blō) stands out. Born Donovan Marcel Blot, the 26 years old rapper/poet, seamlessly maintains his bouncy energetic vibe while offering thought-provoking and intelligent lyrics.

What's it like being a musician in 2020: Being a musician in 2020 is a blessing and a curse at the same time. The blessing part of it since we are in quarantine our time to work and being in that creative space is enhanced. On the other hand, some musicians need to be around other people and experience outside activities to draw their inspiration. It really depends on the type of artist you are and how you draw your inspiration. Fortunately, for me as a musician, I am able to draw my inspiration from within and not necessarily what's around me.

Get Social: Instagram
Kaitlyn Williams
Hometown: Denver, CO
Formed: 2017
Latest Release: "Stuck on an Idea" (Single), Self-Release, Nov. 8, 2020

About: Kaitlyn Williams is an ALT-POP artist, singer-songwriter, educator, and award-winning vocalist from Denver, CO. She studied jazz at the world-renowned Indiana University Jacobs School of Music and is an active member of the local music scene. She's played some of the most prestigious venues in the country like Red Rocks Amphitheatre and Jazz at Lincoln Center as well as toured across the country with her band. She won "Best Pop Artist" of 2019 from 303 Magazine after releasing her debut EP "Sunset" and is awaiting the release (TBA) of her next EP/Album "Don't Believe the Internet". 
What's it like being a musician in 2020: Weird. Unconventional. Finding the human connection to write about and be inspired by has been challenging. So much of this feels like a silly prank your middle school bully would play on you. Like wait, is this real life? 2020 has kept me on my toes and reminded me just how much I need music and human connection. I need it to survive, not just make a living.
Get Social: Instagram, Facebook, Soundcloud
Kris Drickey
Hometown: Lot's of moving around, but Denver at this point.

Formed: 1983 (my birth year)

Latest Release: "State Change" EP, State Change, Nov. 11, 2020

About: Kris Drickey has always loved to sing and play. She is mainly self-taught and has studied classical violin as well as American folk & blues fiddle and songwriting. Her enchantment with music took her into coffee shop open mics, late night recording frenzies, guitar lessons, and campfire sing-alongs before a 10-year stint with beloved Denver band Chimney Choir. Her new EP, State Change, took two years to make and is her first release as a solo artist.  She releases her music on Patreon to her fans first, and will release the EP more broadly on Jan. 21, 2021. 

What's it like being a musician in 2020: Everything that was stable about my life in the before times is no longer relevant. It's been a massive time of reinvention. Working on my solo EP felt like it was the only thing that made sense over the summer. I have a lot of grief for the impact that Covid-19 is having on the arts. At the same time it has been incredible to slow down and I'm really relishing the new more spacious pace of things. That has served me musically a lot. I'm excited for what's to come! The world needs music and healing right now.

Website: www.patreon.com/honeycombhealing

Get Social: Instagram, Facebook
Machu Linea
Hometown: Colorado Springs / Durango / Pueblo

Formed: 2016

Latest Release: "HeXotica," Self-Teleased, Oct. 22, 2020

About: With roots in Mexican folkloric dancing and 10+ years producing for artists in a wide variety of genres, Machu Linea brings together an eclectic mix of artists to create a sound that is unique, bold, and sweaty. 

Machu Linea is a producer based music project from Armando Garibay that started in 2016. 

The project is a love letter to House, R&B, Electronic, and Latin music with a psychedelic pulse. 

Armando has been an active participant in the Denver music scene for the last 11 years...having worked as half of the production/songwriting duo of The Blackout Beat and producer for three albums from the Electronic/Pop collective The Circus House.

Two years after the release of the genre defying album, GIRL, Machu Linea returns to the Denver music scene with a new LP, HeXotica, that continues the sonic journey started by GIRL. 

The album is a sonic journey of sensuality and self discovery...set to a unique sound that blends psychedelic R&B, Hip-Hop, Latin and Pop. Sometimes experimental, HeXotica creates soundscapes built on heavy drums, spacey synths, and textures that propel the listener to a place where their wildest fantasies are made real...or so it seems. 

Some of the featured artists range from the experimental Hip-Hop of Rare Bryd$, the spacey R&B of Kid Astronaut, to the Electronic ambient drones of Shocker Mom.
Local Drag artists, Reprobabe and Lisa Frank Sïxsïxsïx also make notable appearances on the album. 

Named as one of 303 Magazine's "14 LGBTQ Artists You Should Know," and nominated for "Best R&B" in the Westword's Music Awards, Machu Linea is looking forward to recording with more Denver artists as well as more live performances. 

What's it like being a musician in 2020: Being a musician in 2020 to me is being able to adapt.

Get Social: Instagram, Facebook, SoundCloud, Twitter
mon cher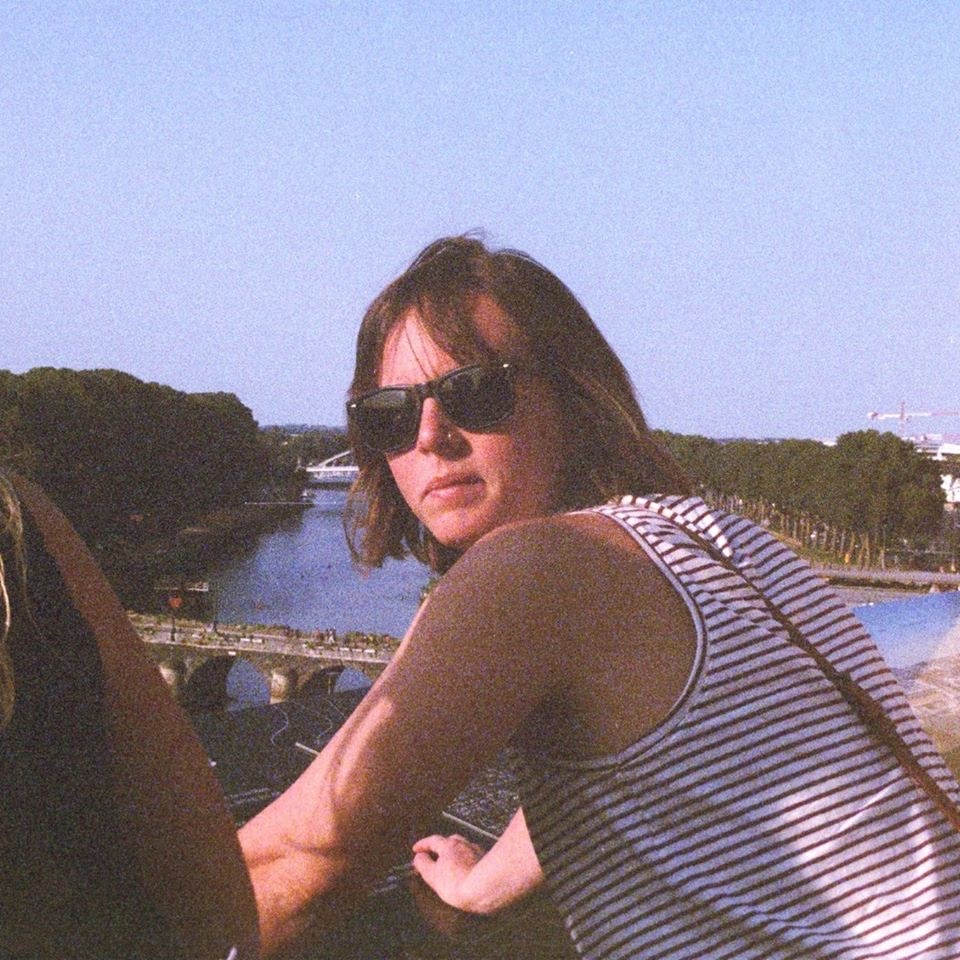 Hometown: Orlando, FL

Formed: 2020

Latest Release: mon cher (LP), Self-Release, Jul. 16, 2020

About: mon cher is a Denver based music project founded by artist and producer Meghan Holton. Textured synths, driving pop-rock drum beats, and soft, airy vocals all combine into mon cher's unique lo-fi-meets-synth-pop sound. In July 2020, mon cher came into the music scene with a self-titled debut album. 

What's it like being a musician in 2020: I've never been a musician in any other time! Being a debut artist in this time has been interesting; not getting to play shows, connecting with other local artists is tougher, promoting, etc. That said, it is what it is and I tend to look at it overall as an opportunity. I have more time to practice, learn, and create. I hope I'm making the most of it. 

Website: www.moncher.us

Get Social: Instagram, Twitter, TikTok 
Sarah Slaton
Hometown: Fayetteville, AR

Formed: Denver, CO

Latest Release: "Get Up" (Single), Self-Release, Dec. 11, 2020

About: Sarah Slaton is a songwriter that expresses pathos both poignant and relatable (Denver Westword) . An Arkansas native, Slaton taught herself to play guitar in the shadow of the Ozarks before making her way out West where she founded and fronted the Colorado trio, Edison, recognized for their tireless touring efforts. With a relentless DIY approach, Edison signed with Rhyme & Reason Records. Edison toured with Iron & Wine and opened for Nathaniel Rateliff, Gregory Alan Isakov, and Shakey Graves. 

Slaton stepped out on her own in 2019 with a string of releases including her first single, "Dance In The Sun", a cover of Showtime's "The L Word" Theme, in addition to a feature on the Kind Dub single "Limited Time". 105.5 The Colorado Sound listeners also named Sarah as one of the "Top 20 Colorado Artists of All Time" alongside Nathaniel Rateliff, Gregory Alan Isakov, and The Lumineers."2020 turned the world upside down and all of my shows were cancelled. I started a livestream series featuring fellow Colorado artists and have booked 92 bands to date. My partner, Sarah Joelle, and I have buried ourselves in creating music as a cathartic outlet to the world around us." Time To Go (Live From Stone Cottage Sessions) was released in October as a homage to the days traveling in Edison.

The new studio single "Get Up" was announced for a December 2020 release date. Recorded at The Blasting Room Studios, the track hits like a hurricane with anthemic guitars and vocals that echo the sounds from acts like Of Monsters and Men and Modest Mouse.

What's it like being a musician in 2020: It's catastrophic for musicians that rely heavily on performing live and even more dire for the venues that make shows possible. It's also a time where we're connecting with people through livestreams that we may have never met before. For me it's been tough, but also an opportunity to grow creatively and come out stronger on the other side.

Website: www.sarahslaton.com

Get Social: Instagram, Twitter, Facebook, YouTube
Steady Circuits
Hometown(s): Denver, CO - Santa Fe, NM

Formed: 2020

Latest Release: "One of Many Ends..." EP, Cloud Command Sound, Sep. 25 2020

About: During his first few years of recording and performing, songwriter and multi-instrumentalist Mike Marchant was described as "one of Denver's most admired songwriters and performers" by the Denver Post and "one of Denver's most celebrated songwriters" by Westword. The AV Club wrote that Marchant's early projects "demonstrated a lackadaisical mastery of dreamy, druggy indie folk." In 2018, Marchant returned from a long hiatus with an atmospheric indie rock project called Lightning Cult.  Steady Circuits—"space-pop made with hardware electronics, tube amps, and human hands," says Marchant—is his first post-hiatus solo project.

What's it like being a musician in 2020: It feels like business as usual, in that I usually work alone in my own studio and don't really tour or perform anymore.  During the pandemic, I've been more focused and productive than ever.  My goal as an artist has always been to create worlds for people to get lost in, and that feels particularly important right now.  I know that there's a lot happening that's much more important than my songs, so sometimes they feel insignificant, but I continue to hear from listeners who are finding relief in the exploration of my weird little worlds.  That's fuel to me.

Website: www.cloudcommandsound.com

Get Social: Steady Circuits Instagram, Lightning Cult Instagram
The Sum Beaches
Hometown: Colorado Springs, CO.

Formed: January 2020

Latest Release: "Beachless Demos" EP, Self-Released, Oct. 2020

About: The Sum Beaches and our landlocked surf rock combine melancholic dream pop, heavy psychedelic rock, and groovy garage tunes. With our first release behind us, we're working on having an EP out next spring with singles in between. 

What's it like being a musician in 2020:Slightly less than ideal, but it has provided sanity and something certain for all of us. Any of the issues that have arisen this year, season by season, are enough to bring people closer or drive them apart. We've only become closer with our shared views and experiences. We got together at the beginning of the year and had grand plans to get out and land gigs anywhere we could along the front range...but those plans were put on hold. For now! We look forward to growing our online presence and getting to know other bands in the area, and working on livestreams in the mean time. Being locked down has given us plenty of time to practice and we are definitely ending the year as better musicians than when it started.

Website: https://distrokid.com/hyperfollow/sumbeaches/beachless-demos

Get Social: Instagram, Facebook
The Trujillo Company
Hometown: Denver, CO

Formed: Fall 2017, First Show January 2018

Latest Release: "Live From Daymoon Studio," Circles, Self-Release, 2020

About: Rock and roll isn't dead - it's just been sleeping, and Denver based power duo The Trujillo Company is a powder keg ready to awaken the sleeping giant. The two-piece rock and roll outfit has been taking the Colorado music scene by storm since playing their first show in late January 2018. The band has quickly become known for their energetic live shows, heavy riffs, and massive hooks, earning a nomination for "Best Rock Band" in Denver's 2019 Westword Music Awards Poll.  
Guitarist Mike Trujillo and drummer Leny Trujillo met at a mutual friend's birthday party in 2009, and planted the seeds for what would become The Trujillo Company almost a decade later. After deciding to jam together after ten years had passed, the duo knew instantly that they had a cosmic connection and that the universe was bringing them together at the right time to capture lightning in a bottle. The two musicians feed off each other naturally and write music that they feel people can connect with on a cathartic level. 
The band recorded their debut album "Home" in Los Angeles, California with engineer/producer Manny Nieto with the goal of capturing the explosiveness of the band's live performance on the record. Heralded as a "dirty rock and roll masterpiece" by BandWagon Magazine, the album is a full display of the band's prowess as songwriters and is cementing themselves as a force to be reckoned with in the Rocky Mountain region. The band has released the single and video for Follow the Leader in March of 2020, working with MBSE's Brandon Whalen as producer/engineer. Then the duo released two live singles of Mojo Rising and Circles recorded at Daymoon Studios with Elden's Tyler Imbrogno at the helm, Fall 2020.

What's it like being a musician in 2020: Well, it's been a total learning experience, but we've been doing our best to navigate things and adapt. The first stay at home order in Colorado took place the week after we released our music video at Hi-Dive. Things really started to sink in once shows were getting canceled. We had spent all this time planning for what was coming ahead in the year, that we never imagined things just coming to a halt. It's been extra painful to see so many venues close down, and so many of our friends in the industry see their livelihoods come to such a sudden stop. I was really hoping to see Congress step up and push the Heroes Act and actually get the relief needed to our venues, but we're still waiting. I think this is going to be a time where we all look back and realize just how important music and the arts were in connecting the world. We'll keep writing and releasing new music through all of this, but the day when we can play in front of crowds again is truly a day we will relish.

Get Social: Instagram, Facebook, Twitter, Spoitfy
You made it!
You love learning about new music and the Denver music scene. We have a weekly newsletter for you -- Inside Track. Sign up here to stay in the know about the hottest Colorado concerts and how you can score tickets!