'How Do You Get To The End Of The Year?': Teachers Gear Up For The Final Push Even After This Pandemic Year Took A Massive Mental Health Toll
Holly Baier laid awake in bed, her mind spinning on just one of many long, dark pandemic nights.
Her young music students had no instruments. Performances were no more. How would she teach them through a computer? Would her students, as young as 6, be able to log on? If she played them music, would they hear it? She'd never tried to play music through a computer before.
"Your mind is just going on this hamster wheel of like, 'I want to do my best, but I've never done this before,'" said Baier, a music teacher at Mount Carbon Elementary School in Littleton. "So, there's this fear of the unknown. Then there's these high expectations for yourself and from others. There were definitely nights when I lost a lot of sleep."
The stress from the unknown and uncertainty was so much that, like for many teachers, the exhausting year has taken a toll on Baier's mental health. At one point, she didn't know if she could keep teaching.
Colorado school administrators listed teachers' mental health as the top priority for teachers in a fall survey. And the year isn't over. Some fear the weeks until June may push some teachers to the brink, as more kids cycle back into classrooms — students with more needs, plus lots of tests and exams.
"Towards the end of the year, we get burnt out," said Jordan Sien, a special education teacher and interventionist at Carmody Middle School in Jeffco Public Schools.
Her mental health first began to slip after she cut way back on exercising when everything shut down back in March 2020. 
But both Sien and Baier have taken steps this year to strengthen their mental health, something experts say could help other teachers get through the final months of this year, process what happened, and make decisions about whether they're ready for another challenging school year.
'I am normally a really great teacher, but I feel like I'm failing everyone right now.'
Dr. Amy Lopez has seen the ebbs and flows of teacher mental health this year up close.
She helped launch a hotline for teachers in November through the University of Colorado's Helen and Arthur E. Johnson Depression Center.
The calls had a strikingly similar theme.
"I'm stressed out. I can't sleep. I can't eat. I'm working all the time," said Lopez, a licensed clinical social worker.
About half were considering quitting. That figure stayed the same in January. Teachers were completely overwhelmed and emotionally drained. Workloads had doubled or more. They hadn't been trained to teach online, or teaching remotely and in-person at the same time. 
"I felt like a DJ because I had two computers and my presentation projected as well for my kids on the Google Meets that I would pay attention to, and then four kids in my classroom. So, it was kind of a balancing act," Sien said.
For many teachers like Sien, it was exhausting. The burnout came in waves. By late fall, as her school headed back into full remote learning, her morale was running low. When Sien's stress levels rose, sleep was elusive.
"If you're not sleeping, then you're not really showing up for yourself. And if you're not showing up for yourself, and you can't show up for your kids."
Lopez said some educators took personal responsibility that they were not able to keep up or were unable to keep their students engaged.
 "They said, 'I really don't know what I'm doing, and I take that as a personal failure, that I don't know what I'm doing,'" she said. "I feel like I'm a bad teacher."
Now, in the spring, Lopez said the hotline calls are fewer, and that the theme has shifted to this: 
"I'm kind of numb. I really just don't care. I don't want to do my work, I don't want to interact with friends, I don't want to go out, I really don't want to do anything."
Holly Baier, a 15-year educator, always had high expectations for herself and for her students. She said didn't want the pandemic year to be "a waste." She wanted to make sure all her students had a year's worth of music development and to have "the best experience possible."
"You have all these beliefs that you want to get kids to a certain level," she said.
Then there was reality. One day one kid had a technology problem. Another kid had a technology problem on another day. One kid had a mental health issue one day. The next day, it was someone else.
Then there was the constant change, switching back and forth between remote learning, preparing asynchronous lessons, preparing live lessons for kindergarten through fifth graders — not just at her school but sometimes other schools. Remote learning was "trying to make lemonade out of lemons."
Being constantly overwhelmed and lacking sleep made it hard to get through the day, Baier said. That's when she reached out for help.
Counseling For Teachers 
"This year, our top issue has been anxiety," said Kathleen Remington, manager and counselor of Jeffco Public Schools' Employee Assistance Program. "We've seen an increase in family issues, depression and a lot of transition and change [issues]. This is probably the hardest teaching year I've ever seen in my 11 years of being at Jeffco."
The EAP is a free resource for JeffCo employees and their families to get help with mental health issues, from anxiety and stress to relationship issues and grief. It also offers resiliency groups, mindfulness practices for teachers, and training for school staff on things like self-care and compassion fatigue.
Most school districts contract with outside providers to provide such services. But JeffCo offers its own counseling services in a homey red-brick building in a quiet Lakewood neighborhood, perfect for "walking appointments" during the COVID era.
The counseling rooms are decorated with calming art, uplifting wall hangings ("Stay close to people who feel like sunshine," one reads.) colorful bowls of stress balls, and eucalyptus tea body lotion on the shelves.
Remington and her staff use solution-focused counseling which typically involves three to four counseling sessions per issue per year.
Once needs and goals are identified, counselors evaluate stressors and coping skills and help people identify tools they can use to manage life at work and at home.
'Thought Partners' 
Music teacher Holly Baier said the counselors are like "thought partners" to help you find strategies to manage stress.
"It was just being able to talk about it and get it out of my mind to another person or journaling about it and being able to really see like everything's going to be OK: Here's the problem. Here's my possible solutions."
She began reaching out to other music teachers for ideas, took more breathing breaks at school, and compiled an emergency go-to list of dozens of activities that she can turn to for stress relief. She calls it her SOS list.
"When was the last time that I called a friend? When was the last time I went on a walk or a hike? When was the last time that I read a book that wasn't a curriculum book, just for fun? When was the last time I took a bubble bath?"
She said if she waits until things get too overwhelming, "then I'm just too emotionally exhausted to even rescue myself."
Jordan Sien upped her visits to her EAP counselor. She learned routines, like setting the apps on her phone to go dark at 10 p.m. She gives herself the choice each day to journal or use the Calm meditation app, which is free for teachers. She tells herself three things she's grateful for each day before bed.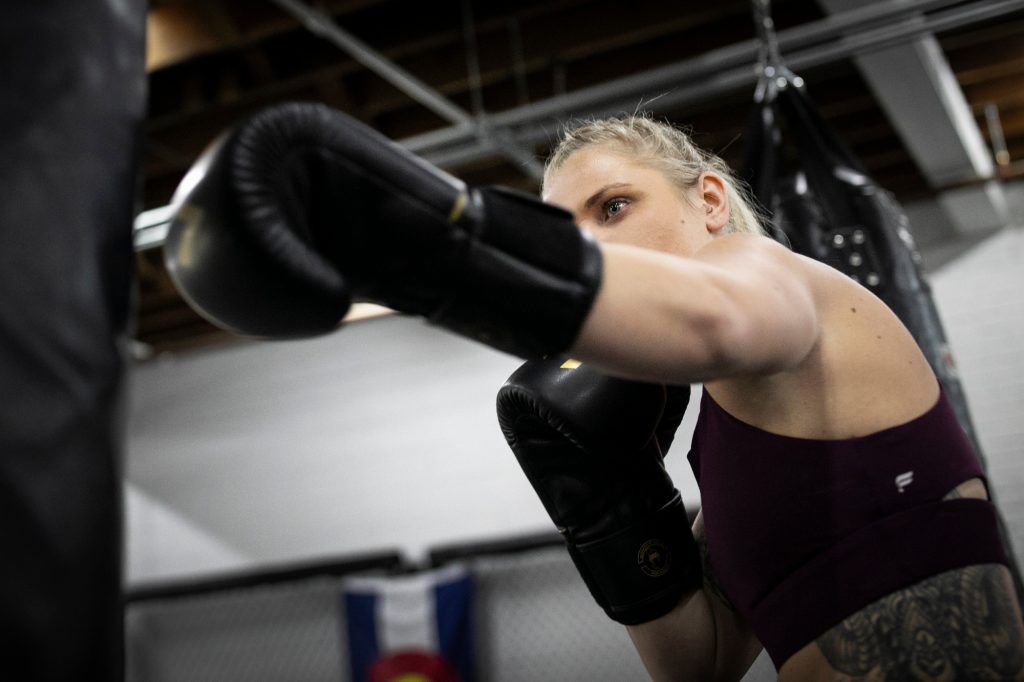 "She's done wonders for me," she said of her EAP therapist. "Therapy has definitely grounded me and helped me verbally process what I need and what I feel like my kids need and how I can show up in the best way I can for both my classroom community and the community I work for."
A huge part of feeling better was making sure she got back on an exercise routine. Sien trains regularly at her Denver gym Train.Fight.Win. where she coaches and kickboxes.
"Even when I do get stressed out at work or feel tired or feel burned out, I still need to do that because it's prioritizing that endorphin release for me."
And she highly recommends this: writing two thank you notes or texts during a teacher's planning period each week. She writes one to someone she cares about like her grandmother back in Maryland and the other to a student, someone doing well – or a kid who's struggling. She said it puts herself in others shoes, and imagines if she got that letter.
"It would boost me up and it would give me like a breath of fresh air and a weight off my shoulders — me being able to do that and make that a part of my work was something I did have control over when there's so many things right now that we don't really have control over."
The big rabbit hole for teachers is, 'Why can't I do more?'
Both Sien and Holly Bier learned to revise their expectations, critical for teachers to get through this unprecedented year. Perfectionism can be a problem for some teachers. Those with high standards who were unable to truly connect with their students often struggle emotionally.
 Jordan Sien said when you start overly-focusing on the students who aren't showing up to class Google Meets or who are still turning in blank work, you're in trouble.
"Oh my gosh, what a rabbit hole! And we could go down that all day, but I think it's important once you're going down the rabbit hole to pull yourself back and give yourself grace."
Sien said she tries to remember, if the students learn photosynthesis, fantastic, but if not and instead she's been able to develop a connection with a student who struggles, that's fantastic too.
Yes, there was a curriculum to get through. But Bier said helping children find the joy was more important, "Are they allowed to be a 7-year-old having joy? Are they experiencing the joy of music?"
Baier's schedule is still complicated. She color-codes her complex schedule and practices "bullet journaling." Getting through the rest of the year will be tough, she said, but she has tools now to help her.
"It's made me see that I am resilient, that I am a problem solver."
Will teachers stay in the profession?
Almost 40 percent of Colorado's educators are considering leaving the profession in the near future, according to an early 2021 survey by Colorado Education Association. But a summer break could be what teachers need to recharge and reassess.
Dr. Lopez of the Helen and Arthur E. Johnson Depression Center said things got better for the teachers who've been able to focus now on one group of students, those sitting in their classrooms. Getting vaccinated provides a lot of relief to teachers as well.
Many want long-term mental health support to help them figure out what the future holds. Staff are working with teachers on "How do you get to the end of the year?" strategies and thinking ahead. The center will continue sessions with teachers over the summer, and it plans a forum for educators, Pandemic Teaching and Beyond: Hope and Resilience for Educators, on April 22, looking at questions such as: "How do I recover? What can I do this summer to recharge? Do I want to go back in the fall? Do I want to go back tomorrow?"
As for Holly Baier and Jordan Sien, especially after getting help, they're sticking with teaching.
"One hundred percent," said Baier without pausing. "When I see my kids, I am 110 percent reassured that this is what I'm put on this earth to be doing, to be instilling the joy of music education to be with my students. And I just cannot love this job enough."
You care.
You want to know what is really going on these days, especially in Colorado. We can help you keep up.  The Lookout is a free, daily email newsletter with news and happenings from all over Colorado. Sign up here and we will see you in the morning!