As A New Colorado School Year Starts, The Race To Hire New Teachers And Staff Is Fierce
Cindy Ritter was riding the New York subway one winter break when she convinced someone on the phone to take a job teaching math back in Colorado.
"If I can hire someone on the New York subway, I got you," the math intervention specialist joked with a group of prospective teachers on a Zoom call last April. It was the height of the teacher hiring season. The district had no in-person job fairs. But the 27J school district in Brighton pushed forward with a virtual job fair. 
Ritter, who helps out with hiring, was doing the hard sell. Last spring, rumors (and studies) that teachers would leave their jobs in droves ran rampant. After the exhausting, uncertain pandemic year, many teachers said they weren't sure if they'd return.
"When we bring teachers on in 27J, it is very different from other school districts," Ritter told the Zoom group. "We provide a great deal of support, you have not only us at the district level, you have principals, you have coaches, you have mentor support."
Ritter was talking to, after all, math and science teachers. They're like gold: precious and hard-to-come by. Ritter exuded enthusiasm and energy as she talked about the support — coaches, mentors, co-teaching — that teachers can tap into at 27J.
Prospective science teacher Kayla Hensley wanted a district where she can continue to learn and grow. She's taught for years in Nevada, Arizona and most recently Alamosa, Colorado. Her husband got a job in the Metro area so she's checked out 27J.
"I'm considering looking at more leadership roles … and I'm wondering what that looks like in your district?" Hensley asked during the virtual job fair.
Hensley takes a lot of notes. She and another candidate Joey Tedeschi, who was considering a move to Colorado from Nashville, liked that the district embraces taking risks in teaching. Tedeschi asked how much emphasis the district places on standardized tests.
Ritter explained that while the test is one data point, "really that's not our driver."
"That's awesome," Tedeschi said. "That's really what I was looking for and hoping to hear."
Competition among Colorado school districts for secondary teachers — especially in the sciences — is fierce. Though fears of a mass exodus have proven largely overblown, school starts soon and hundreds of teacher spots remain unfilled.
The teacher pipeline out of the state's teacher preparation programs is shrinking.
"I'm a Colorado native and we've got a lot of people moving in, but as long as they're teachers moving in, I'll take 'em," laughed Amy Spruce, director of human resources in Greeley-Evans School District 6.
Mere weeks before a new school year begins, districts are still desperate to hire special education teachers, occupational therapists, speech pathologists, and school psychologists, too. But they've been hard to find for years. The pandemic's fueled much bigger shortages in other areas.
Across the state, school districts are also scrambling to find hourly workers: bus drivers, cafeteria cooks, classroom aides, after-school staff.
As of last week, Denver Public Schools needed more than 200 classroom aides and 100 custodians, and 60 bus drivers. The district's recruiters are working hard to come up with creative ways to attract candidates for open positions, including bonuses and incentives.
"Our job opportunities are great for anyone who wants a work-life balance and a career where they make a difference in the lives of kids," said Lacey Nelson, DPS's director of talent acquisition.
Even a major urban district like DPS is relying on a handful of teachers from Mexico, Spain and the Philippines to meet the need in hard-to-fill positions such as teachers who speak Spanish and for high school math and science classes. (The district still had 120 open teaching positions as of last week.)
Colorado's second largest district, Jefferson County, is also beating the bushes looking for 63 bus drivers, 29 custodians and more than 130 classroom aides and tutors as of last week. It hosted a support services job fair last week.
Jeffco's school district just bumped up wages for food services workers. Transportation teams spent the summer working to recruit drivers at community gatherings, events, and local businesses, and they're also using banners, signs, social media and videos to tell prospective employees about what it's like to be a school bus driver.
Until it has a final tally, the district is consolidating bus stops and picking up more students at centralized locations. The district is encouraging students to register for a seat to assist them in planning routes and adjusting.
The Adams 12 district is short 100 before- and after-school workers. The hourly worker shortages are so bad that the district asked their classified workers union to come to the bargaining table in late July — instead of waiting until October.
"We're not usually coming after a union saying we've got money we'd like to give you," said Myla Shepherd, the Adams 12 human resources director, adding that the district has a collaborative relationship with its employee unions.
The agreement between the district and classified workers union employees, which is currently being ratified, bumped everyone's pay up — from $12.40-an-hour to $15-an-hour or higher.
If Adams 12 is still down cafeteria workers by the time school starts, "it's all hands-on deck," Shepherd said. "People from central office are out in kitchens. It's a lot of creativity, a lot of people pitching in."
Hiring staff also have their eyes on another date: parent back-to-school nights.
"In addition to knowing what school supplies your children are going to need, you're also going to know the district is hiring," Shepherd said. A lot of positions are filled by people who have children in schools, who are attracted by a schedule that aligns with their children's.
In the meantime, more districts are hiring English and social studies teachers from the Philippines.
Colorado's rural districts are struggling to find hourly workers. But this year has been harder as well to recruit teachers — even in subjects that are usually easy to fill, like social studies or English.
The Fort Morgan school district, an hour and a half northeast of Denver, is recruiting more teachers through J1 visas than ever before — 10.
"Particularly teachers from the Philippines to fill special education positions and English and Social Studies positions," said Brian Childress, the district's human resources director.
Childress said he has to compete with neighboring rural districts like Weldon Valley and Wiggins that have moved to four-day school weeks. That can be a perk for teachers.
A boost in education funds from the state legislature this year meant Fort Morgan could also post additional positions to try to fill.
"So far we have not been able to fill the additional positions because we haven't been able to attract people," Childress said in July. An example of new positions that are still open include academic interventionists, who help struggling students in reading or math.
Rebecca Baran taught for 15 years in Fort Morgan. She loved the community feel. But this year was the year she looked for another position an hour down I-76 to another district: 27J in Brighton. The metro district offered her $16,000 more a year.
"Living hand to mouth for teachers is not what should be happening, but that's what it was. So this district offered more money, and the four-day workweek was definitely a bonus," she said.
27J hiring director Michael Clow doesn't like how Colorado's locally driven system forces districts to compete for teachers. There are huge disparities in what Metro area districts can pay teachers. That's because some can raise extra property taxes and some can't, he said.
"We're competing against each other for teachers, so we went to the four-day [school week] in competition against other districts," he said, "and I don't know that that's a helpful mentality for us to have overall in this state. We should be working together to attract teachers, make it a strong profession and make sure we all have the best teachers."
Some districts have implemented even more inventive ways to welcome and retain new teachers.
In 27J, that includes a walk down the red carpet.
Last week, about 150 new 27J teachers took that walk, Hollywood style — complete with the blue-and-white pom-poms from a middle school dance team, a waving crowd ringing cowbells, and school district paparazzi. It was day one of teacher orientation in the district. Kayla Hensley — the note-taker during the April job fair, and Joey Tedeschi from Nashville were on the red carpet today too after accepting positions with the district. 
Hensley said the energy she saw at 27J was unique. She liked the fact that experimentation and creativity in teaching are encouraged.
"I wanted to grow," she said. "I want to get better. I kind of want to see what other new tools are out there and different things to try. And they seemed very open to that."
At some other districts she considered, the atmosphere was more formal or recruiters just said things that were already on the website. Hensley said it was like they said, "We just want you to sit and do this very normal, like, recipe version of 'Do this first, do this second, do this third.' And I want it to be a little bit freer in what I was doing."
For high school science teacher Tedeschi, the district's values aligned with his. The four-day school week — the only Metro area district to offer it, was also a huge draw since he's simultaneously finishing up his PhD while he works.
Tedeschi said the red-carpet welcome was a nice touch for the teachers who are typically not used to such attention and treatment.
"Teachers are heroes," said the district's Michael Clow. "Our teachers showed up (during the pandemic), showed up to care for kids and to put themselves in front of something that was unknown."
Promoting the job of teaching is something human resource professionals across the state say the education field needs to do a better job of — from teaching's lifestyle, the caring community found in the education field, to the difference the profession makes in children's lives.
"The degree to which we can help to improve the face of education will help everybody," said Fort Morgan district's Brian Childress.
Childress said HR directors are aware of how much the pandemic taxed teachers. 
He said schools will be doing a lot of culture building at the start of this school year, "remembering why we got into education in the first place."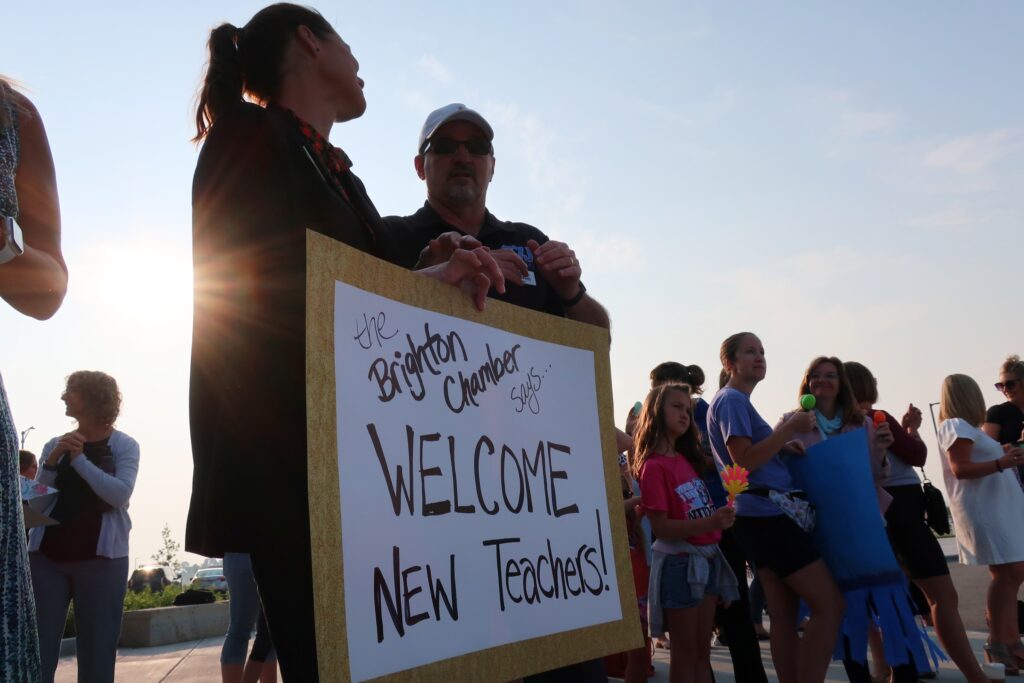 You care.
You want to know what is really going on these days, especially in Colorado. We can help you keep up.  The Lookout is a free, daily email newsletter with news and happenings from all over Colorado. Sign up here and we will see you in the morning!