They faced the worst of the unemployment surge. Where are they now?
In November 2020, Andrea Hull was starting to fear the worst.
She had lost her job as a bartender early in the pandemic. Now, her unemployment benefits were running low. And her son's medical condition meant she had few safe options for returning to work.
"I'm starting to think, 'Will I ever get a job?'" she said in an interview at the time. "And will it happen before the money runs out?"
Hull was one of more than 370,000 Coloradans to lose their job as the state shut down early in the pandemic. Many would not find work again for a year or longer — and they emerged into an economy that is changing in unpredictable ways.
Over the last few weeks, CPR News has contacted people who were featured in previous stories about pandemic economic disruption, to see how prolonged unemployment, labor shortages, inflation and the pandemic itself have reshaped their lives.
Forced into the change she had always planned
Hull, 41, is now back at work. In fact she has fulfilled a longtime goal by securing her first-ever office job — or, rather, a remote office job.
"I was so ecstatic when I finally got a job, I couldn't believe it," she said in a recent interview, "because it just seemed like it was never gonna happen."
Like Hull, the vast majority of people laid off in the pandemic are now back at work. In fact, the number of Colordans who are working or actively searching for work is now higher than it was before the pandemic, and the number of jobs being worked has largely recovered too.
But many companies are still struggling to hire, especially as workers like Hull have left the restaurant and retail sectors.
Hull had worked all her career in the service industry, most recently in a bartending job that she started at Red Robin shortly before the pandemic arrived. She didn't think this kind of work was sustainable in the long term, but it paid the bills.
"I had been wanting to get out of it for a few years, which is crazy," she said. "I was saying, 'I'm getting too old for this.'"
After the initial lockdowns, she remained unemployed for nearly a year, including several very rough months where her unemployment benefits were cut off by a problem with the system. She hunted daily for a new job but her options were limited: Because her son has cystic fibrosis, Hull couldn't safely return to a restaurant or bar, but she felt she lacked the skills for other jobs. She applied for remote positions — but got few responses.
"I was completely unskilled, and there was a bunch of other people looking for the same thing," she said.
Her luck finally changed last February as the labor market tightened and, suddenly, recruiters suddenly started calling her. Hull took the first offer and was soon working from home as a customer care agent.
But the change has come with pitfalls too. 
She takes home around $2,200 monthly from her new job, about a third less than she made tending bar. It's also less than she collected at times on unemployment. She can't afford to contribute to a retirement fund or buy health insurance — even though she works for a health insurance company.
"I feel like I'm kind of the poster child … for the average state of the working person during this pandemic," Hull said. The condo she owns, she added, is her financial bedrock.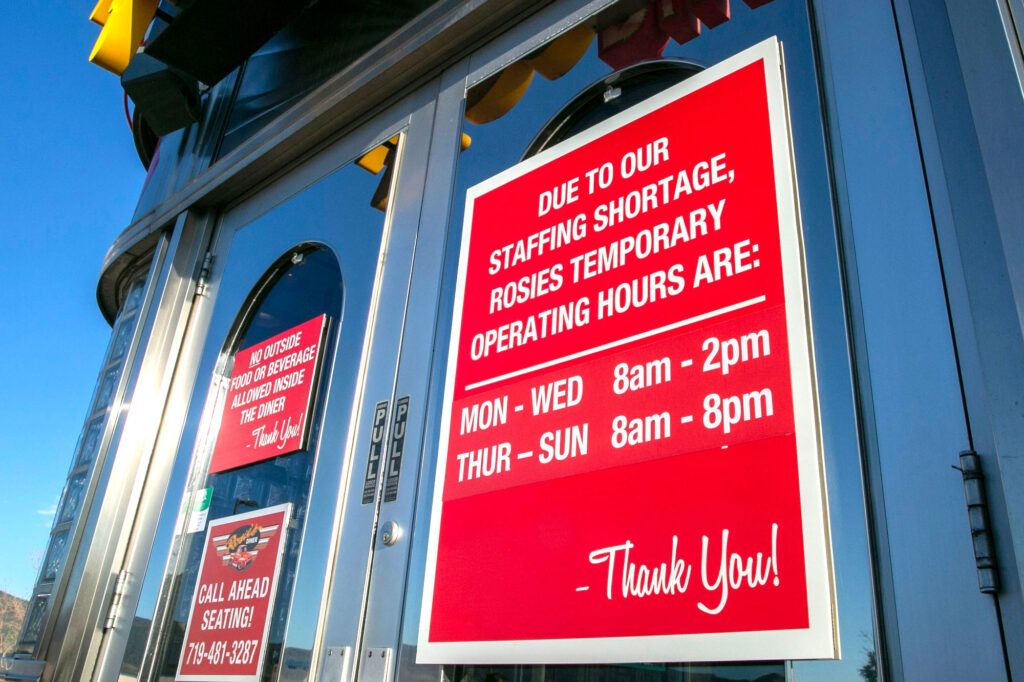 Changing careers: a common story
People have gotten back to work faster in this recovery than they did after the last two recessions. The labor force has grown by more than 1 percent compared to pre-pandemic highs, meaning that more people are now working or seeking work.
But that recovery has been uneven. As of December, the state still had thousands fewer jobs in restaurants, construction and health care than pre-pandemic, forcing many to look for work in new fields. 
Economist Brian Lewandowski said that while the workforce is growing, workers are also getting more selective about their jobs.
"One thing that's very different in this cycle is there's plenty of demand for these workers," said Lewandowski, executive director of the business research division at the University of Colorado's Leeds School of Business. "We see that in all of the 'help wanted' signs, but there's not enough of them to go around."
While employers are struggling to hire for lower-wage jobs, medium and high-wage workforces are expanding quickly.  Warehouse and logistics jobs — including at companies like Amazon — are up more than 10 percent. Tech and other high-wage workforces are also growing fast.
Daniel Garcia, 34, is another career changer. He quit his job at a liquor store in May 2020 because the business didn't have an attached bathroom and he felt it was too unsanitary.
Like many others, he used his year of on-and-off unemployment to upgrade his resume — mostly by taking continuing legal education classes to supplement the law degree that he hadn't been using. Eventually, he secured what he describes as his "dream job" as a guardian ad litem in El Paso County.
"I'm one of the lucky ones," he said. Unemployment benefits "helped me survive the pandemic not just on a physical, material level, but on a mental level; just recovering from burnout."
He's now making more money than ever before, he said.
Jeff Kuball, 58, is a former manager for a Caribou coffee shop. His work was disrupted first by the pandemic and then by his wife's cancer diagnosis. But just as he was facing a decision about whether to return to his job, a recruiter reached out with a remote-work opportunity in educational consulting.
"I am like a pig in poop, I swear to God," Kuball said, describing his enthusiasm for his new job — and his joy that his wife is now cancer-free. "To be at home and to not have to be on the front lines in front of people at a friggin' coffee shop, are you kidding me?"
Another factor leading to unfilled positions: Workers are now less likely to work multiple jobs, Lewandowski said. That trend began early in the pandemic, and it may be sustained now by workers' increasing leverage and wages. 
Martha Pasquale, 65, was recently able to get full-time hours in her job as a school receptionist, allowing her to quit a second job as an office manager.
"My November check was the first time in five years or four years that my (single) paycheck was more than my rent," she said.
Struggling to recover
But for many others, the pandemic's financial fallout still hangs overhead, especially as inflation and a tight housing market raise the cost of living.
Amber Talley of Northglenn left behind a corporate consulting job to start her own cleaning business in 2019. She hoped that the flexible schedule would allow her to better care for her two children, who are now teenagers, as a single mother.
The pandemic sent her new business into a nosedive — and Talley was unable to collect unemployment for about six months because of problems with the Pandemic Unemployment Assistance program for self-employed people.
"I pretty much sold everything I had of value. And it doesn't have a happy ending. It goes from bad to worse," she said.
Talley was able to get some help with rent from the nonprofit Family Promise of Greater Denver, but she fell behind on bills and her credit score was badly damaged. In recent months, her business has started to recover, but it's constantly disrupted by COVID-19 outbreaks.
To make matters worse, her landlord refused to renew her lease mid-pandemic, so her rent went up $400 a month, to $2,300, while her other bills are increasing, too.
"Unfortunately, I'm not at a point where I can be financially in the positive — where I'm actually building my savings. I don't see when or where that could actually happen," Talley said.
Courtney Jensen, the executive director of Family Promise of Greater Denver, said the pandemic crunch has pushed many people closer to the edge.
"The clients we serve are in crisis every day, and they were before the pandemic," Jensen said. "The pandemic, I think, just added a whole other level of crisis onto it."
The group is still seeing sustained demand for rental assistance funds, she said. Perhaps the most common ongoing issue is families struggling to keep working when COVID-19 outbreaks force their kids' schools and daycares to close, or when family members become sick. Many people can't afford even a few days of disruption to their work.
"That was the biggest: child care or getting sick themselves," Jensen said. So while the economy is showing signs of accelerating, the pandemic will be reshaping people's economic lives for a long time to come.
You care.
You want to know what is really going on these days, especially in Colorado. We can help you keep up.  The Lookout is a free, daily email newsletter with news and happenings from all over Colorado. Sign up here and we will see you in the morning!