Greeley district officials reject an offer to continue air monitoring at a school where a spike in toxic chemicals was detected
School officials in northern Colorado have rejected a cost-free offer from the state health department to continue air quality monitoring at Bella Romero Academy, where elevated levels of the carcinogen benzene were recorded in 2019.
The Greeley 4-8 school is less than two city blocks away from an active oil and gas pad. Past state monitoring found increased levels of benzene in the air after the oil and gas wells started production. The exact source of the odorless, invisible chemical, linked to an increased risk of leukemia and a host of other health problems, including blood, reproductive and neurological disorders, was never determined.
The Colorado Department of Public Health and Environment stopped monitoring the air quality at the school in 2021 after deciding there wasn't an ongoing threat to public health. The state's offer to restart the monitoring was driven by concerned parents and community members who are still worried about unhealthy air. 
School district officials said they declined the offer, in part, because a Colorado State University professor and graduate students would have been involved in the air monitoring program. School officials also said nothing warrants parent and community concerns if the state health department previously deemed continued air monitoring unnecessary.
Patricia Garcia-Nelson was instrumental in connecting the school with the state and its CSU-backed idea to continue air monitoring. For years, she has fought to shut down the oil and gas well site operated by Civitas Resources, formerly Extraction Oil and Gas. Garcia-Nelson recently moved to a new neighborhood so her son didn't have to attend Bella Romero, a relocation she felt was necessary to keep him safe.
"I'm continuing the work that I'm doing because my sister's kids still go there. My cousins, my little cousins. Our family is still there," Garcia-Nelson said.
The majority of students are Latinx and more than 80 percent qualify for free or reduced lunch.
After the school's rejection, more than 100 parents, teachers and family members of students signed a petition supporting the new air monitoring plan, which Garcia-Nelson helped broker for Bella Romero. 
School officials raised other objections to the new air monitoring plan, which they said would use different equipment and collect irrelevant data over too short of a time period. Greeley-Evans 6 school district communications chief Theresa Myers said they were also concerned that Colorado State University would change the criteria for determining if unhealthy pollutants were in the air and that the university wouldn't share its data with the state. 
"It really wasn't going to be apples-to-apples comparisons of the information that we had gotten from the previous monitoring," Myers said.
In a statement, Andrew Bare with the Colorado Department of Public Health and Environment's Air Pollution and Control Division said it's common for the state to work with universities on air monitoring efforts. He said the new proposal relies on the same equipment used in previous phases of monitoring at Bella Romero — and all the data would have been shared with the state. 
While state officials don't think air contaminants are threatening the health of students and others at the school, Bare said the offer for new air monitors was "precautionary" and designed to improve transparency and public trust. The state is now considering setting up a new air monitoring system that's nearly identical to the one the school rejected. It would use sensors located near the campus rather than ones located on-site, which could be installed without the school's permission.
Garcia-Nelson wants to see consistent air monitoring at Bella Romero as long as oil and wells are operating nearby. Fossil fuels are a leading cause of climate change, and emissions from oil and gas operations often disproportionately impact lower-income communities and communities of color.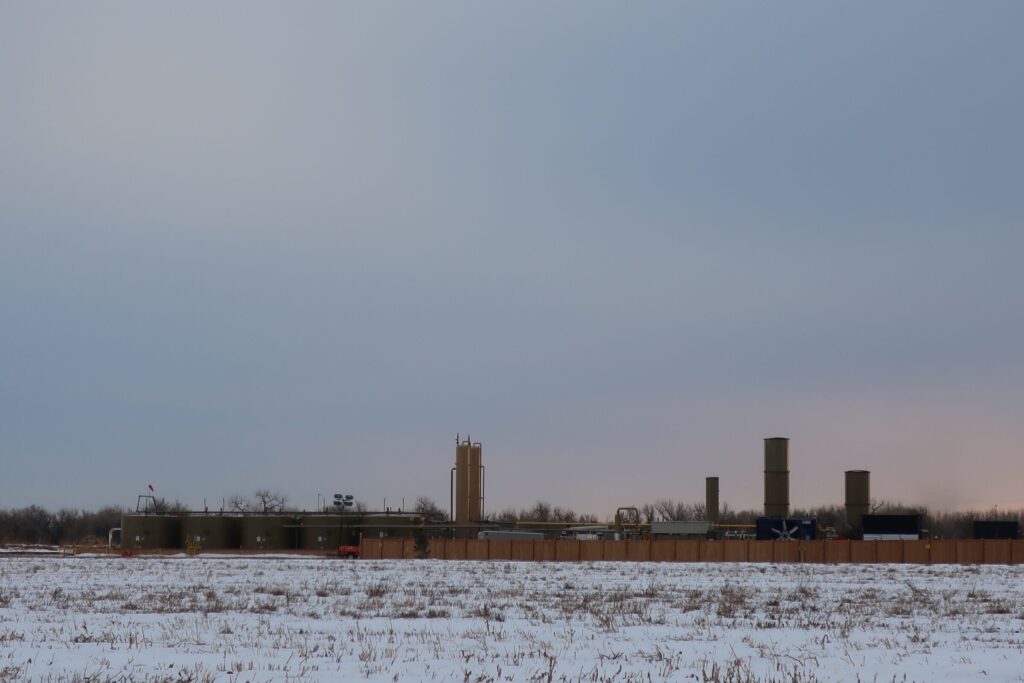 When asked if that kind of publicly accessible air monitoring data would be good transparency for parents and staff of Bella Romero who are worried about what they're breathing near the school, Myers said the district would consider it if the state believed it was necessary to protect public health. Myers said it's not enough that Garcia-Nelson and other parents want more data collected if the state itself isn't concerned. 
"Here's the truth. We live in Weld County. There are wells near many of our schools. In fact, probably most of our schools." Myers said. "Do we need to put air monitoring at every single school because it's close to oil and gas production? I mean, that's a big lift for us."
Garcia-Nelson suspects the school might not want to publicly support additional monitoring of emissions that could be linked to oil and gas activity when the Greeley-Evans district accepts donations from the industry, including $100,000 from Chevron in November 2021 to create a pre-engineering program.
Myers called that claim "ridiculous." 
"That has absolutely nothing to do with this at all," Myers said, noting that oil and gas companies are part of a prominent industry in Weld County that wants to support local schools. "The safety and health of our students is our greatest priority." 
You care.
You want to know what is really going on these days, especially in Colorado. We can help you keep up.  The Lookout is a free, daily email newsletter with news and happenings from all over Colorado. Sign up here and we will see you in the morning!