The Local 303: Colorado artists we're featuring for November 2022
In a state that sees more sunny days than snowy ones, we are reflecting some of that lovely sunshine to this month's Local 303. We welcome music from all across Colorado, a few musicians who used to call our state their home, plus artists we hope you have heard on our weekly show More From the Local 303 on Friday nights at 10 p.m.

YOU'RE INVITED TO THE LOCAL 303 MEETUP: The Local 303 Meetup gives space to celebrate local Colorado musicians, while welcoming music fans from our community. This month there will be a performance from Colorado Springs native Arum Rae, a music meeting to play some new Colorado bands, a Q&A about how to get your music on the radio, and giveaways. As our guest, you can get entered to win an Indie 102.3 grab bag or a pair of tickets to see DeVotchKa at Bluebird Theatre on December 30th! We would love to see you at the Local 303 Meetup at our new home, Mercury Café, on Monday November 28th from 6:30-9 p.m. It is all ages and open to the public. Mercury Café is located at 2199 California Street in Denver.

Are you a Colorado musician who wants to be featured in the Local 303? Send us your music.

Meet November's picks:
A Hundred Drums
Colorado Home: Originally from Redondo Beach, California, and has lived in Denver for the past 3 years!

Formed: 2015 is the official inception of the A Hundred Drums project, but she started DJ'ing and learning the ropes in 2014 before starting it.

Latest Release: "Deep Space" (Single), DeadBeats, Oct. 12, 2022

Pronouns: She/her

Band Bio: Thunderous low end and pulsating rhythm embody the powerful music of A Hundred Drums. 

Stomping the stage in a tangle of hair and a blur of motion, her high-octane live show is the result of years of searching for that perfect primal pulse that connects humans on the dance floor. Gabrielle Watson has been cultivating a sound that moves with the times but also continues the narrative of the scene from the birth of electronic music to its journey across continents, vanguards, and movements. After a decade of crafting her sonic signature in cutting-edge spaces, A Hundred Drums has emerged onto the main stage to bring the sounds of the underground to the masses.

In early Summer 2021, A Hundred Drums released a politically potent EP on ZEDS DEAD's Deadbeats label. Enough Is Enough outlines the struggles of being Black in America, set against the backdrop of police violence, systemic racism, and the protest movement still pervasive in a world one year removed from the death of George Floyd. Unlike anything the powerhouse bass label has ever released, a mini-documentary companion piece gave fans an inside look at the making of the record. Through it, Watson tells the story of her own mistreatment at the hands of the police and the genesis of the music and message she so desperately needed to convey. In an industry saturated with vapid party anthems, A Hundred Drums chose to use her platform to deliver substance alongside sound.

Watson cut her teeth in dark and sweaty basements showcasing icons of the UK dubstep and drum & bass scenes, and has traveled to far flung psytrance festivals to hone her mixing skills. 'AHD' now gets to share lineups with some of the biggest acts in all of electronic music and collaborate with some of the most sought after producers and vocalists across a multitude of genres. She kicked off 2022 as a handpicked support act for REZZ's blockbuster North American tour. She then went on to an unbelievable run through the summer festival circuit including Okeechobee, Lightning in a Bottle, Summer Camp, Electric Forest, Shambhala, and double dates at the Gorge at Beyond Wonderland and Bass Canyon, among so many others. A series of singles, collaborations, and mixes stack up in the pipeline, and a brand new chapter-defining body of work is coming soon. A Hundred Drums has arrived and with her comes the promise of  a new generation of bass producers in ascendance.

Plans for the rest of 2022: A Hundred Drums has a couple headline shows in November in Las Vegas, Vancouver, and Seattle, and then joins her DeadBeats crew in Detroit on Black Friday. Then she hits the road with Mersiv in the northeast, and closes out the year at Holy Shipwrecked! in Tulum and Space Camp at the legendary Hampton Coliseum with Griz in December.

Let's give thanks! Coming out of a few tough years with the pandemic, what is the most valuable music lesson you've learned this year? The biggest thing that the pandemic revealed was the impermanence of the music industry. Overnight, touring musicians lost a huge portion of their revenue. Relying on royalties alone isn't sustainable, and a lot of musicians were pushed out or forced to seek alternative employment. At any time, I know this can all be taken away like that, and it's a scary thing to reckon with.

As a sort of sister issue, we saw a lot more discussions about mental health across the industry. As jobs on stage and backstage went away, we saw a sharp increase in suicides and overdoses amongst our cohort in the scene. Even coming out of the pandemic, the systemic issues that plague our community haven't been addressed. There are non-profits like MusiCares (https://www.musicares.org/) that seek to provide low cost, subsidized, or free therapy to people across the music industry, but a lot of work needs to be done to really keep our fellow artists and support staff from falling through the cracks.

I also learned a lot about privacy, or the lack of it in this past year. For years I was just doing my thing in the underground—making music, playing shows, bringing my heroes and newcomers alike out to B-Side in Los Angeles as a promoter—but with the notoriety I've gotten since I started touring with bigger acts, getting put on high-profile festivals, and playing more headline shows, I've noticed that the divide between my personal and private life is starting to get blurry. Platforms like Twitter are a double-edged sword. I like having a direct line of contact between myself and my fans because I have tons of opinions and I'm not afraid to share them. But once the discourse gets away from you, a lot of nuance is lost and the name-calling starts and people's personal lives get dragged out into the court of public opinion. I suspect it may get worse before it gets better.
Website: ahundreddrums.com
Get Social: Linktree, Instagram, Facebook, Twitter, Soundcloud
---
Anville
Colorado Home: Johnstown, Colorado

Formed: I started rapping in 2017

Latest Release: "Funktion" (Single), Self-Released, Jun. 2, 2022

Pronouns: He/Him/His

About: Born out of Greeley, Colorado to a 19 year old single mother, Anville's music embodies the struggles he and his mother faced moving from place to place during his childhood. Anville's love for soulful music began early riding around in the backseat of his moms 1966 Mercury Comet, the sounds of Lauryn Hill, Jimi Hendrix, Jay-z, Nas, Prince, Tupac and Biggie were always on his mothers CD player. As he grew older other musicians began to inspire him to create, musicians such as J. Cole, Anderson Paak, Kendrick Lamar, XXXtentacion, Shakey Graves amongst other greats. Being Mexican, Puerto Rican and Dominican it wasn't easy growing up in Weld County Colorado but he never stopped being himself. "I want to inspire people to trust themselves, be themselves and love themselves…. Be yourself in every single situation and everything will fall in line. Trust yourself, Love yourself, Be yourself until the Ancestors call you back."

Plans for the rest of 2022: Even though 2022 is coming to an end I definitely have some solid plans for the remaining months. I have some shows out in Los Angeles and Hollywood which I am looking forward to. I am going to release some new singles and music videos but I really want to hone in on creating constant social media content for everyone to enjoy. I'm always working towards something and staying creative. I love my fans, they deserve to see and feel every part of my creativity. 

Let's give thanks! Coming out of a few tough years with the pandemic, what is the most valuable music lesson you've learned this year? The most valuable lesson I have learned this year is showing gratitude and embracing the connections it brings with everything around us. Even the smallest of things are worth appreciating and showing gratitude towards. Covid did a really good job at pulling everything away from us which we hold dearly, whether that be working out, family get-togethers or going out with some homies. In my case it took away my ability to perform in front of the people who believe in me. Those few tough years during the pandemic taught me to appreciate every single show and event I do. If theres 1000 people there, I'm gonna killing it, if there's 100 people there I'm gonna killing it, if there's 10 people there I'm gonna to kill it. I discovered how gratitude changes ones perspective  and connects us with everything around us, it brings us closer to the light in the best way possible. 

Website: https://www.anvillesworld.org/music
---
Arum Rae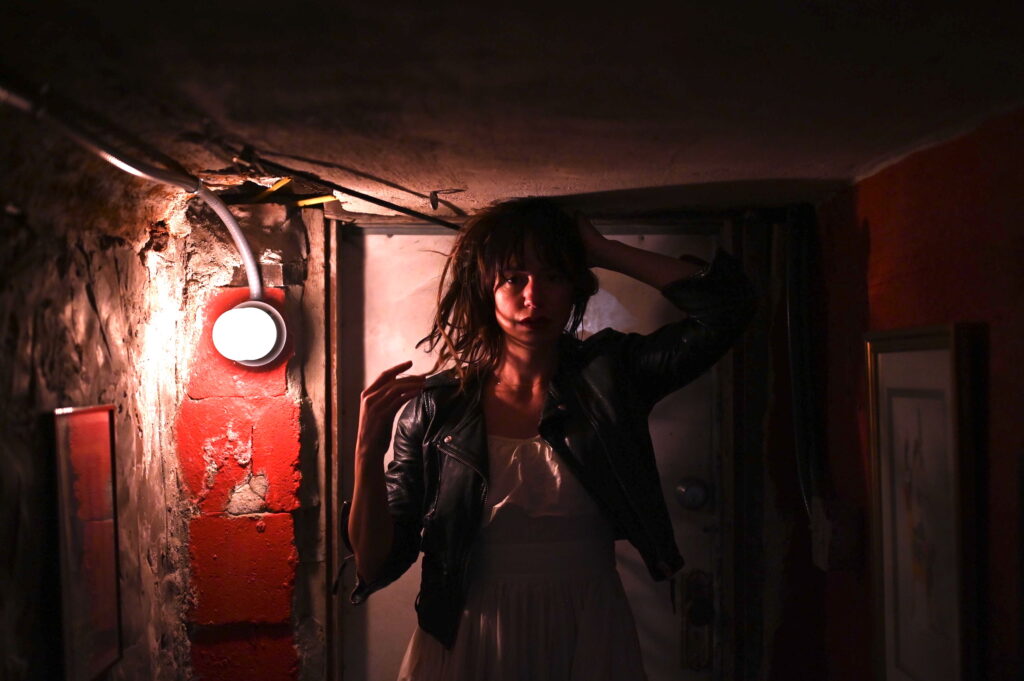 Former Colorado Home: Colorado Springs

Now Living: Green Bay, Wisconsin

Formed: 2004

Latest Release: "Headboards" (Single), Self-Released, Sep. 30, 2022

Pronouns: she/her

Plans for the rest of 2022: Release one more single called "Ooh Song" on Nov 18, 2022.

Let's give thanks! Coming out of a few tough years with the pandemic, what is the most valuable music lesson you've learned this year? To do music and life with joy. Spend time with the ones you love.

Website: www.arumrae.com

Get Social: Instagram
---
Calamity
Colorado Home: Denver

Formed: Year of our Lord 2022. We're a little supernova fresh out of an Interstellar cloud.

Latest Release: "Palm Reader" (Single), Self-Released, Oct. 5, 2022 and "Captain" (Single), Self-Released, Nov. 2, 2022.

Pronouns: As a band we are they/them and individually Kate and Maggie are she/her and Andrew and Jones are he/him.

About: We live in highly calamitous times. You can't fully look away and it's easy to feel like you're losing your mind. But that's ripe territory for Kate Hannington's solo venture, CALAMITY. Hannington's journey has taken her from the rust belt basement punk shows of Cleveland (her hometown), to the avant-garde rock and chamber music scenes of New York, to her current landing spot, Denver. In her time here, she's perfected a sound that reflects those influences and brings them together as a cohesive piece with a neon cherry on top – guttural baritone guitars provide a sonic bedrock for twinkling synths, with jangly harmonies and forlorn vocals rippling throughout. Dreamy one moment and pugnacious the next, Hannington's songs are reminiscent of the moody stylings of Jason Molina with a sprinkling of 90s grunge a la Kim Deal and early 2000s shoegaze. It delivers best at night when aural uncertainties have that special way of floating into darkened corners. CALAMITY as a performing band is Kate Hannington on guitars and vocals, Maggie Schmidt on synthesizer, Alex Jones on bass and synth and Andrew Bair on drums.

Plans for the rest of 2022: We will be releasing new songs about every four weeks through the spring and are working on a few new songs that I hope to record this winter. We're also playing at Hi Dive on 11/12 with Paul DeHaven and The Senators and at Globe Hall on 12/15 with Feral Suits and Motel Frunz.

Let's give thanks! Coming out of a few tough years with the pandemic, what is the most valuable music lesson you've learned this year? Persistence, adaptability and embracing black holes. I (Kate) have been a side person in many bands over the years and had quit a corporate job in late 2019 to pursue music more full time with those bands in 2020. When those plans disintegrated, I felt lost. But then I ended up creating this solo project I am fronting now with three of my best friends and I may never have done this without that "black hole." With the death of old things comes the birth of new things. Also things are kind of crumbling around us, so why not make art and have fun with your friends.

Website: katehannington.com

Get Social: Instagram
---
Clementine Was Right
Colorado Home: Denver

Formed: 2018

Latest Release: Our second LP, Can't Get Right with the Darkness, was released in Mar. 2022 on our own label (The Blue Turn). The album was recorded in 2021 at Memphis Magnetic with Scott McEwen. It sounds a little like The Flying Burrito Brothers asking Magnolia Electric Co. to help them find Bruce Springsteen's lost cabin on the Pacific coast. For an ideal listening experience, we suggest taking the next bus out of your hometown, making a few strangers, meeting St. Francis and his wolves in an old tire store, and packing the rain in the smell of your coat.

Pronouns: He/his

About: After releasing three books of poems and stories in the early 2010s, I (Mike Young) started Clementine Was Right in 2018 in Santa Fe as a return to songwriting. Chronicling years of uprooting—from Northern California to New England, Alaska to New Mexico—the music gallops and sways through hook-smeared bootgaze and cosmic scoot, harmonizing and storytelling. We're now based in Denver (with Adam Cabrera, Gion Davis, Alec Doniger, and Riley Merino) with collaborators from Arkansas (Jude Brothers, Dick Darden, Hayden Johnson, Nate Smerage, James Williams) to Hawaii (Lisa Kori) to North Carolina (Alissa Nordmoe).

Plans for rest of 2022: After a year of DIY touring, we're back in Colorado, playing local shows with Vicky Burp, Elnuh, Magnolia Grove, River Spell, and Bear & the Beasts. We're also recording new songs with Ben Pisano of Corsicana,which should start rolling out one by one in January 2023. The songs are angled toward anthemic 90s alt rock (i.e. The Bends), blending emo hooks with twang. In the town where I grew up in Northern California, Oroville, the orchard where canned olives were invented burned down last year. Everything, of course, has been feeling like that, so that's where these new songs kick off.

Let's give thanks! Coming out of a few tough years with the pandemic, what is the most valuable music lesson you've learned this year? In the thick of quarantine depression, I started making little poetry/music videos and posting them on TikTok, which surprisingly led to a whole mysterious community of folks discovering the music. I feel so grateful for those connections! They have helped replace my imposter syndrome with the urgency to make as much art as possible before my orchard goes poof.

Website: https://clementinewasright.com

Get Social: Instagram, TikTok
---
Fly Amanita
Colorado Home: Denver

Formed: 2020 

Latest Release: Naked In the Sun, Icebox Studios, Jul. 2021 

Pronouns: he/him

About: Denver based Fly Amanita's shameless surf rock barrels into your ear drums like a devastating tsunami. From dreamy psychedelic ballads to full on punk debauchery, Fly Amanita creates a unique sound that is full of relentless energy. Fly Amanita is the brainchild of multi-instrumentalist and vocalist Tommy Kaiser. His talented brother Zach Kaiser quickly joined in on drums and together the two lock into washed out grooves that benefit from their lifetime of playing music together. Currently joined by Davie Koehnke on bass and Matt Rodder on guitar, Fly Amanita is now taking their unique studio sound to live stages across the country.

Plans for the rest of 2022: We will be finishing up recording our first full length album scheduled to come out early next year. We also are releasing a new single in a couple of weeks that we are very excited about.

Let's give thanks! Coming out of a few tough years with the pandemic, what is the most valuable music lesson you've learned this year? Over these tough last couple years, our appreciation for music and friends has never been greater. We found solace in writing and recording during times of quarantine and over the last year have been so grateful to create and enjoy live music as a larger community. 

Get Social: Instagram
---
hellocentral
Colorado Home: Denver

Formed: 2018

Latest Releases: "Tidal Wave Girl" (Single), Self-Released, Nov. 4, 2022; "When It's Over" (Single), Self-Released, Aug. 19, 2022; and hellocentral, Self-Released, Sep. 17, 2021

Pronouns: He/him for all 4

About: Fueled by an ambitious, genre-spanning take on modern alternative rock, hellocentral has taken the Denver music scene by storm with their energetic and emotional live performances. Since 2018, the band has frequently played shows and built a loyal fan base while independently releasing 1 album, 2 EPs and 5 singles. hellocentral has become a prominent figure in the alternative/punk markets in Denver, earning local press and larger stages since their inception.

Formed by four life‐long friends, hellocentral is the product of a culmination of influences, experiences, and a common passion for music.  Compared to the likes of Brand New, Yellowcard, and Blink-182, hellocentral set out to create music that people can not only dance to, but connect with. Blending dreamy indie rock elements with hard‐hitting, catchy pop-punk choruses, the group is turning heads with their unique and refreshing sound.

The band independently released their debut self-titled album in September 2021. Mixed by Taylor Hahn and mastered by Chris Gehringer, the record features infectious melodies, crisp pop-punk drumming, and a myriad of sonic elements from alt-rock guitars to indie/electronica synths. The lyrics are packed with emotion, touching on issues of love, loss, and the never-ending search for purpose.

hellocentral released their latest single 'When It's Over' in August 2022, has a single release slated for November 2022, and is in the process of writing new songs for a planned 2023 release.

Plans for the rest of 2022: We are laying low for the most part for the rest of 2022 and focusing on writing new material for an upcoming release in 2023. Planning on playing shows in early 2023 before hitting the studio in the spring.

Let's give thanks! Coming out of a few tough years with the pandemic, what is the most valuable music lesson you've learned this year? The most valuable music lesson we learned this year was the importance of collaboration and communication as a group - and being open to change and growth. We released our first full-length album last year, and while we all shared a common vision, each of us also had our own unique spin on how to execute it. Through a lot of diplomatic push-and-pull, we landed on something that represented each of our unique musical perspectives, and we're happy about that. 

In many ways, when we write, each of us pulls the group in our own unique direction, until we find a point that feels like a harmonious balance between what we all want. It can be challenging, but it's also very rewarding. 

Website: https://linktr.ee/hellocentral

Get Social: Instagram, YouTube
---
Honey Blazer
Colorado Home: Denver/Arvada

Formed: 2019

Latest Release: Lookin Up, Self-Released, Oct. 14, 2022

Pronouns: They/Them

About: Growing from the friendship of Gann Matthews and Brad Grear, Honey Blazer chips the shale off rock-and-roll gems that draw from both West Coast experimentalism and the best of Golden Era songwriting. In October 2022, they released their debut album, Lookin Up, a collection of songs written and recorded during the pandemic at their home studio. Weaving an elegant tapestry of rock, folk, and psychedelia, the album explores self-growth and positivity during difficult times. 

Plans for the rest of 2022: Playing a handful of Colorado shows, writing and recording new music, and getting ready for a busy 2023.
Let's give thanks! Coming out of a few tough years with the pandemic, what is the most valuable music lesson you've learned this year? After such a long time without gatherings and shows, we've really come to value those moments a lot more, and we've felt the same from audiences as well.

Website: honeyblazer.bandcamp.com

Get Social: Spotify, Instagram, Facebook
---
Pink Lady Monster
Colorado Home: Denver

What year did your band form: Pink Lady Monster began as a solo recording project in 2020. I wrote and recorded the L0_0k Up Demos in my bedroom(the majority was written during the height of the COVID pandemic). I formed a live band in early 2022 - now Pink Lady Monster is a three man act, with Savanna Johnson on the bass and Gabe Gravangno on the drums.

Latest Release: Pink Lady Monster is set to release a new album by the end of February 2023!

Pronouns: She/Her

About: Pink Lady Monster, at its core, is a celebration of the feminine spirit. Growing up on the fiery energy of Riot Grrrl music, Simone Marie found herself drawn to raw and unapologetic self expression. At first, Pink Lady Monster was only meant to be a recording project - a secret name under which Simone Marie could be whoever she wanted to be. But after the L0_0k Up Demos release Pink Lady Monster gradually began to find a home in Denver's live music scene. Pink Lady Monster now consists of Simone Marie on lead vocals, guitar, and synth, Savanna Johnson on bass, and Gabe Gravangno on the drums.

Plans for the rest of 2022: Pink Lady Monster is buckling down this winter to write and record new songs but look out for us January 20th at the Bluebird Theater, opening for The Velveteers.

Let's give thanks! Coming out of a few tough years with the pandemic, what is the most valuable music lesson you've learned this year? This year has been crazy- I've gone through so many changes. Most importantly, I've realized something that I think I've always known- honesty is all that matters, especially as an artist. As someone who is primarily an introvert/ bedroom producer I've always felt a little uneasy playing for an audience. It's so easy to get caught up in your head, to downplay your emotions, to conceal some aspect of your own fragility, to hide behind lyrics or a stage demeanor. This year I've learned that honest self expression opens so many doors. Letting your guard down, not taking yourself so seriously, being truly real on stage allows the audience into your world and gives them a chance to connect with the music and ultimately themselves. Especially after the pandemic I've realized that there's no point in holding yourself back, everyone wants to connect, and honest expression is the ultimate catalyst.

Get Social: Instagram
---
Sound of Ceres
Colorado Home: Fort Collins

Now Living: The Hudson Valley, NY (for 7 years!)

What year did your band form: 2016, as we consider the year our first record came out to be our true beginning. 

Latest Release: Emerald Sea ft. Narration by Marina Abramović, Jun. 17 2022, Joyful Noise Recordings

Pronouns: they/them

About: By Sasha Geffen (Colorado): Emerald Sea, the third album from New York-based audiovisual project Sound of Ceres, tells the story of how the universe comes to know itself. Rendered in dynamic, ambitious orchestral passages, it forms the basis of future stage performances intended to draw its half-submerged narrative into the visual sphere. In its dreamlike impressions, it could also be the soundtrack to a long-forgotten early musical film - an experience that delighted and transported audiences and then vanished from record, surviving only in the imprint of memory. Written in three acts, Emerald Sea follows two deities who trail each other through the furthest reaches of experience. There is the Universe, all that exists, voiced by performance artist Marina Abramović. And there is Venus, transformer of matter and avatar of love, sung by the group's lead vocalist Karen Hover (who goes by k). Through a dazzling suite of songs inspired by Les Baxter's midcentury exotica, Maurice Ravel's ballet Daphnis et Chloé, and Gustav Holst's The Planets, Emerald Sea studies intimacy on both an interpersonal scale and a cosmological one. Connection and severance, joy and grief, wonder and bewilderment all tumble through its scope. In the widest frame, the universe begins, meets itself, and ends. In the closest frame, two people encounter each other, grow close, and then separate. These stories are two views of the same fractal. In every intimacy human beings cultivate, every rush of connection, no matter how fleeting, we reenact the universe for ourselves. "I envisioned myself journeying through these different realms -- space, the land, the sea, the heavens --and following Marina's character," says k. "I always saw her as a shadow figure that I couldn't quite figure out." Ryan says, "The album's story is an allegory for the emergence of mind and meaning from the matter of the universe, and its eventual fading, with a glimmer of hope at the end. "In its current cycle, Sound of Ceres is Derrick Bozich, songwriter, harpist, and flautist; Jacob Graham, synthesist, costumer, and light designer; K Hover, vocalist, lyricist, costumer, and choreographer; and Ryan Hover, songwriter and producer. They recorded Emerald Sea in collaboration with Jon Sonneberg at Ka-Boom studio in Ohio. It was mixed by Nicholas Principe and mastered by Kramer. When you receive it, when its sounds in motion light up your mind's eye, it is also created in collaboration with you.

Plans for the rest of 2022: Perhaps a few more secret shows, relaxing after our fall tour with Beach House, and writing a Christmas song.

Let's give thanks! Coming out of a few tough years with the pandemic, what is the most valuable music lesson you've learned this year? Use the gear, tools, lights, and equipment that you already have in ways you've never used them before to unlock new possibilities.

Website: https://www.soundofceres.com/

Get Social: Instagram, Twitter, Facebook
---
Sound of Honey
Colorado Home: I live in Denver. I partially grew up in Fort Collins, having moved there when I was 10. Born in Wisconsin, raised in Iowa.

Formed: Sound of Honey formed during 2020 when I (Emma Rose) wanted to record some of my music for the first time. I had been playing out a bit before the pandemic and had attracted a drummer (Tobias Bank) and a bass player (Will Kuepper) by way of small coffee-shop gig. So naturally, when I wanted to make a record, I knew just who to call! We've since added a lead guitar-player (Sam Armstrong-Zickefoose) but it's been the core trio ever since we began!

Latest Release: Our latest release is the single 'See You in August' which I put out on April 13th, 2022.

Pronouns: My pronouns are she/her/hers

About: Where there's honey, there's a buzz. This rings true for the Colorado based band, Sound of Honey. Emma Rose (Big Richard) has been steeped in the music scene since she entered this world. Raised by two talented musicians and with a natural knack for songwriting, Rose has spent the last few years fine tuning her quiver of indie-soul-folk songs with only the finest pollen that the spring flowers have to offer. Rich, crystalline vocal melodies weave themselves through a sweet sonic landscape created with the help of Tobias Bank (Whippoorwill) on drums, percussion, and backup vocals, Will Kuepper (Sturtz) on bass and backup vocals, and Sam Armstrong-Zickefoose (Railroad Earth) on electric guitar. Together their warm hues, sultry harmonies and gentle tones create an experience of overall mellow- sparking curiosity of oneself and the emotions that come with diving into the human experience.

Plans for the rest of 2022: For the rest of 2022 we just have a couple more shows. One of them is a top secret house show in FoCo with the amazing Minneapolis-based band, Humbird, and the other is at The Bluebird Theater opening for The Lil Smokies on Dec. 2nd. I think for the rest of the fall/winter, we will all be fairly busy with our other projects, but I hope to get some good writing/arranging time in with the dudes so we can potentially record another album! My goal is to release the rest of my debut EP, "Dozens of Colors" by the end of the year also :)

Let's give thanks! Coming out of a few tough years with the pandemic, what is the most valuable music lesson you've learned this year? The most valuable music lesson I've learned since the pandemic is that reconnecting with my roots in music is extremely important and informative to how I branch out in music and perform. When covid hit, and the rush of playing for crowds and getting outward affirmations died down, it was real quiet and I had the chance to sit with why I ever started writing in the first place- why I ever picked up a guitar and what, inside myself, drove me to pursue music at all in the first place. It seems like a simple thing, but it was a profound and very challenging experience- one that I've tried to carry with me into the re-opening of the world. 

Website:  https://linktr.ee/soundofhoney

Get Social: Instagram, YouTube
---
TYJA3
Colorado Home: Denver

Formed: 2022

Latest Release: "Tonight" (Single), Self-Released, 2022 

Pronouns: He / Him

About: TYJAE PENA (BORN JANUARY 13TH, 1993), BETTER KNOWN BY HIS STAGE NAME TYJA3, IS AN AMERICAN HIP-HOP ARTIST, SINGER, DANCER, SONGWRITER, PRODUCER AND ACTOR. TYJA3 DEMONSTRATED EXTRAORDINARY TALENT IN MUSIC AND ACTING AT A YOUNG AGE. AFTER MOVING FROM CALIFORNIA TO COLORADO, TYJA3 FOCUSED HIS TALENTS TOWARD ACTING AND DANCE, NOW FOCUSED ON CREATING AND PRODUCING MUSIC. THROUGH EXTENSIVE HARD-WORK, UNPRECEDENTED TALENT AND INNATE KNOWLEDGE OF MUSIC, TYJA3 HAS CREATED HIS OWN UNIQUE SOUND. BEFORE RELEASING HIS FIRST PROJECT "3PIECE" NOVEMBER 2017 TYJA3 HAS HAD RAPID GROWTH IN HIS FIRST 2 YEARS, HE HAS DONE SHOWS WITH CASKEY, MAYDAY, SAMMY ADAMS, AND SNOW THA PRODUCT. HIS TRACK RECORD ALONE SHOWS HIS DIVERSE SOUND AND RANGE TO BE ABLE TO REACH ANY DEMOGRAPHIC IN THE HIP-HOP SCENE.

Plans for the rest of 2022: Production on 3 music videos to be released in 2023

Let's give thanks! Coming out of a few tough years with the pandemic, what is the most valuable music lesson you've learned this year? The support of your fans, team and family to help you keep moving and building!

Website: Currently under construction 

Get Social: YouTube, Facebook, Instagram, Spotify
You made it!
You love learning about new music and the Denver music scene. We have a weekly newsletter for you -- Inside Track. Sign up here to stay in the know about the hottest Colorado concerts and how you can score tickets!